Teaming Up
University partnerships are key to the success of the Smithsonian Institution's education initiatives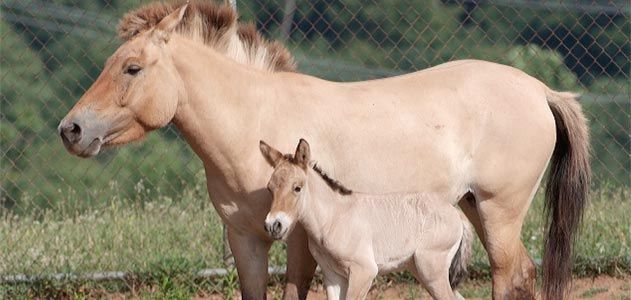 There is hope for the Przewalski's horse. Native to China and Mongolia, it was declared extinct in the wild in 1970. But now 1,600 Przewalski's horses thrive in breeding programs like the one at our National Zoo's Conservation and Research Center (CRC) in Front Royal, Virginia. Last fall, a Przewalski's foal was born at the CRC and named "Mason," to celebrate the launch of a joint Smithsonian-George Mason University program in conservation biology, wildlife management and genetic and biodiversity monitoring. Zoo staff and George Mason faculty will teach at the 3,200-acre CRC facility, home to more than 30 critically endangered species.
Collaborations with universities are ongoing throughout the Smithsonian. Each year hundreds of interns and fellows come here and earn credit and degrees, and our scholars teach as adjunct faculty worldwide. The Smithsonian Tropical Research Institute formally partners with McGill University for work in tropical biology, with Princeton for study in Panama and with Harvard's Arnold Arboretum for Asian fieldwork. Our most extensive partnership—involving more than 600 Smithsonian staffers—is the Harvard-Smithsonian Center for Astrophysics. Our scientists teach Harvard courses, and our fellows earn Harvard degrees. The center also operates telescopes with universities in Arizona, Hawaii and Chile.
Because insect collections are crucial to medical, agricultural and environmental research, 30 years ago National Museum of Natural History (NMNH) entomologists created a consortium for graduate student training with the University of Maryland (UM) and the U.S. Department of Agriculture's Systematic Entomology Laboratory. Today NMNH continues an even broader graduate biology program with UM and also collaborates with George Washington and George Mason universities in anthropology and biology. The Smithsonian also co-hosts two graduate arts programs: the Smithsonian's Cooper-Hewitt, National Design Museum and Parsons The New School for Design, both in New York City, jointly offer an M.A. in the history of decorative arts and design; and here in Washington, The Smithsonian Associates teams with the Corcoran College of Art+Design to offer an M.A. in the history of decorative arts.
These collaborations succeed because they combine complementary elements. We provide informal education for everyone from very young children to centenarians; we also maintain impressive collections and operate several large research stations. Universities offer degrees and conduct research in fields not pursued by the Institution, such as engineering and medicine. By working together, the Smithsonian and its university partners build on each other's strengths while addressing critical global issues. We look forward to expanding these programs not only to benefit the next generation of scientists and scholars, but also our nation—and the world.
G. Wayne Clough is Secretary of the Smithsonian Institution