When the Fluxus artist Ay-O moved from making tactile finger boxes in the 1960s to creating larger environments, he was struck by the unexpected reflections of the aluminum sheeting he was working with—specifically, the fleeting rainbows it cast on the wall.
Thus did the Japanese artist become consumed with bright, gradating hues, creating rooms, paintings and finally scores of prints radiating with his vibrant signature colors.
More than 80 of these works are included in the exhibition "Ay-O's Happy Rainbow Hell" at the Smithsonian's National Museum of Asian Art, culled largely from the museum's collections. Installed as part of the museum's 100th anniversary celebration, the show is also the first U.S. museum exhibition dedicated to the artist, who is now 91. Born in Japan's Ibaraki prefecture as Takao Iijima, the artis devised his playful moniker (pronounced "eye-oh") early in his career from favorite vowel sounds.
Ay-O works across motifs ranging from ancient Japanese subject matter and the natural world to supersonic planes and, yes, a Bosch-like, Buddha-inspired hell. All are rendered in the bright bands of swirling colors that have become the artist's trademark.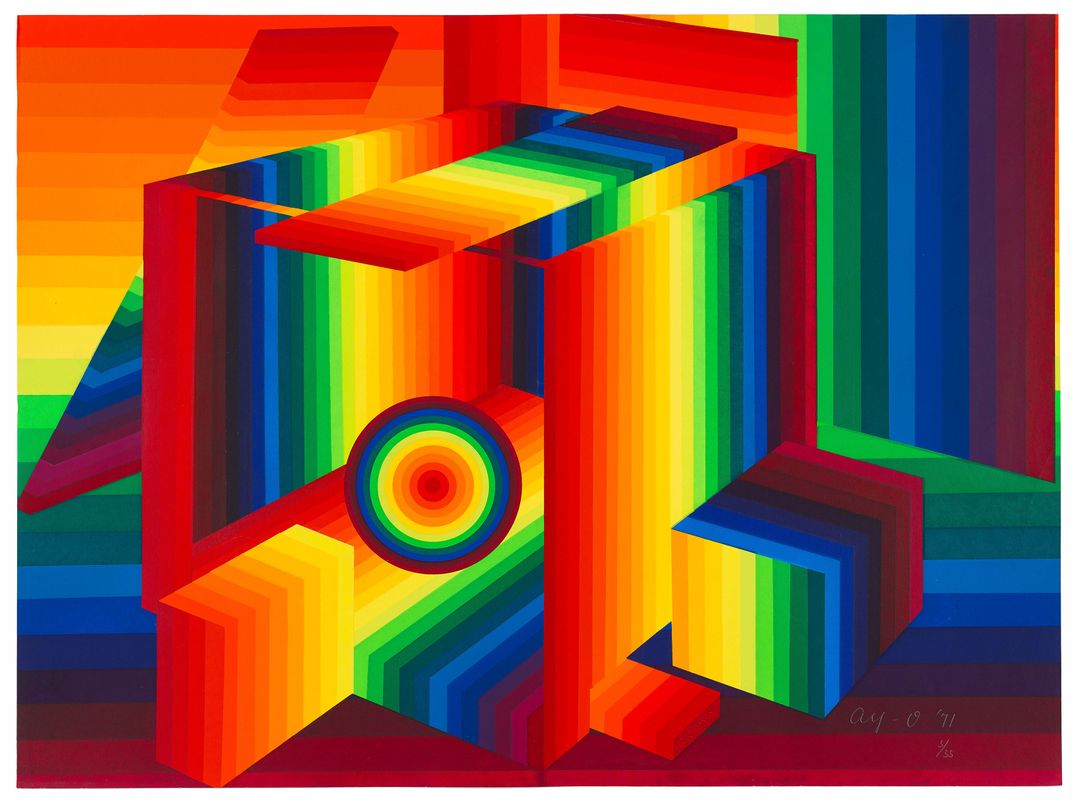 Despite the simplicity of his color scheme, the artist's process can be complicated, using up to 28 screens needed to print each image. And because he works in oil, there's a lot of drying in between. The accompanying catalog for the exhibition required special paper and print processes to approach the vibrancy of the works depicted.
But there's nothing like seeing them in person, says Kit Brooks, the museum's curator of Japanese art, who organized the show from 73 Smithsonian holdings that had never before been on display, along with works from several other U.S. institutions. A pair of 1976 Ay-O works were found in a seemingly unlikely place—the National Air and Space Museum. The pieces depict the museum's most iconic artifact, the 1903 Wright Flyer, and another of its much-loved aircraft, the supersonic Concorde.
The exhibition begins with some immersive 3D creations Ay-O produced in 1958 when he moved to New York on his 27th birthday. "Yoko Ono actually introduces him to Fluxus," Brooks says, referring to the loose group of avant-garde artists of the era that included Ono, John Cage, Joseph Beuys and Nam June Paik.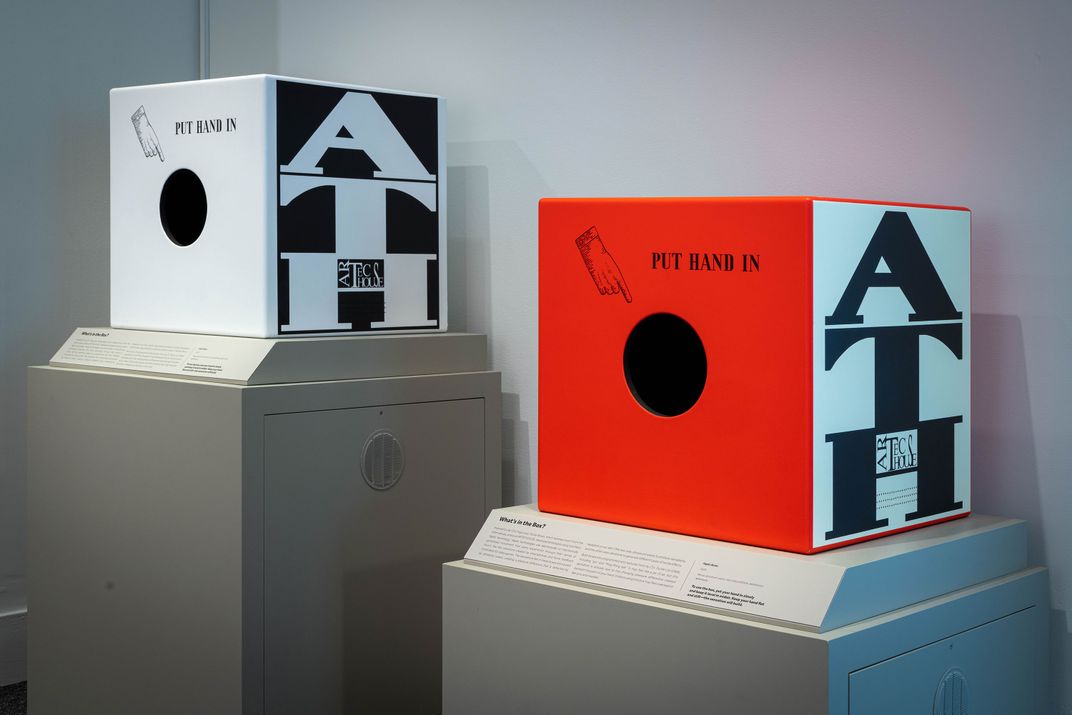 Ay-O's first pieces are known as "Finger Boxes," hollow cardboard or wooden constructions with a finger-size hole that are reminiscent of those creepy games at Halloween parties—stick in your fingers and guess what you're feeling. It could be old foam, bristles or broken glass.
"Apparently John Lennon was a big fan of the finger boxes," Brooks says. The original Fluxus items are displayed behind plexiglass. The hidden contents are meant to be touched but they are fragile and on loan from other museums. Brooks engaged with the local art collective Artechouse to create a kind of finger box that approximated the intended effect.
But because the exhibition was devised during the Covid-19 pandemic, the actual touchable experience had to be ruled out for safety reasons. Minus actual touch, the team turned to haptic technology, the application of forces and vibrations to simulate a tactile experience. (It feels like your hand is being poked by something, but the process is actually touchless.)
The boxes are meant as demonstrations of what Ay-O's spirited work was intended for, or, as Brooks puts it, "didactic playthings, rather than artworks themselves."
Most of "Happy Rainbow Hell" is taken up by the vivid rainbow prints, which some saw as a shift from Ay-O's earlier boxes and environments. But Brooks says Ay-O "doesn't see his prints as two-dimensional compositions but these immersive surfaces."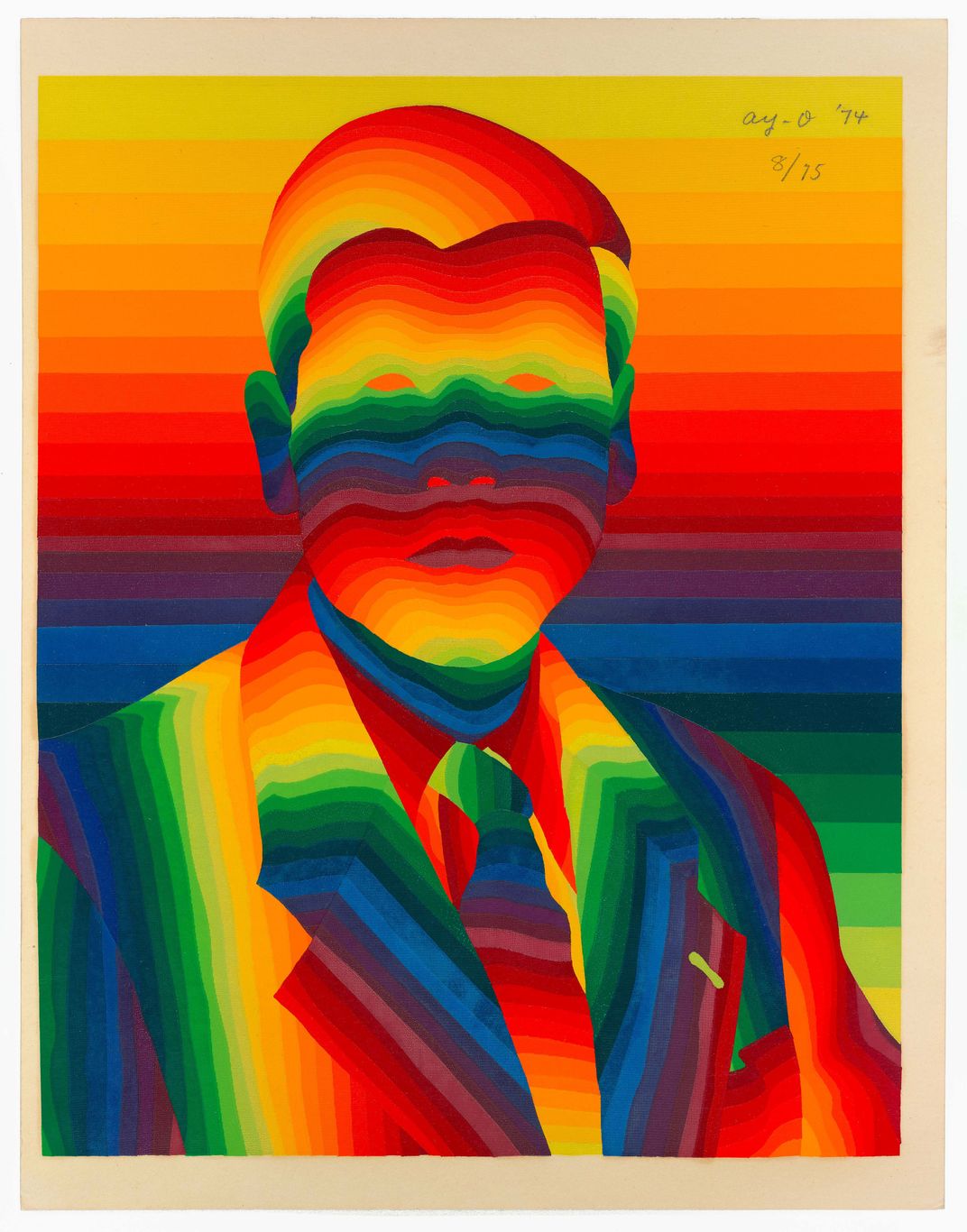 Considering himself an "anti-painter" the artist "decided to do away with lines and only have colors," Brooks says. "And he started painting the walls of his studio—purple at the bottom and just going up, letting each color dry before adding another one."
One of the earliest works in the exhibition is also the result of emerging technology: the first color photocopier. When it became available for public use in 1973 at the 3M building in Manhattan, Ay-O and fellow Fluxus artist Alison Knowles split the $80-per-hour cost, and he came back with the series "Then, Mr. Ay-O Got Drunk by the Rainbow."
"Pretty soon after he made them, they realized that color photocopies tend to fade," Brooks says, "so a silkscreen edition was made."
Maintaining a connection with his tactile approach, Ay-O placed the works in a velvet case—one of which is on display for a later work. Visitors can't touch that one either, but the museum offers a strip of sample velvet to offer people a feel.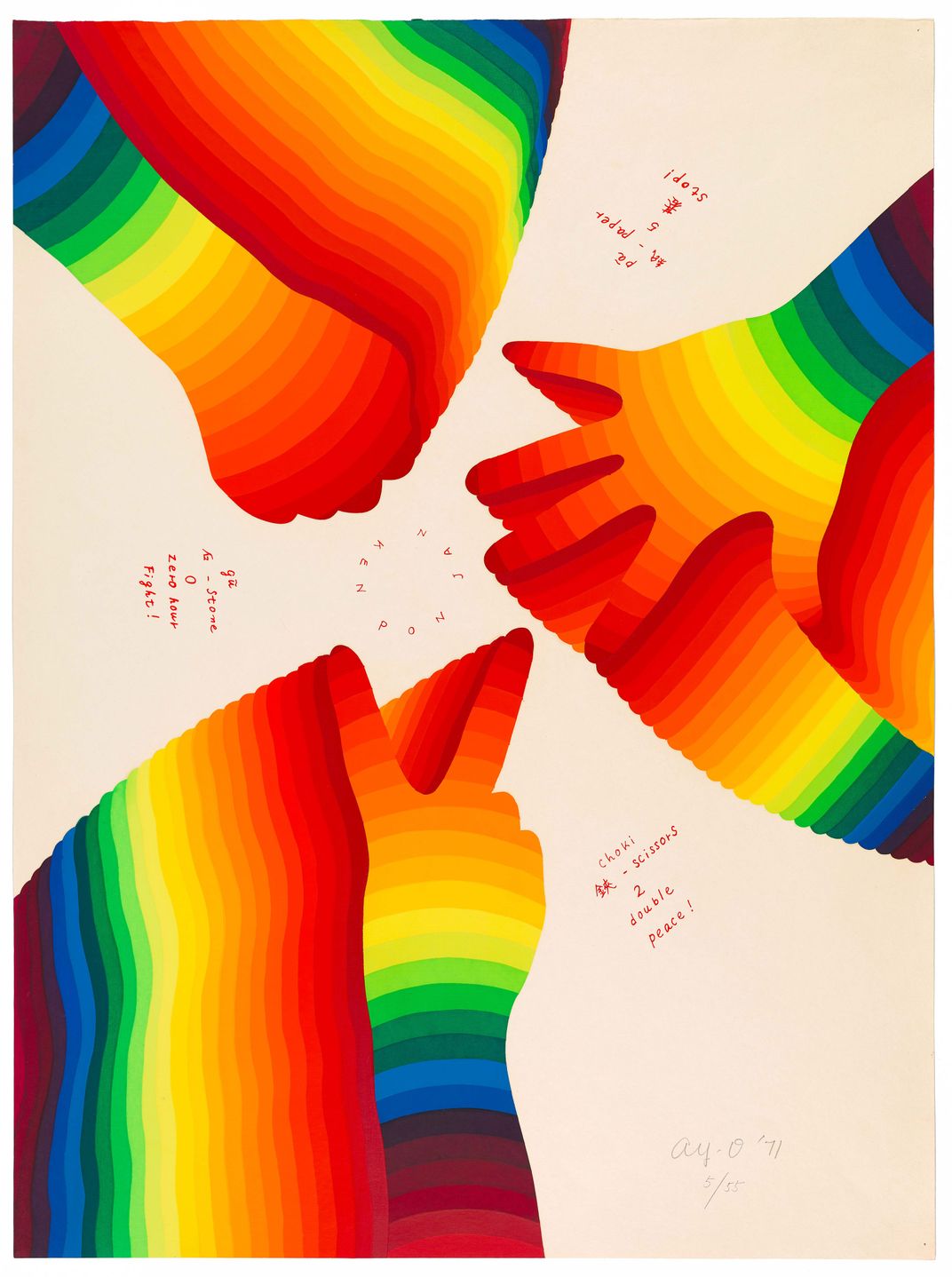 At first the artist handled early silkscreens himself. But the complexity of using oil required he work with a pair of printers, who ended up taking over the laborious process for the rest of his career.
"Each color is added separately and takes about three days to dry," Brooks says, "So the average Ay-O print takes between three to six months to make. It kind of defies the whole point of silkscreen in a way, which is seen as this easy, commercial sort of process."
Ay-O preferred oil for its saturation, thickness and density. But it was a preference that also became a challenge for the catalog. "We actually got a grant from the Getty Paper Project to add more Pantone colors to the project," Brooks says. "We asked for six, and we ended up doing nine."
He bends the rainbow's bands of color to create his own reinterpretations of Hokusai's Mount Fuji and works by Fernand Léger and Edward Hicks.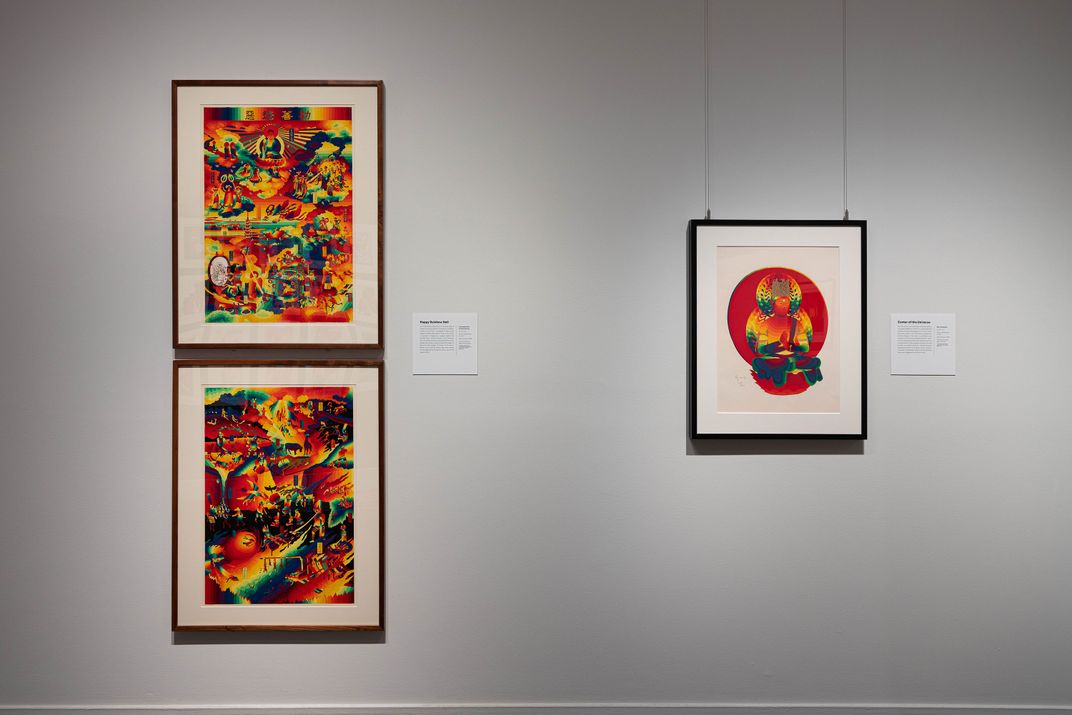 While teaching at the University of Kentucky in the late '60s, Ay-O became a Bob Dylan fan, and he named a series of works "Rainbow Passes Slowly," after the song "Time Passes Slowly." Another series, which includes the Hicks interpretation, is titled "Nashville Skyline" after Dylan's 1969 album.
While the playful colors of his work may feel childlike, Ay-O also includes erotic subject matter that earns the exhibition a parental advisory.
One particularly gruesome piece is Encouraging Virtue and Chastising Vice, a Bosch-like view, Buddha-style, of the afterlife, on loan from the Cincinnati Art Museum. The work is a means for Ay-O to cast judgement on himself. "He said, 'We knew we were going to hell as soon as we die, so we're just getting rid of the paperwork,'" Brooks says.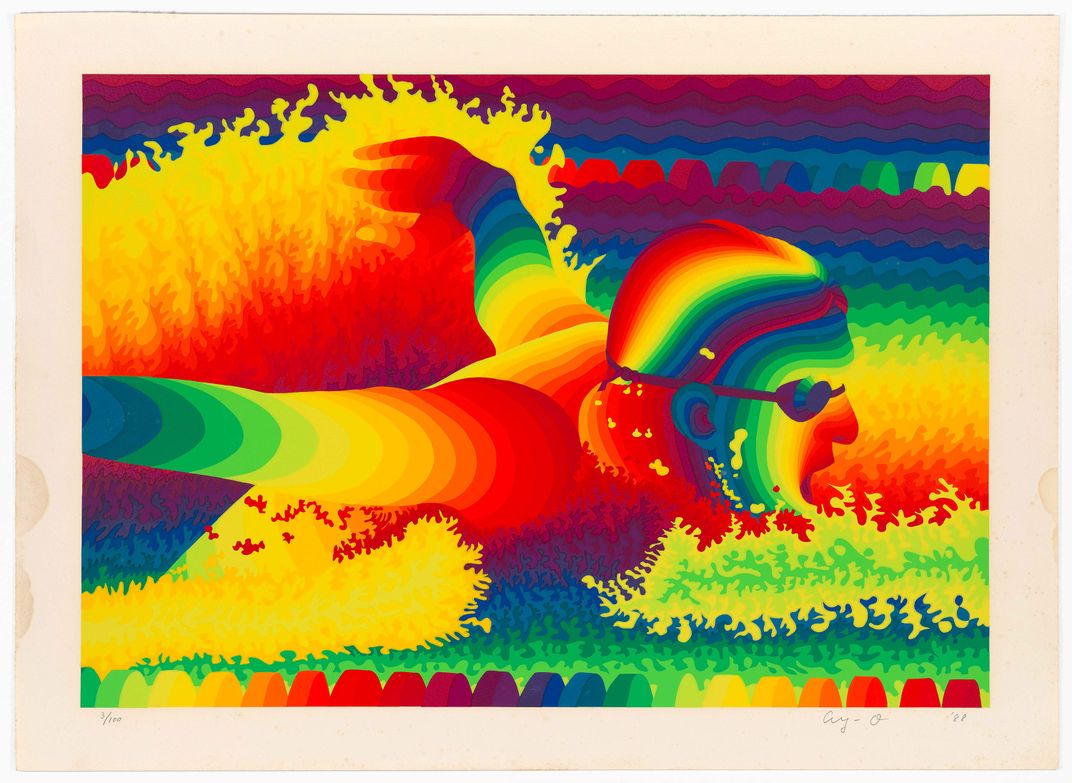 As visitors walk amid the vivid Ay-O works on the wall, a second interactive device from Artechouse tracks their movements in similar rainbow swaths. Overall, "there's fun, but also seriousness in what he's doing to capture that dichotomy where he's talking about the compulsion he feels from the universe to make rainbow art," Brooks says. "It's like something he can't get away from; he can't escape it."
His bold, pop art, single-minded style recalls another popular Japanese artist of his generation who was similarly largely ignored while living in New York in the 1960s: Yayoi Kusama. Her exhibition One With Eternity continues down the street at the Hirshhorn Museum through July.
Ay-O's advanced age and failing health will prevent him from seeing the first U.S. museum survey of his work, but Asian Art Museum personnel plan this month to join him in Japan to celebrate his 92nd birthday.
"Ay-O's Happy Rainbow Hell" continues at the National Museum of Asian Art in Washington, D.C. through September 10, 2023.
A Note to our Readers
Smithsonian magazine participates in affiliate link advertising programs. If you purchase an item through these links, we receive a commission.