The Summer of Yoko Ono Ends with Shrieks and Screams
A concert, a broken vase and unfettered adoration for the avant-guard artist marks the Hirshhorn's finale to its appreciation
The Summer of Yoko at the Smithsonian's Hirshhorn Museum and Sculpture Garden ended in screams and shards, which may have been just the way the avant-garde artist would have wanted it. 
Yoko Ono's best-known association with the museum is her Wish Tree for Washington, D.C., a dogwood in the sculpture garden onto which thousands of wishes written by visitors are tied annually to its branches. 
To mark its 10th anniversary the museum added a second participatory piece, My Mommy is Beautiful, which invited visitors to leave thoughts, drawings and pictures of their mothers on a 40-foot wall in the museum lobby. 
"We've had over 30,000 people draw and write and paste their photographs of their mothers in our lobby," Hirshhorn director Melissa Chiu says. "This is where the strength of Yoko Ono's artistic practice comes in: She brings people together." 
A third Ono installation this summer, the 1966 work Sky TV for Washington D.C. was on the third floor, pointing a camera at the bypassing clouds outside and providing a 24-hour live feed of clear or stormy days—an early work using the instant feedback capability of video.
A late addition to the celebration came in the form of large black letters on a white wall of the Union Market on 6th St NE that may serve as a kind of reassuring diagnosis to passerby:
Relax. Your Heart Is Stronger Than What You Think!
Like other Ono billboards worldwide, such as the 2009 Washington mural, Imagine Peace, they are meant to send a message.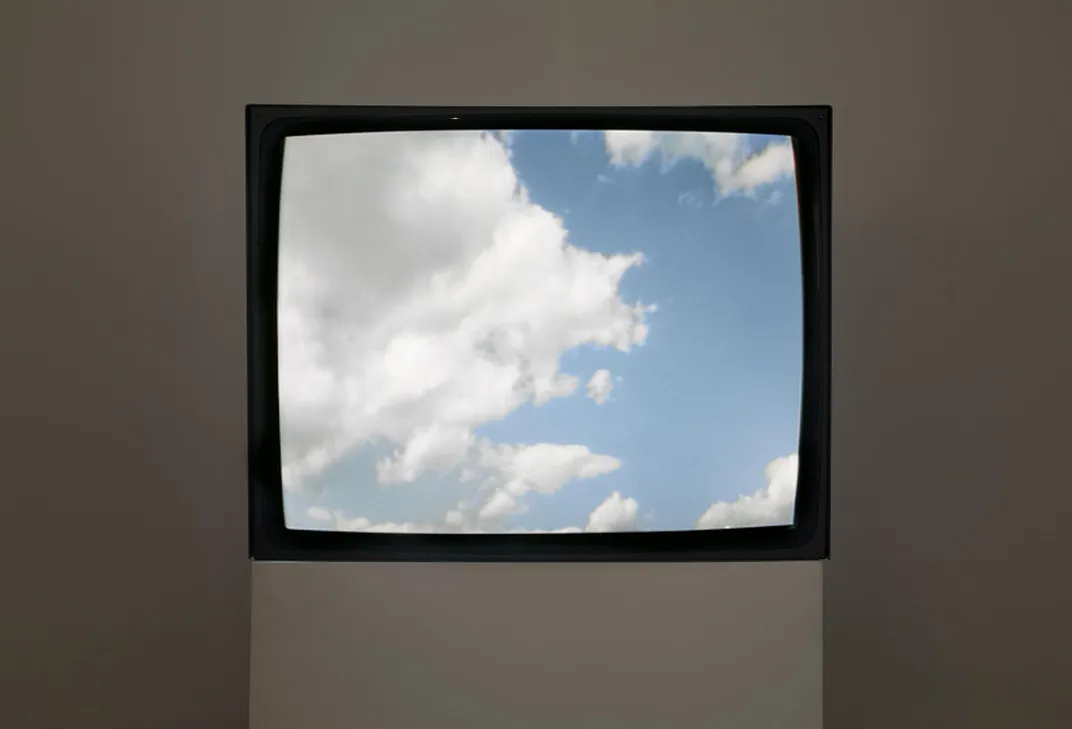 But the Ono piece also kicks off a Hirshhorn in the City initiative meant to spread art beyond the museum. "This is the first and we're very happy for it to launch our new thinking of really wanting to build and help the artistic community in this city," Chiu said. 
"This is really about community," said Jodie McLean, CEO of Edens, the development company behind Union Market. "And for us, it's about arts and community."
For the reception celebrating the wall piece, McLean read one of the instructions from Ono's 2013 book Acorn, titled City Piece I: 
"Find a spot that is comfortable for you.

Keep the spot clean.

Think about the spot when you are away."
But it was the finale concert, titled, Concert for Yoko Ono, Washington and the World in the museum's outdoor plaza September 17, where contemporary performers picked up on the suggestions of Ono's own groundbreaking screeches to really let it rip.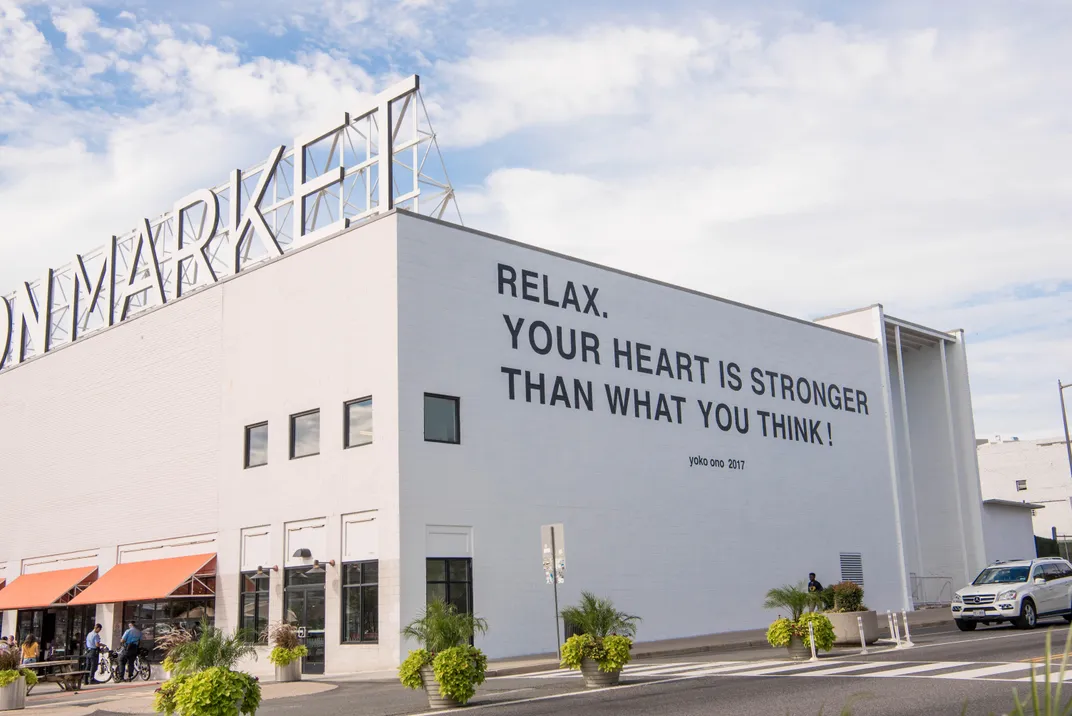 Mark Beasley, the recently named curator of media and performance art at the Hirshhorn, said the concert was intended to "look at Yoko's key influence in terms of music—both in pop music to the experimental avant-garde of the time and recognizing her key place. I don't think there's one of the 300 noise bands I've met in Brooklyn over the last decade that hasn't named Yoko Ono as a key influence."
And while Ono has no doubt had an influence as well in pop—one of her albums with John Lennon hit No. 1, and she can be heard on such late Beatles songs as "The Continuing Story of Bungalow Bill," "Revolution #9" and "Give Peace a Chance" (which she likely helped write as well). Just this year, she was awarded co-songwriting credit for Lennon's classic "Imagine," since many of its lyrics were lifted from her writings.
But she's also influenced a more avant-grade edge as well with her wailing performance style, inspiring acts from the B-52's to Miriam Makeba.
She's also topped dance charts in recent decades with remixes of songs from "Walking on Thin Ice" to "Talking to the Universe." And she influenced the band Sonic Youth so much that the couple that led it, Kim Gordon and Thurston Moore, recorded an album with her called YOKOKIMTHURSTON. And it was the 64-year-old Gordon who was the big name at the Hirshhorn concert event.
Like the other two women on the bill—Philadelphia electronic music artist and poet Camae Ayewa, who performs as Moor Mother; and New Yorker Lizzi Bougatsos of Gang Gang Dance—Gordon took cues from suggestions written as poems in Ono's 1964 book Grapefruit.
From Voice Piece for Soprano, Gordon did what it suggested:
"Scream.

1. against the wind

2. against the wall

 3. against the sky."
Turning in three directions to give it her all, Gordon's shriek must have sounded like bloody murder all the way down the National Mall to the Capitol.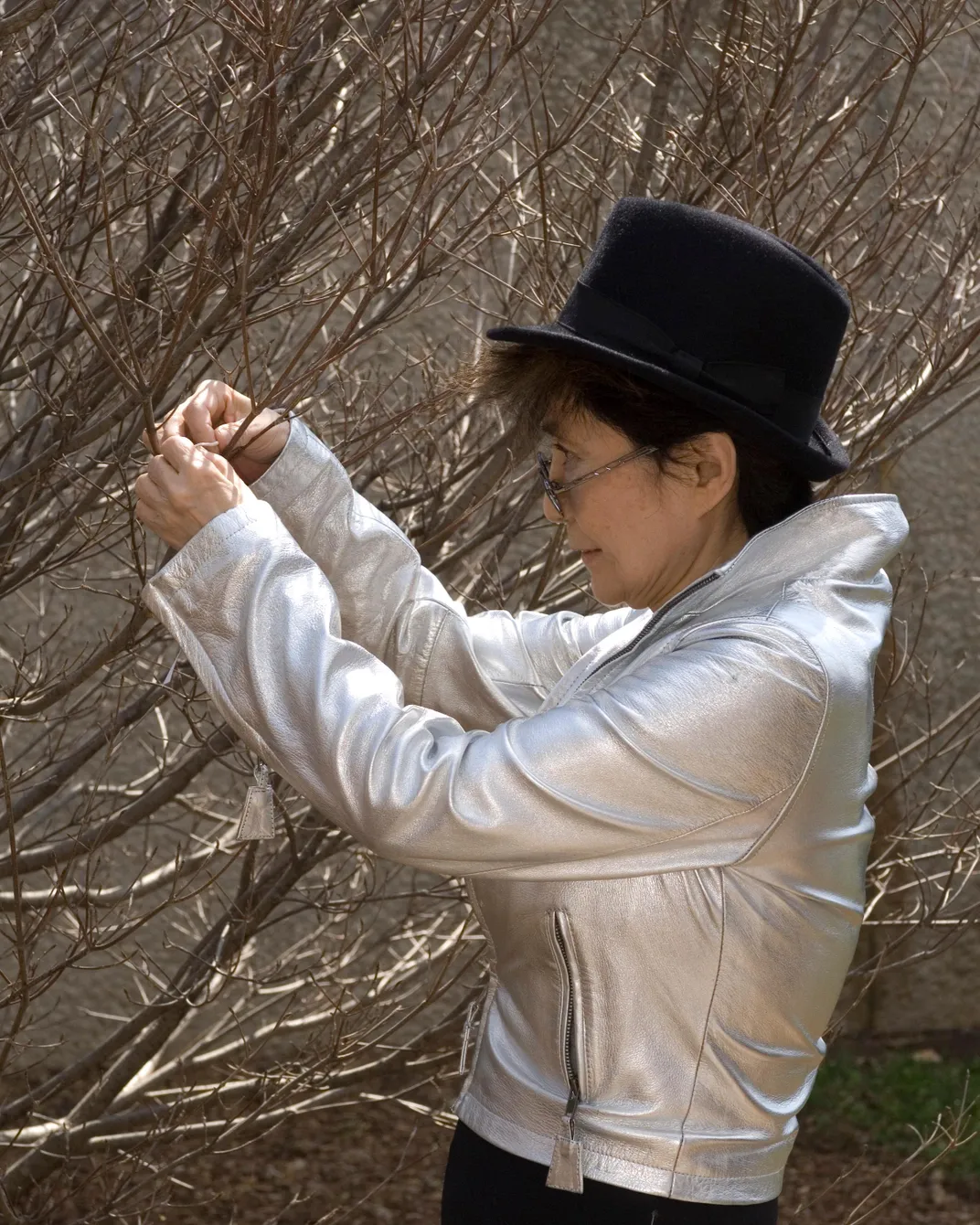 Her iteration of Ono's Collecting Piece was more sly.
Its instructions:
Collect sounds in your mind that

you have overheard through the week.

repeat them in your mind in different

orders one afternoon.
In Gordon's case, she repeated them out loud, in the kind of deadpan voice she used on Sonic Youth's "Kool Thing:"
What about the dreamers?

Can I have a roast beef sandwich?

I got dropped off at the wrong fashion show: Everybody looked Kardashian.

Lunch starts at 11:30

What's he going to do next?

What would the queen say?

The world is turning, I hope it don't turn away. 
The latter seemed to have a rock 'n' roll provenance—it's a line from Neil Young's song "On the Beach."
Gordon concluded by writing her own, longer instructions for a male guitar player striking a pose on stage with instructions like: "He moved his arm in an arc, making a windmill motion." She did the same, gladdening rock fans who had come to see her perform no matter how briefly. Her chords led to her own windmills and eventually playing the guitar on her back, still strumming wildly away.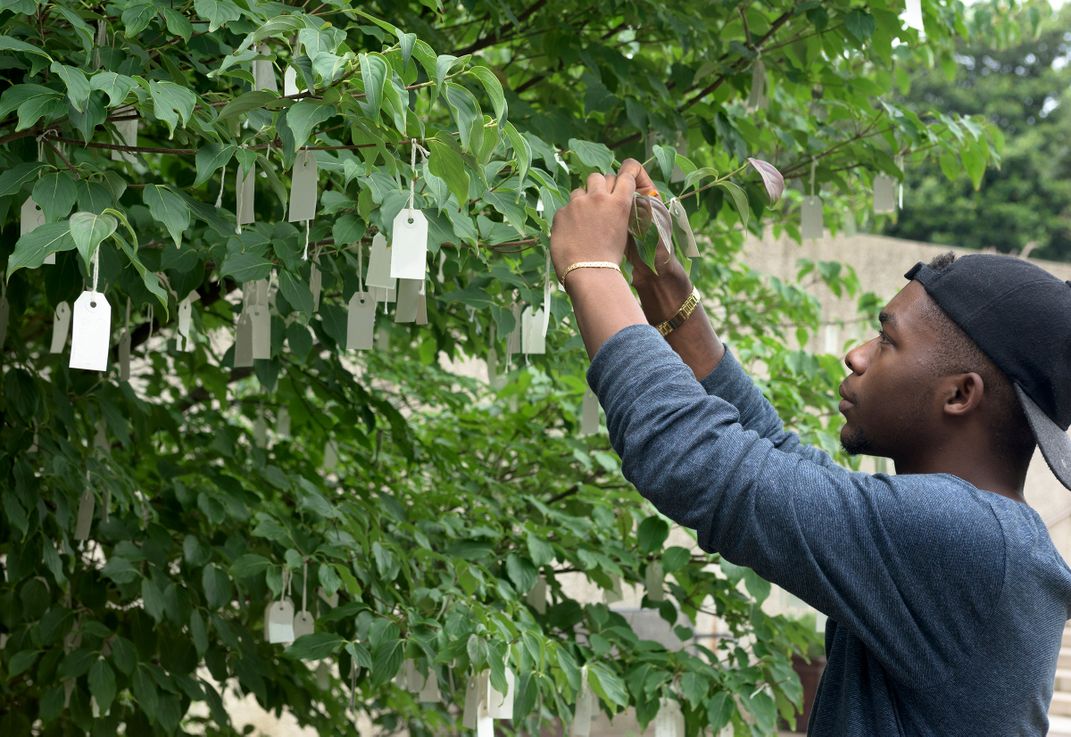 The final piece is what unexpectedly drew a crush to the stage. It was part of a 1966 Promise Piece in which Ono, as Gordon explained it, "broke a vase on the stage and asked people to pick up all the pieces and take them home, promising that they would all meet again in 10 years time with the pieces and put the vase together again."
It didn't quite work out as planned. Gordon, standing next to a lovely four-foot- high vase, said that "because of the conservationists, it had to be broken in a very special way. So it's been pre-broken." 
So alongside the intact vase that stayed intact, a blanket revealed hundreds of pieces of the pre-broken one. "Everybody come up and take a piece," she said, starting a bit of a stampede to the stage.
"At some point, we'll put it all together with all of us."
For her own part, the 84-year-old Ono, who had sent a message to the crowd that said simply "'Thank you for playing my music. I love you," seemed to be taking a cue from her own Concert Piece from 1963:
When the curtain rises, go hide

and wait until everybody leaves 

you. 

Come out and play.