The righteous determination of a younger Harriet Tubman stares out from two different floors of the Smithsonian's National Museum of African American History and Culture in Washington these days. One is a rare, calling card-sized photograph of the civil rights hero that dates to the late 1860s and was only recently discovered in a photo album of abolitionists acquired jointly by the museum with the Library of Congress in 2017. A second version of the image—on a grander scale commensurate with her legacy—is the vivid, more than seven-foot-tall fabric tapestry, a commissioned work by artist Bisa Butler, that is one of the highlights of the museum's new visual arts exhibition, "Reckoning: Protest. Defiance. Resilience."
The show recontextualizes the museum's art holdings to paint a picture of activism and resilience, which culminates in Amy Sherald's celebrated portrait of Breonna Taylor that made the cover last year of Vanity Fair.
Installed in a darkened room all to itself, Sherald's image, in cool blues and subdued grays, evokes the kind of hushed reverence similar to the gallery space where the coffin of Emmett Till is displayed several floors below. 
In contrast, Butler's work, I Go to Prepare a Place for You, fairly explodes in color, with Tubman's hands depicted in vivid blue, purple and red, symbolizing coolness, calmness and strength as well as power and force.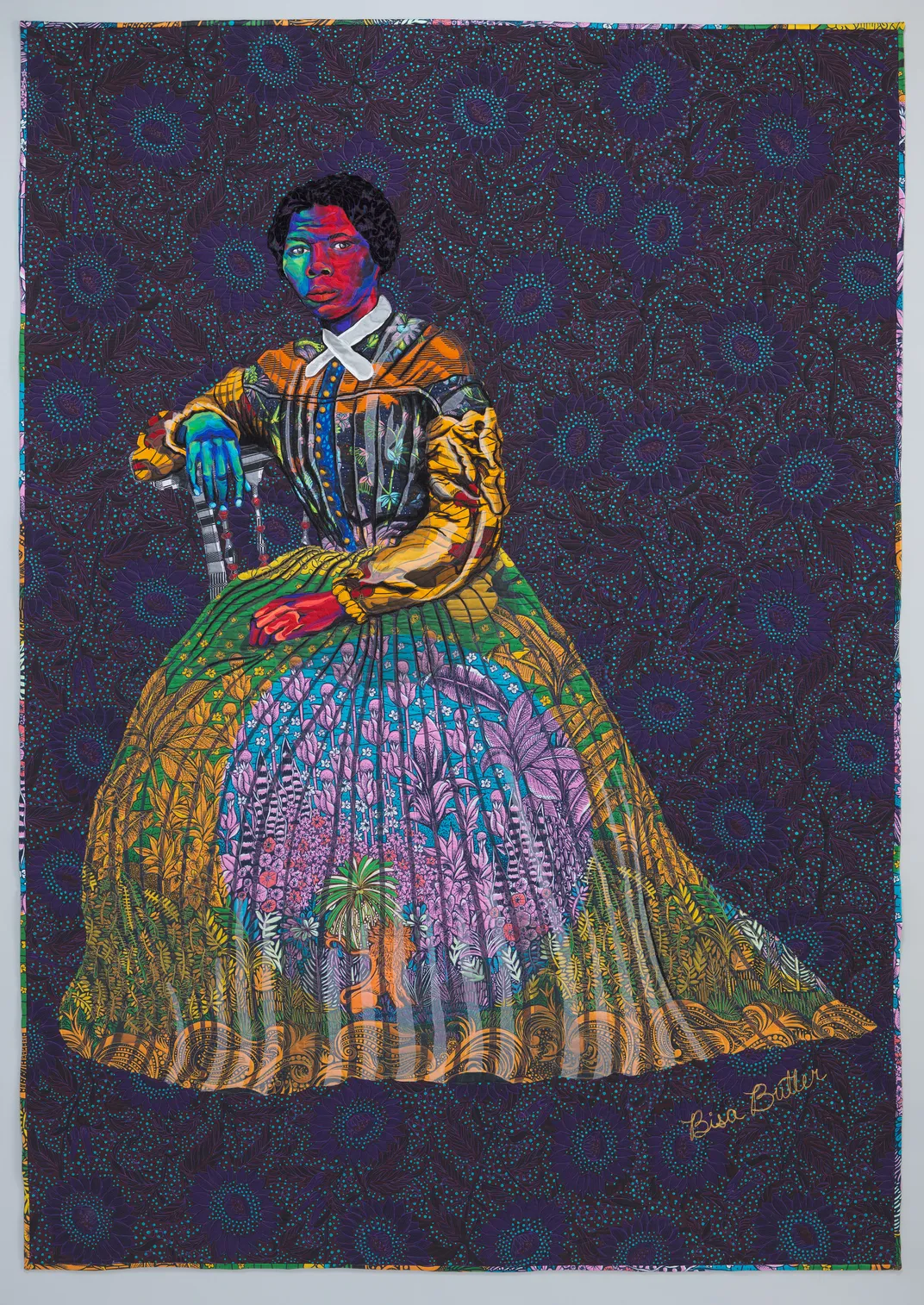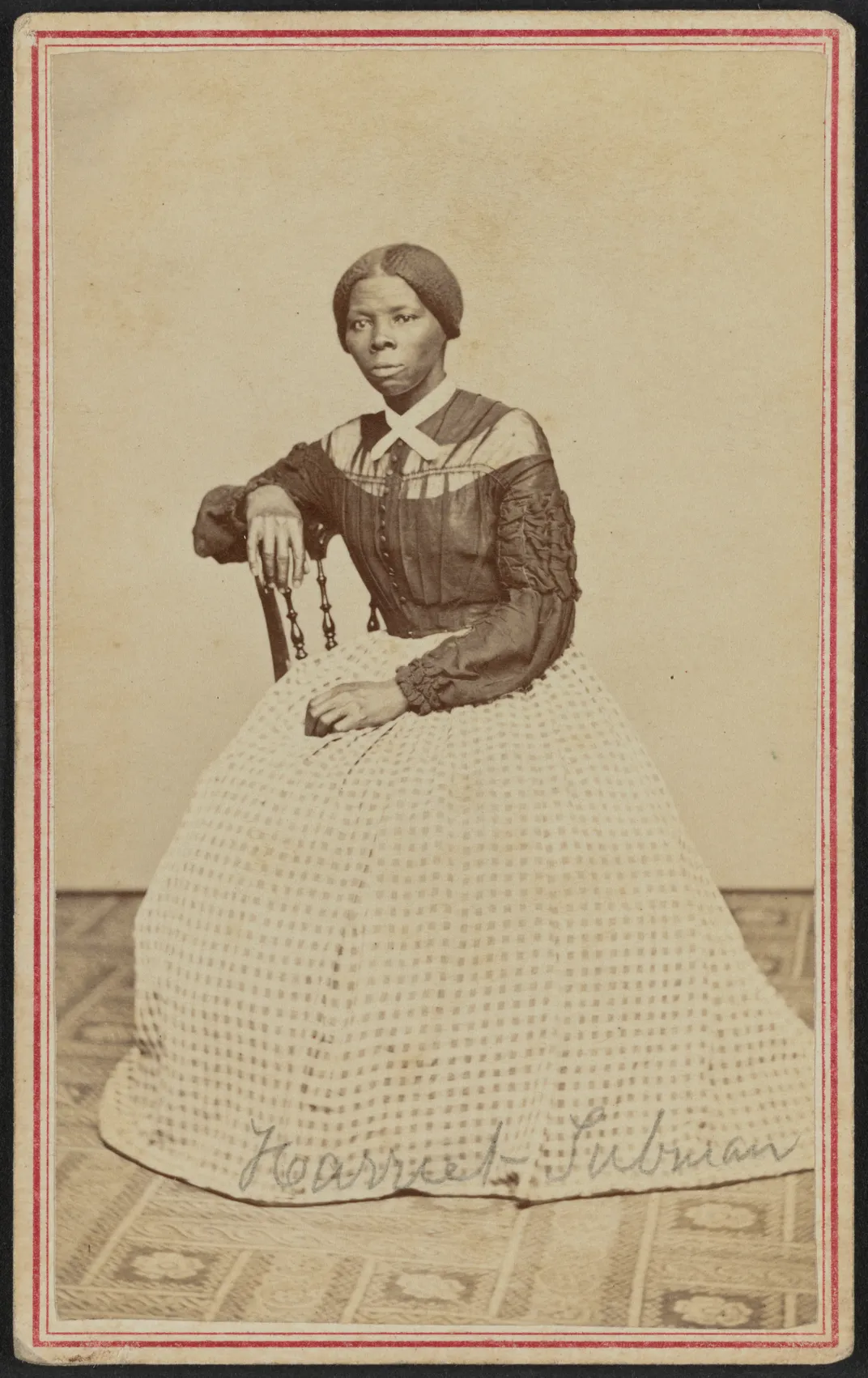 In Butler's hands, Tubman's gingham skirt blossoms with colors and images, across which represents, according to Tuliza Fleming, the museum's chief curator of visual arts, "this idea of moving from an enslaved state to a free state, where you walk through the thickets of the underbrush, through the flowers, to the skies, and eventually to the sleeves, which shows birds, which represents the eventual freedom of enslaved Africans through their journey."
At the base of the reimagined skirt is an orange lion, "which stands for the strength and leadership of Harriet Tubman as she lead enslaved people to freedom," says Fleming, who was the lead organizer of the show.
Butler, whose vivid show of 20 quilted portraits recently closed at the Art Institute of Chicago, says: "My process is that I find a photo in an archive, sometimes it's just a look in someone's eye that lets me know there's more to this person than the title of the photo. And I like to make a sketch of that person and start thinking about: what else can I tell from this man? Are his hands rough and worn? Does it look like maybe he worked with his hands? Is there a thoughtful look in his eyes? Are his legs crossed in a very elegant way? I start imagining the personality, and choosing fabrics that I think might tell a story about this person."
Butler says that when she first saw the Tubman photograph in the museum's collection, it was a revelation. The image is the earliest known photograph of Tubman and had been bound into an album that had belonged to the Quaker abolitionist Emily Howland. "I always thought of her as the older woman. And in that photo, she's about my age now—she's in her 40s. It allowed me to see Harriet, the woman. And in the clarity of the photo, as well, you can see her hands, the veins in her hands, the beautiful dress she's wearing. You see the waves in her hair.
"It allowed me to see something that is rarely written about, or at least I hadn't heard about it written: What was Harriet's personality? Was she sweet and soft-spoken? Was she forceful? Was she funny? Was she witty? I don't know those things. But in that photo you saw something of that person and her expression that was so beautiful that I thought it was such a privilege to try to capture it."
Butler uses cotton, silk and velvet that's been quilted and appliqued, often using the Dutch Vlisco wax and Kente cloth to denote Africa. Born in New Jersey, Butler received a degree in painting at Howard University, but switched to fiber art while pursuing her master's degree from Montclair State University.  
In a statement posted alongside her Tubman portrait, she writes: "We are still in the same fight that Harriet Tubman is in—the fight for Black people to be free and to be treated equally under the law."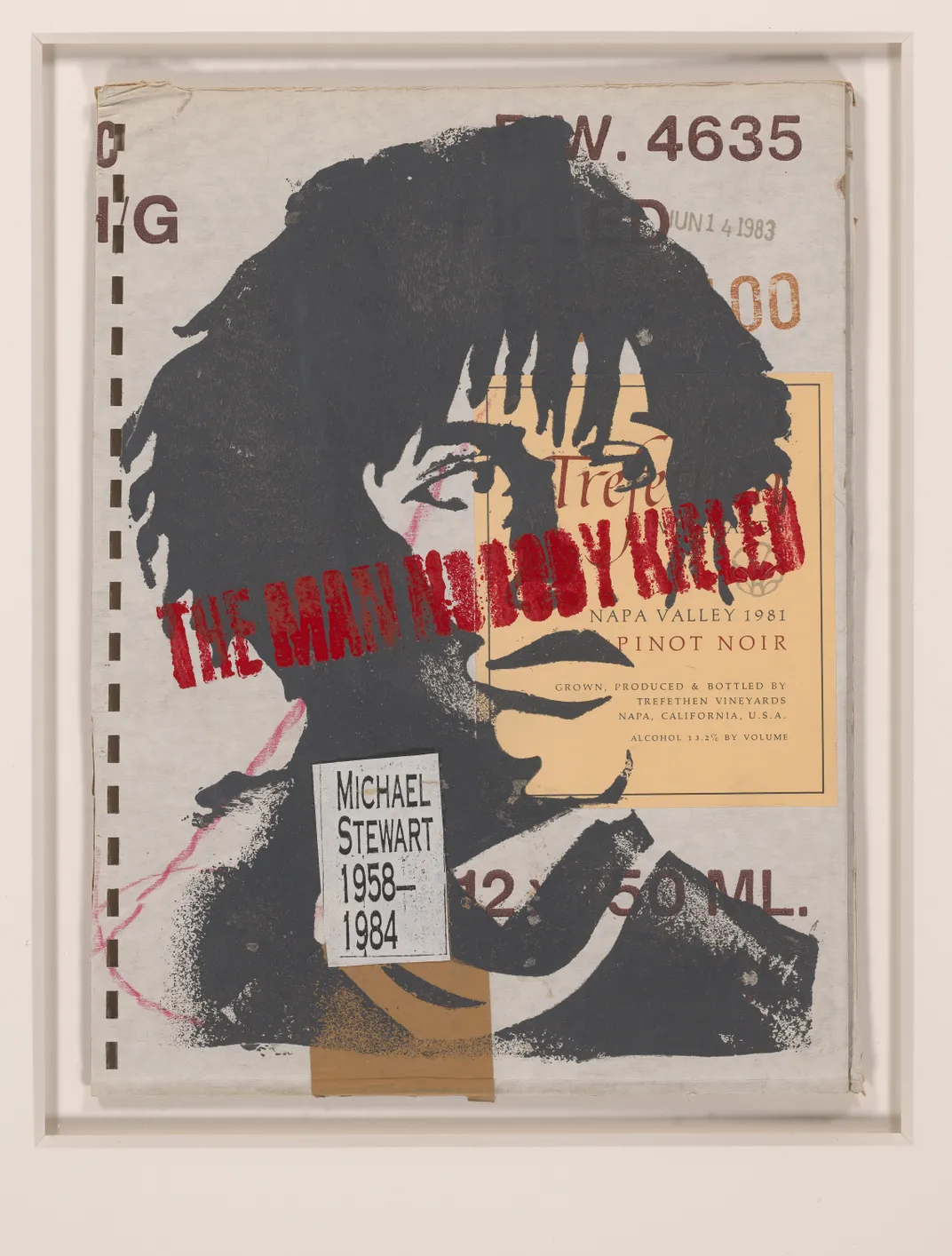 Another new acquisition for "Reckoning" is David Hammons' The Man Nobody Killed, commemorating graffiti artist Michael Stewart, who died in 1984 of injuries sustained while in police custody. Hammons represents Stewart in a stencil printed on a wine box. It's one of two works by Hammons in the show, the other is a 1990 rendering of the American flag in the pan-African colors of black, red and green.
The U.S. flag makes several appearances in the exhibition in variations that include a tiny paper version with Xs by perhaps the most famous artist on display, Jean-Michel Basquiat, the 1980s superstar painter and Andy Warhol contemporary. The devastating 2014 watercolor by Patrick Campbell, with hanging figures in the red stripes, titled New Age of Slavery, is placed among photographs from Devin Allen, Zun Lee and Sheila Pree Bright taken at Black Lives Matter protests in Baltimore, Ferguson and Atlanta. 
Women activists take center stage in the exhibition. Tubman is represented a second time in Alison Saar's foot-high maquette made for the Harriet Tubman memorial monument in Harlem. Montgomery bus boycott organizer Euretta R. Adair can be seen in a graphite mug shot rendering by Lava Thomas. Angela Davis is depicted in Wadsworth A. Jarrell Sr.'s bold screenprint Revolutionary and unnamed women march for justice in Charles Alston's 1958 oil Walking. 
A healthy representation of women artists also dominates the show, from Elizabeth Catlett's woodcuts to Meta Vaux Warrior Fuller, whose ca. 1921 sculpture Ethiopia is the exhibition's oldest piece. 
Museum director Kevin Young says the exhibition came together in record time—five months, urged on by recent events. Along those lines, Fleming says "Reckoning" seeks to "forge connections between the Black Lives Matter protests, racial violence, grief and mourning, hope and change." 
Lending powerful potency to that ambitious goal is Sherald's poignant rendering of Breonna Taylor. On March 13, 2020, during a botched raid on her home, Louisville police officers shot and killed Taylor while she was sleeping. Her death helped fuel a widening protest that went worldwide with the murder of George Floyd two months later. Sherald, the Baltimore artist best known for the official portrait of former First Lady Michelle Obama, portrays the young medical student looking directly at the viewer, a gold cross hangs at her neck and an engagement ring that her would-be fiancé didn't have a chance to give her sparkles from her finger.
Sherald commissioned designer Jasmine Elder to realize the turquoise dress honoring Taylor's keen fashion sense. Since her death, a movement has been built calling for justice. "When you're speaking about violence against women and police brutality, she's become a face for that movement," Sherald says in a statement accompanying the painting.
This is an art exhibition reinforced by the direct connections to the history echoed in the museum's celebrated inaugural exhibitions, "Slavery and Freedom," "Defending Freedom, Defining Freedom," "A Changing America: 1968 and Beyond," and "Making a Way Out of No Way," among others—these shows have drawn millions to the museum's numerous galleries on the National Mall since it opened five years ago.
"One of the most unique facets of our gallery is the fact that we are a history and culture museum," Fleming says. "This is really important because we have the context from which we can prepare visitors to see really difficult and important works of art."
"Reckoning: Protest. Defiance. Resilience" is on display in the newly redesigned Visual Art and the American Experience gallery of the Smithsonian's National Museum of African American History and Culture in Washington, D.C.