Step Into the Bureau of Bureaucracy at the Renwick Gallery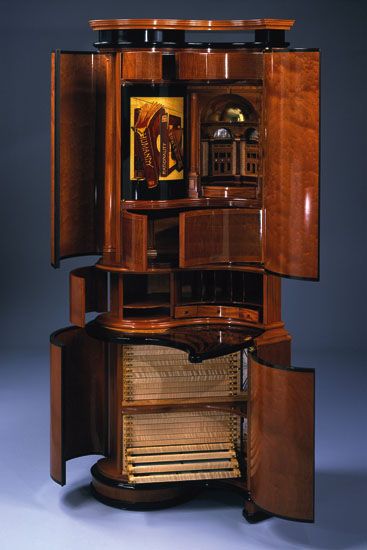 Kim Schmahmann's Bureau of Bureaucracy is a dizzying array of surreal puzzles and hidden compartments all contained within an unassuming piece of furniture.
This modern-day cabinet of curiosities begs for further examination. Tomorrow at 12 p.m. at the American Art Museums's Renwick Gallery, hear curator Nicholas Bell and exhibits specialist James Baxter delve further into the beautiful Bureau on display.
Schmahmann, a South African-born conceptual artist, completed Bureau of Bureaucracy in six years (from 1993–1999) at the MIT Hobby Shop in Cambridge, Massachusetts. The work explores the artist's observations that the notable and important treasures today's society wishes to keep safe are documents that result from "interactions with the many bureaucracies that... register our existence, certify our competence, authorize our activities, describe our health and wealth, permit our movement, and sanction our union."
For the uninitiated, the top of the Bureau's curvilinear front opens up to reveal the first bureaucratic layer, a model of the reading room of the Library of Congress. To the left of that is a marquetry of four books, alluding to how bureaucracy itself is a force to be reckoned with: "Power," "Humanity," "Rationality" and a fourth book with no name (representing the unknown forces within bureaucracy). Behind the book marquetry are a set of "symbolic drawers" which resemble a library card catalog. Among these boxes are false drawers, a bottomless drawer, a drawer with a glass ceiling, a half drawer, a reflective drawer, a drawer that is also an iron cage (representative of Weber's Iron Cage), a drawer of measures, a drawer within a drawer, several hidden drawers and a drawer that is perpetually locked.
The outer-most layer of the Bureau's lower case opens to twenty document drawers that store various milestone documents from Schmahmann's life. The bottom slot holds his birth certificate and, someday, the top slot will contain his death certificate.
If you cannot make the curator talk tomorrow, you can examine the Bureau on the 2nd floor of the Renwick. But no touching, please, since we at the Smithsonian have a bureaucracy of our own.