This Steampunk Pottery by a Man Named Beer is Not Your Usual Craft Fair Fare
Paveen "Beer" Chunhaswasdikul's unique, hand-hewn stoneware will be showcased at the 32nd annual Smithsonian Craft Show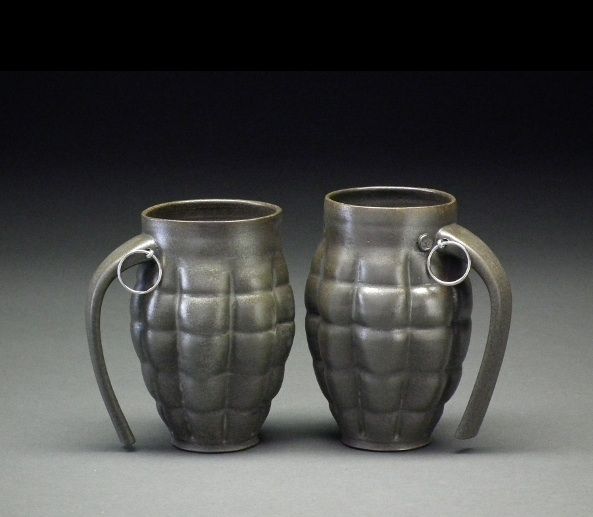 As a former auto mechanic, it'd make sense that potter Paveen "Beer" Chunhaswasdikul's garage in Gadsden, Alabama, would be filled with relics from his past career. The room's shelves are lined with metal cans, flame throwers and engines. But their metallic glint belies a surprising secret: Each object, from bolts to base, has been painstakingly fashioned from clay. And the garage, where the craftsman once tinkered with car innards, is now a ceramics studio. There, he spends his days hand-making "metalware" teapots and mugs that are just as much miniature pieces of art as they are eye-catching novelties. 
"It's a lot more gratifying to make something instead of trying to fix something that's broken," says Chunhaswasdikul, who's known by his birth name, "Beer," among his family and friends. Since becoming a full-time potter in 2002, Beer's work, which includes both functional and decorative items, has been featured in some of the country's most prestigious juried craft exhibitions. This week, his rugged brand of stoneware will also be showcased in the annual Smithsonian Craft Show alongside the one-of-a-kind creations of 123 other participants.
Beer was born in Thailand, and moved to the United States to study English at Gadsden State Community College in 1985. After graduating, he attended Jacksonville State University, where he became infatuated with designing and creating ceramics. Beer completed college with a B.F.A., and moved to Birmingham with his wife, Yuka. There, he would dabble in nearly every kind of professional pursuit—except for art. Beer opened an automobile repair shop, purchased and operated several gas stations in Gadsden, and also briefly owned a Chinese restaurant, all the while helping Yuka run a children's clothing boutique. But one day, a newspaper ad selling a pottern kiln caught Beer's eye. It was only $50, he says; he "couldn't pass it up."
Beer soon acquired a real pottery wheel, bought some clay and transformed his garage into a workspace. This, along with the encouragement and praise he received from customers and local media outlets, motivated him to quit his multiple "day jobs" to focus on his passion.  
Beer primarily makes his living from his dishwasher-safe, functional ceramics—teapots, birdfeeders, pitchers and mugs—that are wheel-thrown and hand-fashioned into sculptural forms before they're coated with vivid paints and glazes. Each item, says Beer, is designed to be both "expressive and fun." But in 2011, he set a new goal. He wanted to make what he now jokingly calls "manly pottery." Inspired by rusty flea market finds and the years he spent elbows-deep in automotive grease, Beer began a series of "metalware"—clay teapots shaped like Porsche innards, air compressors and other utilitarian repair shop parts, as well as cylindrical mugs that resemble grenades. 
Beer sculpts his gleaming, silver-black and rusty gold teapots and mugs on the wheel in sections, which he then assembles with slab-made parts. He's also been known to mix his own glaze shades, and fashion miniscule details like screw heads, welding marks and valve stems with tools he's made himself. The final product? Elaborate (although not always tea-worthy) vessels that range in price from $250 to $5,000 dollars and are prized by collectors and judges alike. Each teapot is labor intensive; so Beer makes just 20 to 30 a year and gets to know every single person who purchases his pottery. "I like to see where my pots go," says Beer. 
This is Beer's second appearance at the Smithsonian Craft Show; his metalware won the event's coveted Best in Ceramics award in 2011, and he's excited for it to once more be spotlighted alongside other limited edition works ranging from furniture to glass and wearable art. Some people, says Beer, will be surprised to see him among the show's 22 ceramics vendors instead of planted smack-dab in the middle of the metal section. 
"People come up to me and ask me what kind of welder I use," laughs Beer. "I have to answer that all day long." 
The Smithsonian Craft Show opens at the National Building Museum on Thursday, April 10, and will run until Sunday, April 13. Tickets are available for purchase online. Admission is $15 a day, $25 for a two-day pass. Proceeds support the Smithsonian Women's Committee Grants Fund.