This Stained Glass Window, New to the American Art Museum, Is Like Nothing You've Ever Seen Before
Artist Judith Schaechter is pushing the boundaries of her craft, adding her own twist to age-old techniques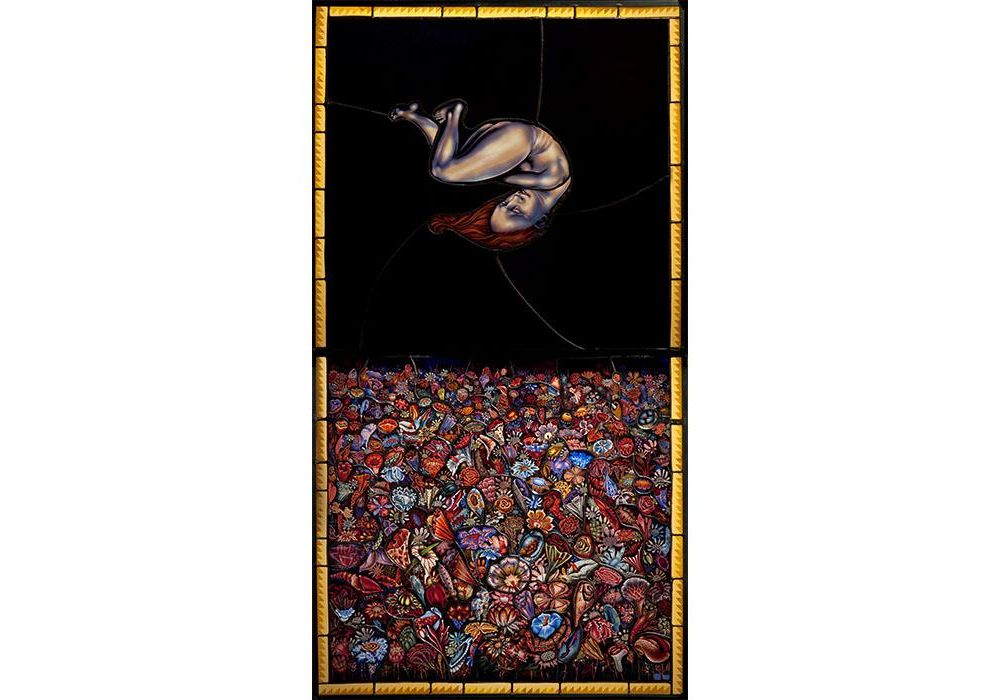 Judith Schaechter, a stained glass artist from Philadelphia, has devoted her life to art with both unique style and subject matter. Most of her work, like the Renwick Gallery's recent acquisition, The Birth of Eve, is displayed using lightboxes, to achieve a stunning effect. Photographs don't do it justice; this kind of work begs a visit to the gallery for a physical encounter.
"You can actually see veins in the skin," says Nora Atkinson, a curator for the Smithsonian American Art Museum's Renwick Gallery. "And when you get in front of it, the black is much more purple. It has a lot of subtle hues that you can't see in a photograph."
The Birth of Eve is one of Schaechter's largest works, measuring 4.75 by 2.5 feet, and is created out of five layers of glass in all different colors that work together, creating those subtle hues. It took Schaechter, who seems to work quickly and obsessively in between the college classes she teaches, months to finish. She first planned to create the garden at the bottom of the piece—already a complicated, time-consuming task. As she was scrolling through her collection of old "doodles" that she had scanned into Adobe Photoshop, she found a doodle of a woman that she enjoyed and started to play with. She twisted and turned the figure in Photoshop, and finally tried placing it in the air above the garden. She knew it was going to be major, she says. "And if it wasn't gonna be major then I was going to make it major, because I can!"
Schaechter says spent the next few months on the Birth of Eve almost exclusively, adding that she cut so much glass for the project that she had nerve damage in her fingers for weeks afterward.
Reached at her studio last week, Schaechter was busy engraving a foot. I remembered my struggles in a college drawing class. "Feet are hard," I blurted. 
"Yeah, they are!" She responded. "It's taking me a long time because I already engraved it and didn't like it, so I started over again, and I'm looking at it going like, 'I don't know how to draw feet.'" She laughed. She's been engraving feet since she graduated from the Rhode Island School of Design in 1983, and I'll venture that she's probably pretty good at it.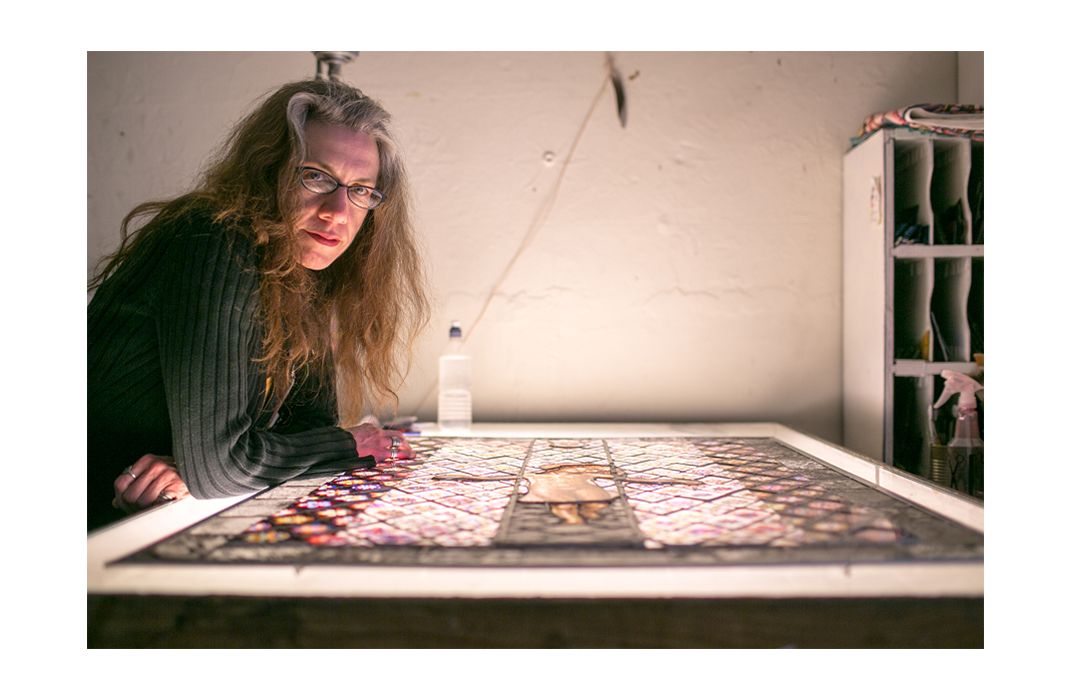 Schaechter started working with stained glass exclusively after she graduated. Since then, she has worked with little else, partly because she knows how engrossed she can become in a new artistic idea, and partly out of sheer dedication to the medium. She once taught herself to use a computer 3D modeling program to design a dollhouse. She says, "It was too good. I just had to drop it because I thought maybe I would stop my life and pursue that exclusive of anything." That intense focus allows her to push the limits of glass art.
Her dreamlike style looks to well-known artists of the past, whose works feel similarly fanciful, though perhaps not quite as hyperdramatic or playful. As a painting student, she says she would often imitate Giotto. Different works of hers riff off of Rodin and Pieter Breugel, while others like The Birth of Eve seem to depict vivid religious scenes. Yet Schaechter wants viewers to freely interpret The Birth of Eve. She thought to reference the Genesis myth simply because that's the first thing that came to her mind when she looked at the piece once she had finished.
"I'm not religious," she says. "So I wasn't like, 'oh, how can I be religious,' and I wasn't trying to make any comment on religion either. I just think it's an interesting creation myth."
We discussed what it meant that Adam wasn't there. "In my private moments, I was calling that piece 'Look Ma, no Rib!' There's no Adam in this version… I don't know where the guys are. Wherever you put them. They're waiting in the other room," she says, laughing at the idea.
Reflecting on her inspiration for the piece, Schaechter remembered that she had been reading a book called Ladies and Gentlemen, The Bible! by Jonathan Goldstein, whose first chapter is a humorous retelling of the Genesis story. She says that she also has always been interested by the writer Joseph Campbell's ideas about the Genesis story as well, which connects innocence to an inability to discern differences and make decisions.
In concept and in technique, Judith Schaechter is pushing glass art forward. "She's using techniques that have always been around, but no one has ever used them in the way that she is using them," Nora Atkinson says. Schaechter takes differently colored stained glass pieces, uses stencils and other tools to engrave shapes, and sandblasts color away from portions of glass, and uses glass paint to create stronger shapes. Then she fires the layer. She eventually layers multiples of these more subtly colored pieces on top of each other and fires them together to achieve the complex hues in her work. Schaechter says, "I fire between every single coat of paint, which is apparently 'not cool,' in the glass world."
The result is a work that shines with energy and spontaneity. She doesn't know what she will finish next, and she doesn't even know what's next for the pieces she's working on currently. She likes glass art because it is filled with surprises, challenges, and a wide open future. Judith says she was excited to explore a medium where  "no one has scratched the surface. Because that's a very literal thing you do."
Judith Schaechter's "Birth of Eve" is not currently on view.