"Staged Stories" Opens at the Renwick Gallery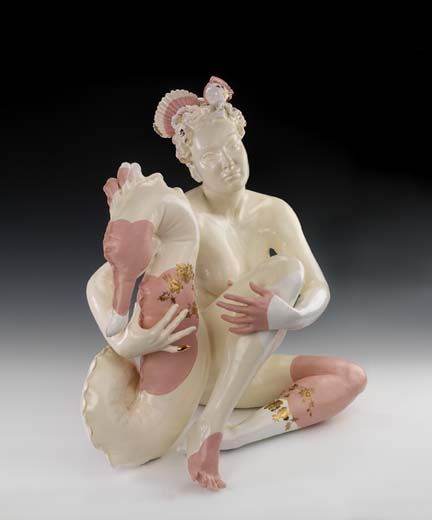 Every two years, the Smithsonian American Art Museum's Renwick Gallery reevaluates where contemporary craft is headed. This year, curator Nicholas Bell noticed the emerging trend of incorporating narrative into craft. All four artists chosen for the "2009 Renwick Craft Invitational," which opens Friday, create stories with their work.
"I think it will change what anyone thinks about studio crafts," says Bell. "I think there's often a very traditional feeling of craft as small, functional items. What we do at the invitational is to reevaluate where craft is going."
The pieces in the exhibit are far from knitted scarves and ceramic cups. Each artist elevates a certain niche of craft to another level while constructing stories.
Christyl Boger, who teaches at the Henry Radford Hope School of Fine Arts at Indiana University, sculpts traditional baroque ceramic figures with a twist. Each figure holds an inflatable pool toy, such as water wings or a toy seahorse. Many of the figures have fingers or toes that are dipped in gold luster.
Mark Newport knits superhero costumes that are accompanied by drawings of the artist and others wearing the costumes. Newport occasionally knits in public while wearing his costumes—a video in the exhibit shows him doing just that. Some of the works are on a larger-than-life scale. One piece, "Every-Any-No-Man" is big enough to fit a 12-foot tall man. Newport is artist-in-residence at the Cranbrook Academy of Art in Bloomfield Hills, Michigan.
SunKoo Yuh's Korean heritage inspires his work. His drawings, done on traditional Korean paper, are influenced by social and political critique. Many of the characters in his sculptures are acquaintances. His piece "Memory of Pikesville, TN" features people he met in that town. Yuh is a professor of ceramics at the University of Georgia in Athens.
Mary Van Cline uses photosensitive glass to print black and white photographs of landscapes and people. Her piece "The Listening Point" incorporates sculpture with large glass leaves, a wooden ladder that can be seen through the transparent photograph and black glass that reflects the image. Van Cline has taught classes at Pilchuck Glass School, Penland School of Crafts and the Rhode Island School of Design.
This year, a new feature was added to the show. After discovering they had an extra room, museum staff called each artist to ask if they would contribute a piece to the exhibition for an interactive gallery. Visitors can touch the inside of a Boger ceramic bust, discover the texture of Yuh's unique glazing technique that results in a Pollock-esque finish and explore the illusions created by printing a photograph on a thick piece of glass.
"When you're going through an exhibit that's so visceral and tactile, you want to touch it," says Bell. Now visitors can.
Newport, Bell says, has been particularly helpful and agreed to start a piece for the gallery. Visitors to the exhibit are free to add to the project. They even set up rocking chairs. "Who knows what it's going to look like when it's finished" Bell jokes.