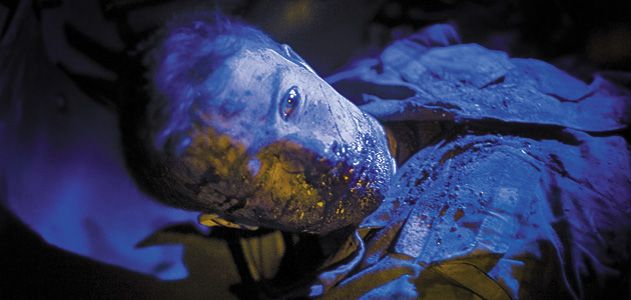 New Looks
Ends February 23, 2014
To encourage innovation in portraiture, the National Portrait Gallery launched the Outwin Boochever Competition in 2006. One of the 48 honorees this year is Louie Palu, a Washington, D.C.-based photo­journalist who submitted a 2010 image of a wounded Afghan soldier. Taken after a nighttime raid in the blue light of a U.S. medevac helicopter, Palu sees it as "two parallel portraits," one of an individual and another of war.
Doll Faces
April 20, 2013- January 5, 2014
Rhonda Holy Bear grew up so poor her dolls were a hammer and a clothespin; today her handmade dolls embody the heritage of her Lakota ancestors and other Plains Indians. Her work (above: Maternal Journey, hide, glass beads) takes its place in "Grand Procession: Dolls from the Charles and Valerie Diker Collection," at the American Indian Museum.
Out of the House
Ends July 7
With the help of an allowance from Arthur M. Sackler, founder and namesake of the Smithsonian Institution's Asian art museum, a New Jersey psychiatrist named Paul Singer amassed some 5,000 pieces of antique Chinese art—all of which he kept in his two-bedroom apartment until he died, in 1997, at age 92. Singer willed his collection to the Sackler Gallery, which highlights 63 pieces that caught his eye in "One Man's Search for Ancient China."
Power to all the people
Ends October 2013
One hundred years ago, 5,000 marchers descended on Washington, D.C. to demand women's suffrage, hoping to revive a movement that had begun to flag. They succeeded. "Marching for the Vote," at the American History Museum, shows how— with banners, buttons and persistence.
Parlor Tricks
Ends June 30
Family portraits were a luxury reserved for the rich until the 1840s, when a new invention—photography—allowed Victorian-era America to begin documenting (or flaunting) their loved ones. "Pictures in the Parlor," at the American Art Museum, presents more than 50 images (above: Two Sisters with Doll, c. 1915) to show how seemingly simple decisions about where and how to display these new status symbols reflected a quiet revolution overtaking the middle-class home.