Speaking of Local Color, Do You Know About Gene Davis?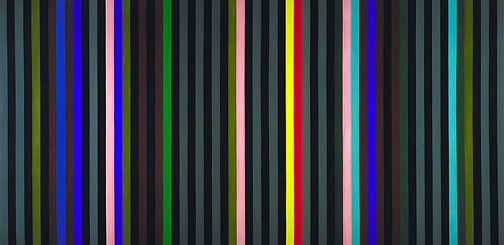 A new exhibition opened at the Smithsonian American Art Museum this past weekend. "Local Color: Washington Painting at Midcentury," blazes with 27 huge color-is-expressive canvases, all works by Washington, D.C.-based artists, Leon Berkowitz, Gene Davis, Thomas Downing, Sam Gilliam, Fel Hines, Jacob Kainen, Howard Mehring, Paul Reed and Alma Thomas.
Color painters are having a moment of rediscovery this year in shows around the Smithsonian campus, including the Hirshhorn's recent Morris Louis retrospective and SAAM's earlier exhibit, "Color as Field."
But speaking of local color, artist and stripe-meister Gene Davis (1920-1985) was a bit of a character. DC native all the way, born and raised, a graduate of University of Maryland, he began his career as a journalist and after a stint at some out-of-town newspapers settled in as a sports writer for the Washington Daily News. "I was born here," he said, "and wild horses could not drag me away."
That was all before he began painting his stripes. Davis painted miles and miles of stripes. He painted a parking lot in Philadelphia with 31,464 square feet, all in stripes. But don't think him a one-hit wonder, for in smart art circles, Davis's stripes are quite significant. Trust us on this.
But consider this, according to one critic: "No painter in this city ever had more fun."
Davis, who frequently played poker with Harry S Truman, once collected a jar of "dirty air" from the sidewalk in front of the White House—and then removed it to the country. He produced, in 1971, a work of art that reads more like a New Yorker cartoon, "The Artist's Fingerprints, Except for One, Which Belongs to Someone Else." He even gave away 50 of his paintings to random members of the public. And he may have lent credence to one of the modern art world's harshest condemnations when he exhibited his works of art alongside that of an 8-year-old.
As Washington Post critic Paul Richard explains in his Davis' obituary: "When asked by irritated fans why he deigned to do such things, Davis like to quote from memory a line from Emerson, who'd said that on the lintel of his doorway he would inscribe the one word. . .
"Whim."
(Gene Davis, Black Grey Beat, 1964, acrylic, Smithsonian American Art Museum, Gift from the Vincent Melzac Collection)