Part of Jeff Place's job as an archivist at Smithsonian's Ralph Rinzler Folklife Archives and Collections is to field questions from around the world about music. And with his desk, nestled amidst original recordings of songs and interviews with some of the biggest names in music, he is well-prepared for the task.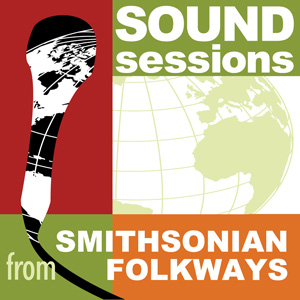 ​
"I think I'm the person on NPR's Rolodex when they look up 'folk,'" says Place.
Now, he adds a new gig to his routine. With host Sam Litzinger, Place records "Sound Sessions from Smithsonian Folkways," a radio show that airs the third Sunday of every month (6 p.m.) on WAMU 88.5, the NPR affiliate for the greater Washington, D.C. area. It also airs six times a month on WAMU's HD channel bluegrasscountry.org.
They have started with what Place calls the "low-hanging fruit," or the musical icons with the most material in the archives. The first two shows (listen) were on Woody Guthrie and Doc Watson. Place and Litzinger string together rare outtakes, biographical information on the artist and their own discussion of styles, lyrics and the times that inspired them.
"We think, what do we have in the back room? Maybe an interview with an interesting person, an old recording no one's heard in years," says Place. "Lately we've been picking an artist, but we might get to a point where we want to do a topic like railroad songs or sea shanties. We have a list of 300 to 400 topics that we want to get to eventually."
The father of bluegrass Bill Monroe is next in the lineup, with American folk legends Dock Boggs on deck and Pete Seeger in the hole.
"It's a chance for people to really experience the archives," says Place, "to hear things they're not likely to hear and a chance for us to get them out of the boxes."