Songster Dom Flemons Brings Back the Melodies of the Black Cowboy
The Latest from Folkways, a Label Marking 70 Years, revives music traditions from the African-American ranch crews of the West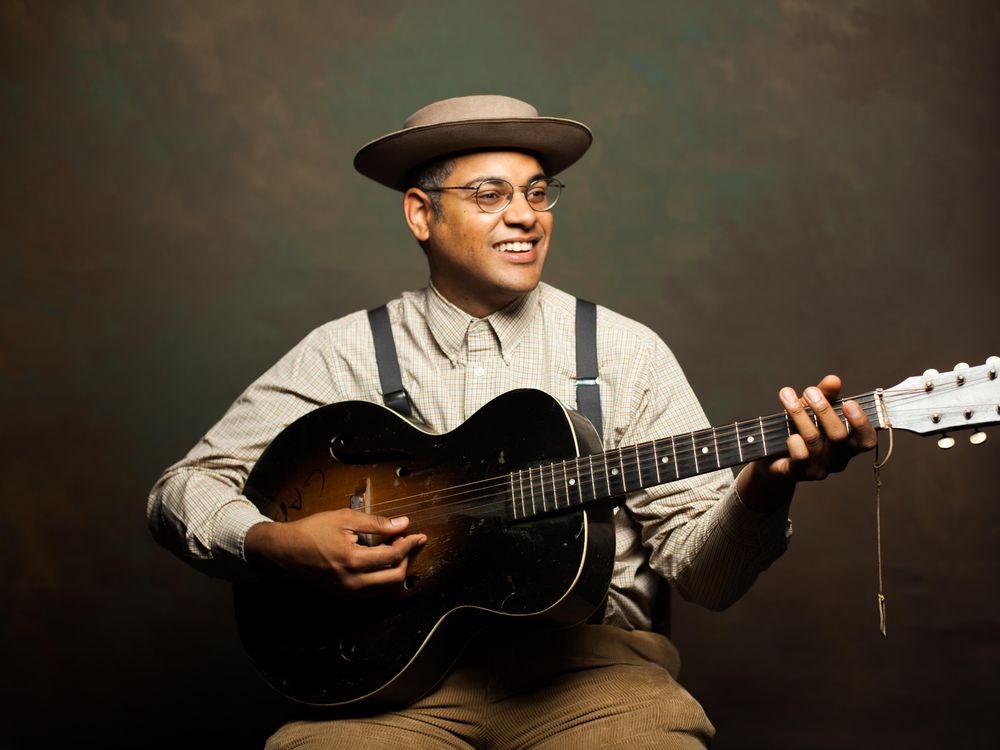 Whitewashed from cowboy movies and lore, the African-American contribution to the shaping of the American West was more significant than previously considered, down to tunes they sang, which were as familiar as "Home on the Range."
In researching songs that would become his album Dom Flemons presents Black Cowboys for Smithsonian Folkways Recordings, the artist learned that musicologist John Lomax recorded the most familiar version of "Home on the Range" from a black cook in San Antonio.
"He transcribes the fellow's particular way of singing the song and it became the well-known western anthem that we know today," says Flemons.
It was the same with a familiar cattle driving song about a horse, "Goodbye Old Paint."
The fiddler who Lomax recorded singing that song was white, Flemons says. "But another musician talked about how he learned the song from an ex-slave who worked for his father on the ranch." It has since been credited to the black cowboy and former slave Charley Willis.
Hearing about the roots of two songs so closely associated with the American West, Flemons says, "started leading me in a musical direction that showed that African-American cowboys were an essential part of the general cowboy song theme."
From books like Philip Durham's seminal 1965 The Negro Cowboys, a copy of which he found in his native Arizona, Flemons learned one in four cowboys who helped settle the West were African-Americans, as were some of its biggest personalities, from Nat Love, better known as Deadwood Dick, to Bass Reeves, the first black deputy U.S. marshal west of the Mississippi, who many believe was the model for The Lone Ranger.
Flemons wrote an original song about the leading black movie cowboy, Bill Pickett. And he found strong connections to other parts of the African-American experience such as the cowboys who became Pullman Porters and in turn became strong figures in the Civil Rights Movement. "I knew I had to tell a story that was a story of the past, but also point people to a direction to show that there are modern black cowboys that are still out there," Flemons says.
He says he found the right partner to issue his entertaining history in Smithsonian Folkways. Black Cowboys was the first to be issued in the label's 70th anniversary year and Flemons, the Grammy-winning co-founder of the Carolina Chocolate Drops, was featured entertainment when the label marked the milestone with a party at the Smithsonian Castle in early May.
"I started working on this project two years ago, and being able to have it come out on their 70th feels very righteous," he says, "taking my cues from people like Lightnin' Hopkins and Lead Belly a part of the Folkways catalog for years and years. That's something that's been a great honor."
Black Cowboys is the 11th release in the African American Legacy Recordings series issued in conjunction with the Smithsonian's National Museum of African American History and Culture.
"We've inherited many narratives on how this country came about and what it is, and they're getting increasingly confusing with the current political climate and the digital sphere in which we work," says Huib Schippers, director of Smithsonian Folkways. "What we want to do is to create counter narratives to some of the grand narratives that have been told."
The idea is to attract people through the sounds and deliver its deeper levels, Schippers says. "I think it's very powerful thing that we can do at Folkways to engage people by the musical sounds and then invite them to reflect on things by the content and the context of the songs that we deliver."
It would seem that Flemons, who is bringing back old instruments like the six-string banjo and an American panflute, called the quills that was used by Henry "Ragtime Texas" Thomas, fits right in with artists who have graced Folkways for seven decades from Woody Guthrie to Cisco Houston and Washboard Sam.
"I have about 150 Folkways releases within my LP collection," Flemons says. So, in addition to being on the historic roster that includes everything from Pete Seeger to frog calls, it was a practical choice for an album about historical black cowboy songs.
"They weren't going to do the same thing that a standard record label might do and say, 'Well, can you modernize this a little bit? Can you make it less cowboy?' he says.
"They got that I wanted to make the first comprehensive album on black cowboys, and that was something that they were looking for," Flemons says. "They didn't know they didn't have it, but when I showed it to them, they said, 'Yeah, that's what we're looking for.'"
Founded in 1948 by Moses Asch, Folkways was acquired by Smithsonian in 1987, a year after the founder's death, with the promise that all 26,168 titles would remain in print in perpetuity. By now that number is about 60,000 tracks.
Black Cowboys, says Schippers, "is one of 30 releases we're doing this year for our 70th anniversary. It's the biggest release schedule we've had in more than 25 years."
The catalog includes works by the contemporary folk duo Anna & Elizabeth, the world music of the Rahim AlHaj Trio and Grupo Mono Blanco, a tribute to bluegrass artist John Duffey, as well as Laurie Anderson's exploration of the Tibetan Book of the Dead with Tenzin Choegyal. While most of the new releases are on compact disc and streaming services, this summer will see a reissue series of several Smithsonian Folkways titles on vinyl, from Guthrie, Seeger, Dock Boggs and Lucinda Williams.
"Vinyl is one of the few bits of the music industry that's growing which is really nice," Schippers says. "It's still only a very small niche, but Folkways has so many iconic records and so many iconic covers we figured the 70th is the right time to bring out some of our absolutely iconic records."
Toward the end of the year will come the first of some ambitious box sets starting with the nine-CD Smithsonian Anthology of Hip-Hop and Rap that comes with a 300-page book. The impending four-disc set The Social Power of Music will come with a 100-page book.
Next year comes a new recording of songs dating from but 17th to 19th centuries by Flemons' colleague from the Carolina Chocolate Drops, Rhiannon Giddens, and a six disc box set Pete Seeger: The Centennial Collection.
But Folkways isn't just about the past, Schippers says. "A lot of people see Folkways as a historical label because we've got Woody Guthrie and Lead Belly and Pete Seeger. But these people weren't historical people when Moses Asch was alive," he says.
"I'm very committed to making Folkways a label that documents interesting, thought-provoking sounds for the 21st century as well as being this wonderful archive and resource for music going back almost 100 years."
A Note to our Readers
Smithsonian magazine participates in affiliate link advertising programs. If you purchase an item through these links, we receive a commission.