Smithsonian To Create First Ever Captive Population of Endangered Bat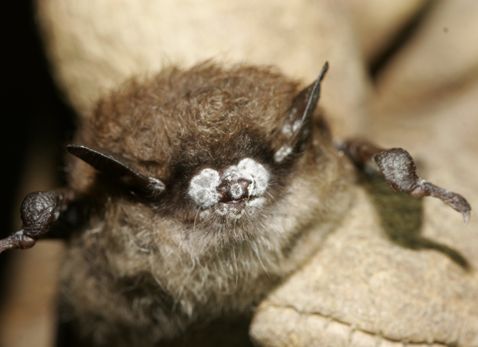 A mysterious disease that presents with a white fungal growth around the nose has been killing bats in the Northeastern United States. It's been estimated that more than one million bats have already died and the The United States Department of the Interior has declared the illness an "unprecedented wildlife crisis."
At a press conference last week at the National Zoo, the U.S. Fish and Wildlife Service announced $800,000 in grants to combat the white-nose syndrome.
The National Zoo's Conservation Research Center in Front Royal, Virginia, received a grant to create the first ever captive population of the endangered Virginia big-eared bat. The illness is so serious among this species of bat that it could entirely wipe these creatures entirely in the wild. Currently, fewer than 15,000 Virginia big-eared bats remain in selected caves in Virginia, West Virginia and Kentucky and white-nose syndrome has taken its toll in those caves.
"We have been calling an insurance population in the same way that when I have car insurance, I'm hoping I never have a car accident and have to use it," says Luis Padilla, an associate veterinarian at the Zoo. "But if I do get into a car accident, it will rescue me. While we hope that Virginia big-eared bats do not go extinct in the wild, we're establishing this captive population because we're being realistic that there is a very significant, very devastating threat out there."
Padilla says they will collect a "founder population" of 20 healthy bats starting this week. Because the Virginia big-eared bat has never been kept or bred in captivity, the Zoo's staff will take extra precautions to ensure the bats remain healthy. The biggest challenge, Padilla says, will be providing them with an adequate diet. After all, bats can eat up to 1,000 mosquitos a day.
White-nose syndrome was detected just three years ago near Albany, New York, when a caver photographed hibernating bats that had the strange white powder-like substance around their noses. He also saw many dead bats lining the floor of the cave. That next year, biologists from the New York Department of Environmental Conservation saw more bats with white noses and even some bats flying around during daylight hours, a time when they normally should have been hibernating. The biologists noted this behavior in five sites in the state of New York that winter.
Fast forward to 2009, when 81 sites in nine Northeastern states are affected. Mortality in some of these caves has reached 90 percent.  Researchers from more than 50 organizations are on the case trying to figure out what causes the fungus and how to stop it. "At this point, we have a lot more questions than answers," said Jeremy Coleman, who is spearheading the U.S. Fish and Wildlife Service's effort.
The service also gave grants to organizations that will analyze the susceptibility of the Indiana bat (a common bat in the region), identify ways to stop white-nose syndrome fungal growth, compare immunity and body composition of affected bats to healthy bats, develop a rapid white-nose syndrome field test and establish a way to genetically predict at-risk populations.