Smithsonian Photographer Makes Great Sacrifice to Give Us Snow Photos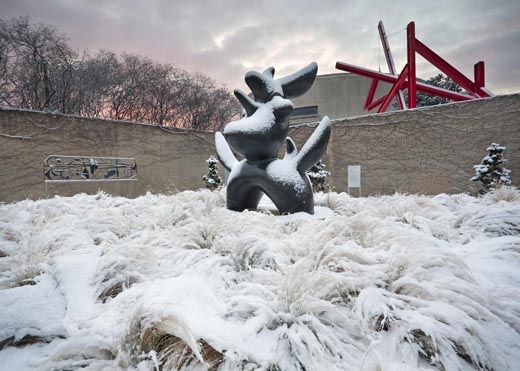 Last week, a winter snow storm dusted the Smithsonian campus with a fresh coat of the white stuff. In the early morning hours before the tourists showed up, the Smithsonian museums and surrounding gardens were just gleaming with wintry scenes that begged for a photographer's attention.
Eric Long, the Smithsonian Institution's intrepid camera man, got a call from a colleague, who urged him to hurry on over to the Hirshhorn's Sculpture Garden because one of the works there, Are Years What? (For Marianne Moore) by Mark di Suvero, Juan Miró's 1966 Lunar Bird had taken on a rather "alien look," Long was told.
"I proceeded to go over there from the Castle and decided to take a short cut beside the slanted, landscaped wall through the bushes, avoiding the long  handicap ramp," he said. Long got the shot (above). He especially liked the way the grass surrounding the sculpture was "full of snow in a rolling pattern." But with the camera still firing and recording, Long got another image that he's calling: "Humpty Dumpty had a big fall."
Welcome winter. Another snow storm fell this morning and federal employees were offered a two-hour delay in getting to work, but the Smithsonian museums opened on time with only a few event cancellations. Another storm is expected later this week.
Stayed tuned. ATM is the place to go for updates on Smithsonian museum and Zoo snow closings.
Update: This post was updated when we discovered we had misidentified the works of art.