Smithsonian Museums Close for the Afternoon After 5.9 Earthquake Hits Washington, D.C.
The Smithsonian museums, including the Zoo, are closed for the remainder of the day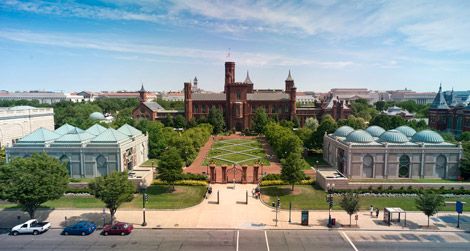 After a 5.9 earthquake that rocked the National Mall this afternoon and was felt all along the Eastern seaboard, according to the Washington Post, the Smithsonian Institution museums are closed for the remainder of the day.
"The museum is closed for the rest of the day," said Valeska Hilbig, spokesperson for the National Museum of American History. "As for tomorrow, we recommend that visitors check websites and Facebook pages for reopening information. This afternoon, collections managers are checking on the safety of the objects."
According to NPR, the Smithsonian Castle building sustained some damage. Secretary G. Wayne Clough, who is also an engineer, told NPR that he had seen "cracking inside the building and some of the windows had shattered."
The Castle, the Smithsonian Institution's original home and now the location of many administrative offices, is a Medieval Revival building designed by James Renwick Jr. and was completed in 1855.