Smithsonian Museums and National Zoo Are Open Today, but the Castle Remains Closed
The museums are open today, but assessment of any damages from yesterday's earthquake will continue throughout the day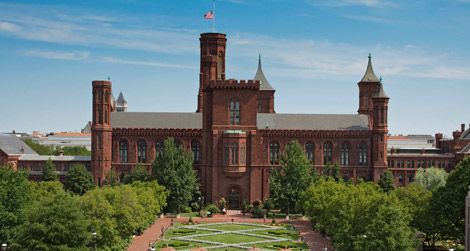 The Smithsonian Institution announced that all museums and the National Zoo would be open today. The Castle, however, which sustained some damage in yesterday's earthquake, will be closed until further notice.
The Castle did have some damage, according to Smithsonian officials, mostly cracked plaster, windows and there some issues with some of the door frames.
Also of concern are the stability of some of the turrets in the Smithsonian's original home, a Medieval Revival building designed by James Renwick Jr, and completed in 1855. The Castle building's nine towers, battlements and chimneys have become the iconic symbol of the Smithsonian Institution.
Structural engineers today are assessing the building.
Other historical buildings that house Smithsonian museums, including the Old Patent Office building at 8th and F streets, NW, home to the Smithsonian American Art Museum and the National Portrait Gallery, and the Renwick Gallery at 17th Street and Pennsylvania Avenue suffered no damages.
The Renwick is a Second Empire-style building and was designed by architect James Renwick Jr. in 1859 and completed in 1874. Today, it is a National Historic Landmark. The Old Patent Office building is considered one of the finest examples of Greek Revival architecture in the United States. Begun in 1836 and completed in 1868, it was the site of Abraham Lincoln's inaugural ball in March 1865.
At the Natural History museum, spokesperson Kelly Carnes reports that several exhibitions—the Dinosaur Hall and portions of the Gems and Minerals Halls—will be closed off to the public while collections managers and curators assess any damages. The museum, housed in a 1910 Beaux Arts building, however, is open today.
At the National Zoo, many resident animals acted as warning bells for the quake, showing changes in behavior shortly before it struck. Gorillas, orangutans and lemurs sounded alarm calls seconds beforehand, while the flock of 64 flamingos huddled together in preparation. During the shaking, snakes, tigers, beavers and deer, among others, appeared disturbed and interrupted their normal activities.
More updates to come throughout the day, as curators, engineers and archivists inspect the collections and exhibits
Photos of the damage caused to the Smithsonian by the earthquake below: