Smithsonian Magazine Auctions Art for Haiti Recovery
Haitian artist Frantz Zéphirin creates an image that reflected his experience in Haiti in the aftermath of the devastating earthquake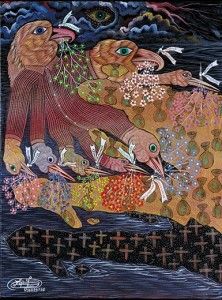 The painting that appears on the cover of the September issue of Smithsonian magazine portrays a harrowing experience but one that is infused with hope. Haitian artist Frantz Zéphirin was commissioned by the magazine to create an image that reflected his experience in Haiti in the aftermath of that nation's devastating earthquake.
The original painting is now available for purchase in a special charity auction with proceeds going to assist Haiti in its recovery. From now through September 18, you can bid on the original painting and help out artists such as Zephirin at the same time. Fifty percent of the proceeds from the auction will benefit the Smithsonian Institution-Haiti Cultural Recovery Project and the other half will go to the artist and the Gallerie Monnin, which represents Zéphirin, and which plans to donate part of its proceeds to the Dallas Monnin Foundation, an organization devoted to Haiti's environment and education.
While international relief groups have moved in to help Haiti, backed by $9.9 billion in donations, Smithsonian staffers are working hard on relief efforts of a different sort—preserving Haiti's artistic legacy. Thousands of paintings and sculptures—valued in the tens of millions of  dollars—were destroyed or badly damaged in museums, galleries, collectors' homes, government ministries and the National Palace. At least three artists, two gallery owners and an arts foundation director died.
In May, the Smithsonian Institution launched an effort to help restore damaged Haitian treasures. Led by Richard Kurin, under secretary for history,  art and culture, and working with private and other public organizations, the Institution established a "cultural recovery center" at the former headquarters of the U.N. Development Program near Port-au-Prince.
"It's not every day at the Smithsonian that you actually get to help save a culture," Kurin says. "And that's what we're doing in Haiti."
Kurin visited Haiti along with Smithsonian Secretary Wayne G. Clough to survey the damage to the city and its cultural heritage. In  an interview for a documentary produced by the Smithsonian Channel, Kurin compares the amount spent on projects like the Smithsonian's to the greater contributions made to relief efforts, "This kind of investment is a few pennies, but it buys us the heritage and culture of a people."
For more details on the auction and to learn more about Zephirin and the painting itself, check out our auction page.