Smithsonian in the News: Diamonds at Natural History and Bubbles at the Hirshhorn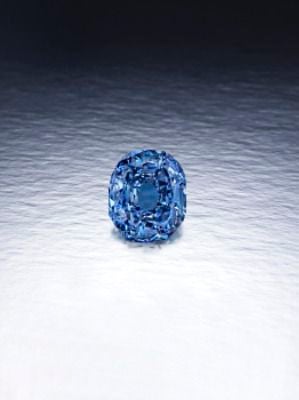 More than a Bauble...
The Smithsonian National Museum of Natural History announced yesterday that the Wittelsbach-Graff Diamond, a rare 31.06-carat blue diamond, will be joining the museum's 45.52-carat Hope Diamond come January 28. The last time the diamond, one of the grandest in the world, was on display was in 1958 at the Brussels World's Fair. But its owner Laurence Graff, of Graff Diamonds International, has loaned the diamond to the museum for a seven-month long exhibition, during which Smithsonian scientists will research its possible connection to the Hope Diamond. It's been speculated that they came from the same mines in India.
Like the Hope Diamond, the Wittelsbach-Graff gem has a rather storied history. Philip IV of Spain originally gifted it to his daughter, the Infanta Margarita Teresa, in 1664 when she was engaged to Emperor Leopold I of Austria. It switched hands to the Wittelsbachs, members of the ruling House of Bavaria, in 1722. In 1931, a glass knockoff thought to be the actual diamond was sold at a Christie's auction. The real one didn't turn up until 1951, in Belgium. Graff reportedly purchased it for $24.3 million a year ago at a London auction. To think, two of the largest, most flawless blue diamonds under the same roof!
And one big bubble...
​The New York Times reported today that there may be an addition made to the Hirshhorn Museum—in the form of a 145-foot-tall inflatable, globular auditorium bubbling out of the museum's central courtyard. Richard Koshalek, the museum's new director, envisions the space, supposedly to be erected each year in May and October, as a venue for performing arts, film screenings and conferences. It could "transform one of the most somber buildings on the mall into a luminous pop landmark," writes Nicolai Ouroussoff of the New York Times.