Smithsonian Events Week of June 15-19: Stamps, The Wright Flyer, Weddings and Rocknoceros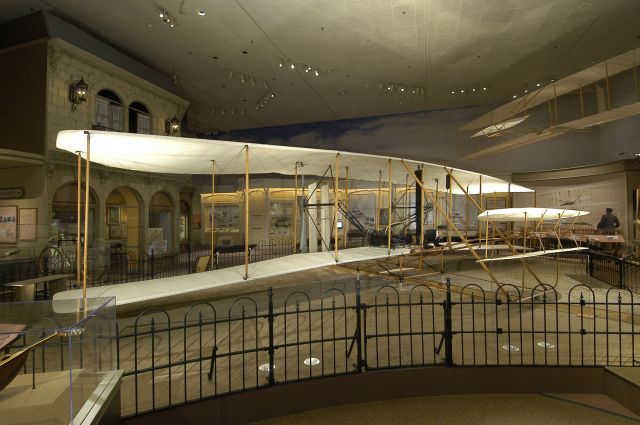 Monday, June 15: OK, so the Smithsonian is off to a slow start once again. No special, one-time-only events are scheduled for today, but have a look at a complete listing of daily events and tours here.
Tuesday, June 16: Preservation in Action: First Day Covers
So, in elementary school I used to keep a stamp album. It was good cheap fun and the artwork that was squeezed onto an itty bitty stamp was pretty incredible. But my sense of preserving these mini oeuvres d'art was pretty much limited to the little lick-n-paste hinges that held them in my album. If you're interested in the ins-and-outs of caring for your stamp collection, take in this lecture by conservator Helen Young and preservation technician Manda Kowalczyk. They will show you how to preserve your first day covers and will be available to answer your questions. Free. National Postal Museum, 11:00 AM-1:00 PM
Wednesday, June 17: Night at the Museum 2: The Real Stuff
So, you've seen the Night at the Museum: Battle for the Smithsonian and now you want to check out the artifacts that inspired the film? Come on out to the Air and Space Museum and get the lowdown on the 1903 Wright Flyer. Free. National Air and Space Museum, 12:00 PM
Thursday, June 18: Not A June Bride
Always a bridesmaid but never a bride? You may ho and hum about not finding Mr. Right, but wouldn't you be much more satisfied if your clothes ended up in the Smithsonian? Such is the case of a 1928 wedding dress worn by former curator Anna May Wood, whose bridal threads are in the museum's Costume Collection and will be discussed in an afternoon lecture. Free. American History Museum, 12:00 PM
Friday, June 19: Toddler Rock
Today, the toddlers in your home have an opportunity to rock out at the Discovery Theater with Rocknoceros—an alternative rock/pop group whose catchy tunes and clever lyrics are sure to please your littlest audiophile. (And if you're a Generation X-er parent who shudders at the thought of sitting through music in the vein of Raffi or Lois and Brahm's Elephant Show, Rocknoceros has the distinction of playing DC's 9:30 Club on July 19, which is some indication that they're hipper than the average kiddie band. Tickets are required. Rates are: $6 for adults; $5 for children (ages 2-16); $4 for Resident Members. Call 202-633-8700 to reserve your tickets today. S. Dillon Ripley Center, 10:15 AM. This event repeats today at 11:30 AM.