Smithsonian Events Highlights 5/4 - 5/8: Tomatoes and Dancers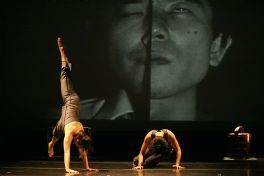 Tuesday, May 5: Book signing: "From Garden to Table: Eccentric Tomatoes and Heirloom Seeds," 6:45 p.m., S. Dillon Ripley Center, 1100 Jefferson Drive, SW
Vegetable grower Amy Goldman tested more than 1,000 varieties of tomatoes in her garden to research her latest book "The Heirloom Tomato: From Garden to Table: Recipes, Portraits, and History of the World's Most Beautiful Fruit." Adrian Higgins, gardening editor of the Washington Post, will join the conversation about the diversity of tomatoes and the heirloom seed preservation movement.
Wednesday, May 6: Book signing: "Tony Horwitz: On the Trail of Vikings, Conquistadors, Lost Colonists, and Other Adventurers in Early America," 7:00 p.m., S. Dillon Ripley Center, 1100 Jefferson Drive, SW
Pulitzer Prize-winning journalist Tony Horwitz, author of "A Voyage Long and Strange" shares his epic journey to cities and towns and backwaters to discover what happened between the period separating Columbus's landing in 1492 and the arrival of the English in Jamestown in 1607.
Thursday, May 7: "Tortillas, Tamales, Lettuce, and Grapes: Mexican Americans' Role in Food Production", 12:00 p.m., National Museum of American History, Flag Hall, second floor center
A curator tells some of the stories of how Mexican Americans and Mexican nationals played a role in shaping U.S. economy, agriculture and food production. Visitors can see tortilla-making machinery and wine-making equipment.
Friday, May 8: "Dana Tai Soon Burgess & Company: Dancing Through the Asian American Experience" 6:00 p.m., Smithsonian American Art Museum, Nan Tucker McEvoy Auditorium
One of the areas leading dance troupes, the Dana Tai Soon Burgess Dance Company, premiers its latest work-in-progress "Islandalong" with Chino Latino and Hyphen to kick-off Asian Pacific American Heritage Month.