Smithsonian Events for the Week of July 13-17: Art Attack!, Baseball and Dance Workshops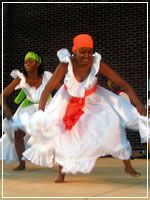 Monday, July 13: Nothing special going on today. Check out the Smithsonian events site for regularly scheduled events.
Tuesday, July 14: Sylvia Soumah: Africa in Motion Workshop 
Feel the rhythm of West Africa! Ages 5 and up are invited to participate in a West African dance workshop, taught by Sylvia Soumah of Coyaba Theater. Free, but space is limited. For reservations, call 202-633-4640. African Art Museum, 11 AM - 12 PM, Repeats July 16.
Wednesday, July 15: Art Attack!
Get fired up for art! Hear Lee Sandstead's passion for art as he discusses his Travel Channel series Art Attack with Lee Sandstead, which featured the American Art Museum in the first season. Free, first come, first served. Reynolds Center for American Art and Portraiture, 6:30 PM
Thursday, July 16: Meet our Museum: Baseball and the Archives Center

Learn and listen to stories from curator Reuben Jackson about The Ghosts, a travelling African American baseball club and swing band of the 1930s and 1940s. Stick around to see objects from the Ghosts Collection, as well as, see and discuss other objects from the museum's collections. Free. American History Museum, 12-12:30 PM, Repeats most Thursdays.

Friday, July 17:  Soul in Motion
Prepare to stomp your feet and move your body when you listen and watch Soul in Motion. This energetic group of dancers and theatre artists will perform different choreographies and drum rhythms inspired by the richness of African American culture. $6, adults; $5, children (ages two to 16); $4, Resident Members; call 202-633-8700. S. Dillon Ripley Center, 11:30 AM, Repeats daily through July 17.
To plan your visit or learn more about events and exhibitions at the Smithsonian, go to our companion site, goSmithsonian.com.