Smithsonian Events for the Week of August 10-14: Peter Lorre, the Wright Flyer, Japanese Folklore and Living Portraits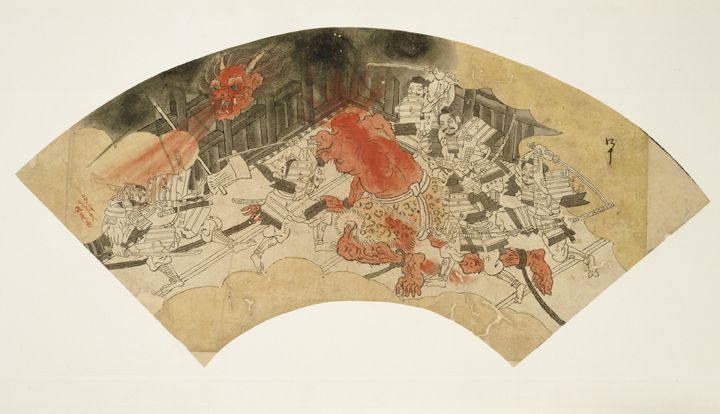 Monday, August 10
Sorry kids, nothing special going on today—but be sure to check out this site for a listing of regularly-scheduled goings-on around the Smithsonian. From animal feedings to museum tours, there's lots of free fun to be had!
Tuesday, August 11: Visual Action: The Tale of Shuten Doji
Come listen to curator Ann Yonemura talk about how Japanese artists illustrated the action-packed story of Shuten Doji—an ogre-like creature with a penchant for abducting young women. The tale has been colorfully represented on scrolls, screens, fans, you name it—almost like how comic book characters are marketed on coffee mugs and T-shirts in our modern day and age. Free. Freer, 12:00 PM
Wednesday, August 12: The 1909 Wright Military Flyer: Ask an Expert
In this lunchtime mini-lecture, come hear Peter Jakab from the museum's Aeronautics Division discuss the Wright Brothers' 1909 Military Flyer. Free. Air and Space Museum, 12:00-12:15 PM
Thursday, August 13: The Man Who Knew Too Much
Since his first frightening film appearance as a serial killer who targets children in Fritz Lang's M, Peter Lorre lent his unforgettable screen presence to a number of movies. You may have heard of a few like Casablanca and The Maltese Falcon. Come enjoy him in Alfred Hitchcock's 1934 thriller The Man Who Knew Too Much—the story of a couple who learn of an assassination plot which prompts spies to kidnap their child in order to keep them quiet. And I hate to disappoint, but you will not be hearing Doris Day serenade you with "Que Sera Sera"—that's from Hitchcock's 1956 remake. Also be sure to tour the accompanying exhibition 1934: A New Deal for Artists. Free. American Art Museum, 6:30 PM.
Friday, August 14: Portraits Alive! Tour and performances
A tour of highlights from the National Portrait Gallery's collections, Portraits Alive! is a series of short dramatic monologues researched, written and acted by high school students participating in a summer internship program. The performance pieces correlate to images currently on display and expand on the biographical placards that typically accompany the artworks. This is the last day these performances will be held—so hurry on over! Free. National Portrait Gallery, 2:15 PM.
For more information on events and exhibitions at the Smithsonian museums, check our companion website, goSmithsonian.com, the official visitor's guide to the Smithsonian.