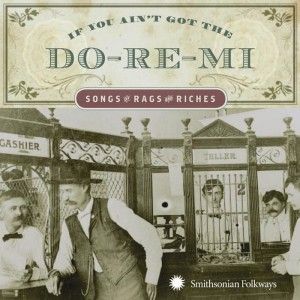 Hate to break it to you, but your federal taxes are due today. Post offices are staying open late to accommodate the madding crowds of people who waited until the last minute to send in their forms. (Although those who decided to electronically file have the privilege of keeping the mayhem of deciphering tax forms within the confines of their homes.) Suffice it to say, nobody enjoys coughing up a chunk of change to the taxman. But misery loves company, right? To mark the day, why not spin a few tunes from these two Smithsonian Folkways albums and vent your frustrations by singing along.
That's right. It's a whole CD of songs that explore the many emotions that come with dealing with money from hope and happiness to desire and disinterest. Featuring the iconic talents of artists like Woody Guthrie, Pete Seeger and Lead Belly, this may be one of the few enjoyable ways to mark tax day.
​The lack of financial resources during the Great Depression of the 1930s spurred the creative energies of folk singers, and you can get a musical portrait of life during those less-than-rosy times with this album.