Seldom Scene, Often Heard: A Bluegrass Band Returns to its Roots With a New Album
The current members of the legendary Washington, D.C.-based bluegrass band celebrate four decades of making music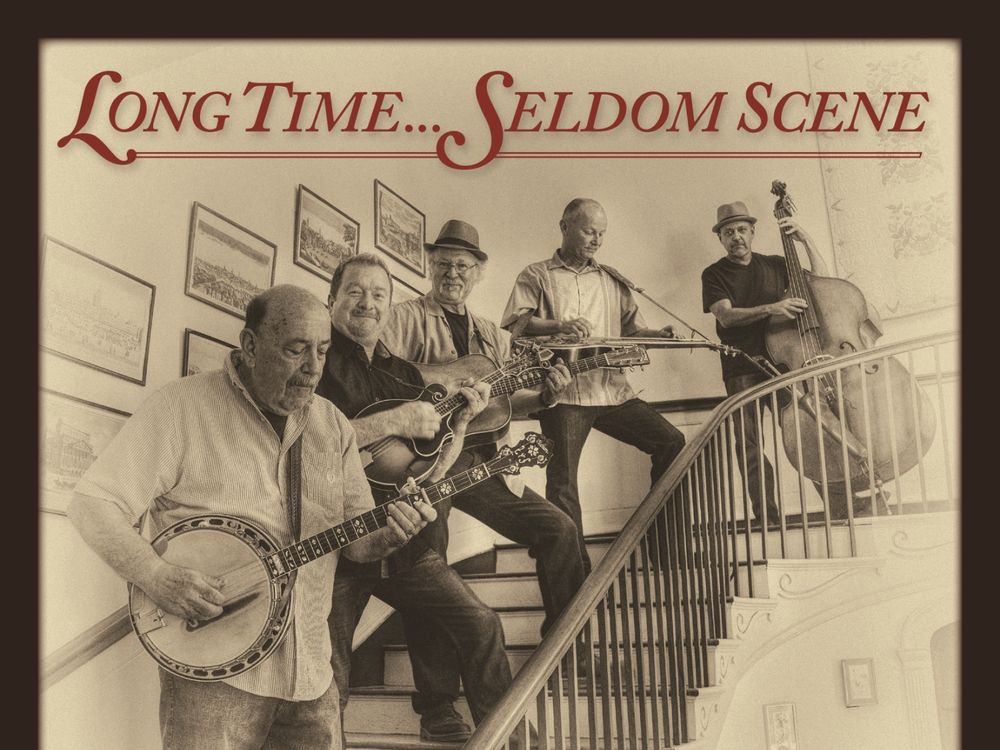 Members of The Seldom Scene, the influential bluegrass band that first got its start in 1971, after crafting their sound in jam sessions in the banjo player's basement, say they owe their success to a sage piece of advice—Don't quit your day jobs. The group's burgeoning popularity took a back seat to its members' full-time careers. Making music was reserved for weekly performances at clubs, sporadic album recordings and the occasional concert or festival. A friend joked to the hobbyists—all professionals in the Washington, D.C.-metro area—that as a band, they'd be "seldom seen." One pun later, a name was born. But the glib prediction couldn't have been less true.
The Seldom Scene started playing regular shows at the former Bethesda, Maryland, music club the Red Fox Inn, before switching over to the Birchmere Music Hall in Alexandria, Virginia, where they established a residency. During this time, bluegrass was riding a second wave of mainstream popularity, particularly in Washington, D.C., where it had been long enjoyed by Appalachian transplants. It wasn't long before the Scene made a lasting impression on, well, the scene. The Scene's smooth vocal harmonies—a departure from the nasal twang of bluegrass singers past—melded with founding member Mike Auldridge's dobro, adding a fresh sound to the group's already-eclectic bluegrass versions of country music, rock and classical pop. This innovative approach to bluegrass gained The Seldom Scene an enthusiastic following.
More than four decades later, the group's weathered line-up changes (only Ben Eldridge, the banjo and guitar player, has been with the Scene since its inception), untimely deaths (beloved singer and founding member John Duffey passed away in 1996) and the inevitable challenges of maintaining a fan base in a niche genre while holding down a 9 to 5. Their secret? According to current lead singer Dudley Connell and bassist Ronnie Simpkins, it's all about having fun. Their music is a lark, not a livelihood.
The Scene's carefree nature belies their influence; over the years, their music has made an indelible mark on the bluegrass world. After receiving a Grammy nomination for 2007's Scenechronized, the group went on to performed at a White House dinner for the U.S. Olympic Team in 2008.
"I think it's safe to say that no second generation bluegrass group was as influential as The Seldom Scene in contributing to the popularity and expansion of this genre of acoustic music," says David Freeman, the renowned bluegrass historian and founder of Rebel Records, which boasts a roster of artists including J.D. Crowe, Ralph Stanley, and yes, The Seldom Scene. "It was a fortuitous combination of superb talent getting together in a city that, at the time, was a hot-bed of bluegrass music, creating a new sound that appealed to a more sophisticated audience as well as longtime bluegrass fans."
The Scene's latest record, Longtime...Seldom Scene, from Smithsonian Folkways is due out April 22, 2014. Smithsonian.com caught up with Connell and Simpkins, who both joined the band in 1995, to discuss the new project, Americana music and that one unforgettable time they saw the President tapping his toe to their twangs.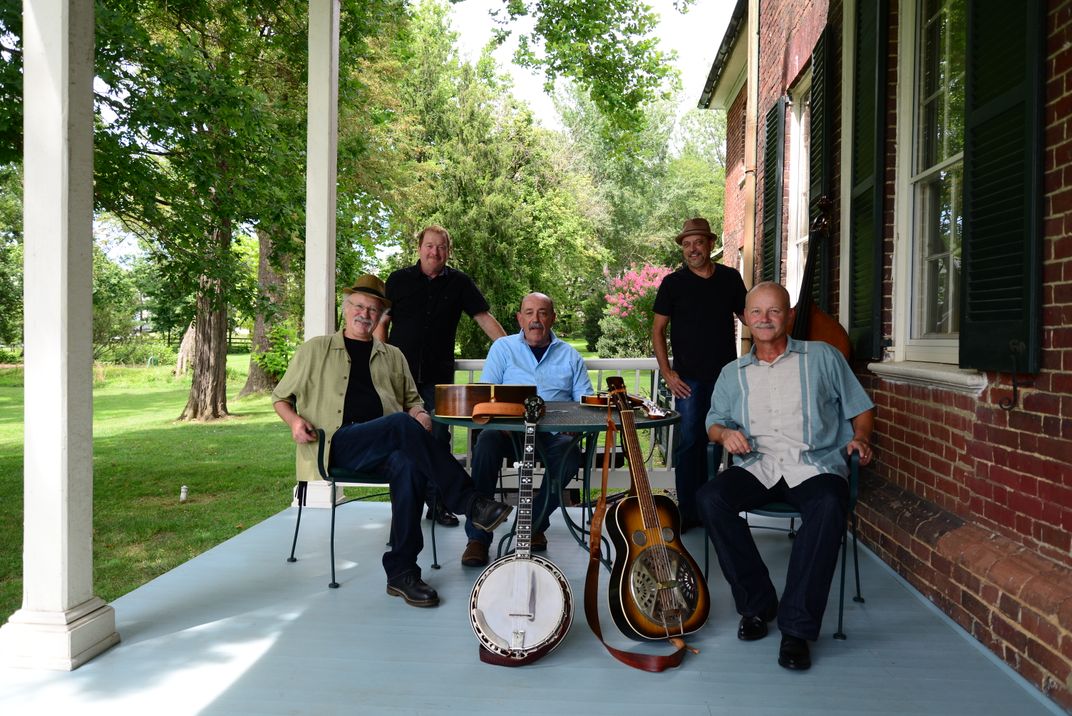 What was it like when you first joined the group?
Connell: Our first show was a New Year's Eve show at the Birchmere Hotel in 1995. [That year], the band went through a major overhaul. The other members had left to start another group at that time, so it was the two original members, [banjo player] Ben Eldridge and [mandolinist] John Duffey. But unfortunately, Duffey passed away in 1996, so we worked only one year with him. We're pretty happy and proud. It's just a real blessing to be with The Scene, because I grew up listening to the group when I was younger. I never dreamed of this—that one day, I would be playing base with them.
So tell me about the new album, and the new partnership with Folkways. In the past, you've always recorded with Rebel Records and Sugar Hill Records.
Simpkins: Folkways wanted to archive the group for several reasons: It's a D.C.-based band, always has been. And one of the original members, John Duffey, used to be a member of [bluegrass band] the Country Gentlemen, and they were an artist on the Folkways label years ago. Folkways wanted the band to record our earlier material.
Connell: It's kind of a retrospective look at the Seldom Scene's career. And by that, I mean… I wouldn't really say it's a greatest hits record, as much as it's a reinterpretation of some of the classic Seldom Scene songs over the last 40 years.
How has the group's music survived, even thrived, over the decades?
Connell: The majority of the material is probably drawn from the original band, but there's a scattering of other tunes, too. I might add that this group has been together now for 16 years without personnel changes. We've been doing these songs for years and years, and they've kind of taken on a character of their own. We've changed them. Not intentionally, but over the years they've evolved into something quite different. You know, we've never tried to mimic or copy the original guys, but we have tried to copy the spirit of that music. And in doing so, the music has changed us—we've changed as humans.
But even amid lineup changes, the Seldom Scene has always been known for tight, three-part harmonies, the dobro and in some songs, intricate guitar intros. Is it the current lineup's personality—the way you sing the songs—that makes them different?
Connell: I think so. Not taking away anything from the original guys, because they made the sound up to start with. But the songs do change. . . They've evolved naturally.
Two other band mates from the original Seldom Scene line-up are on the new record—vocalist John Starling, who played from 1971 to 1977, and bass player Tom Gray, who played until 1986.  I also heard some rumors about guest performers.
Connell: Yes. John Starling is on this record. Emmylou Harris is on the record; it's pretty exciting. Tom Gray, the original bassist, is on this record, as well as Ronnie Simpkin's brother, Ricky, who's playing fiddle. Chris Eldridge, Ben Eldridge's son, is playing lead guitar, and he also sings lead on the song, too. It's a true family affair.
What's the secret to the band's success?
Simpkins: You may laugh at this, but we all have day jobs, and so that takes a lot of pressure off of us. When the band was started early on, they looked at it like a weekly card game. We take it serious, but we all enjoy it and enjoy each other's company. We don't own a band vehicle, we do our own traveling, and so we're not cooped up with each other for hours and weekends. And I don't know; there's just been the right kind of combination [of people] whenever the band went through a major change. We all get together, and everything just clicks. We're all just good friends.
For a band that's "seldom scene," you actually toured quite a bit in 2012 and 2013, and what's in store for this coming year?
Simpkins: We had a very busy past year. The bulk of our work, especially in the summertime, is the outdoor bluegrass festivals. We were busy doing those, and quite a few indoor concerts during the spring and winter.
Connell: We're kind of weekend warriors. We don't really tour, per se. We tend to go out and maybe play a Friday or a Saturday or a Sunday—sometimes two days in a row—but usually just out and back, and then we go back to our day jobs during the week. That's kind of how our name came up. We never did try; we never thought of ourselves as a touring act. People follow, and we'll play, simple as that.
The Seldom Scene has been known for pushing the traditional boundaries of bluegrass. You cover popular songs, you incorporate rock and jazz influences into your melodies. Are you still experimenting as a band?
Simpkins: When the band originally broke out in '71, we were trendsetters. It wasn't your average traditional bluegrass band; it was a progressive style of bluegrass because of the material and the band's approach to it. But you know, since then, with the day that we're now living in, there's so many new, younger bands out there now that that's probably not the case now. The sound that The Scene changed—the bluegrass sound, back in the early '70s and 80s—a lot of musicians were influenced by that sound. But you know how things change. We may not be the progressive band that we used to be.
Speaking of today's musicians, I noticed that bluegrass and Americana is gaining popularity, especially among the younger set. Why do you think that is?
Connell: You know, that's a good question. When we performed on New Year's Eve at the Birchmere, there was a young Americana band there that I hadn't heard of. They had a folksy sound to them. Maybe it's a roots thing, with the younger generation, now. Maybe they're starting to discover the older sounds, the older traditional sounds—the early Bill Monroe.
On that subject, D.C. has always been known as a bluegrass mecca. Can you tell me a bit about the history of D.C. bluegrass?
Connell: D.C. was home to a pretty large immigration population of mountain folks that came here looking for work. They tended to collect in pockets and communities; they brought their music with them. And as music scenes tend to progress in bars, local people came out and heard it. They heard something they liked, too. Fortunately for us, D.C. became the capital of bluegrass, at least for a while, I'm not so sure I'd say that [about the city] right now, but there are a lot of musicians living in the D.C.-Baltimore area, and a lot of bars and honky-tonks who support them.
I read an interview with you, Connell about the group's success, and you said, "The only thing against us is age. We're all just too damn old." Do you still feel like your age is something that goes against you as performers?
Connell: You know, I don't think so. Unlike country music or rock and roll music—well, with the exception of a handful of rock acts, like the Rolling Stones or Bruce Springsteen—in bluegrass, it actually gives you credibility. I think the same thing is true of blues and Cajun music, and other roots music. It almost actually works to your benefit. People like Ralph Stanley; he's got to be in his mid 80s, and he's still out touring and packing concert halls
Other than being nominated for a Grammy three times, what's the greatest honor The Seldom Scene has ever received?
Simpkins: Since I've been with the group, we've also gotten to perform twice at the White House, and that was really something special—to be asked to do that, and to shake hands and have a picture taken with the President and the First Lady. I actually saw him sitting there, listening to us and tapping his foot.