Seeing Art Through Google Glass
David Datuna became the first artist to incorporate the technology into a public art piece; now, "Portrait of America" is coming to the Smithsonian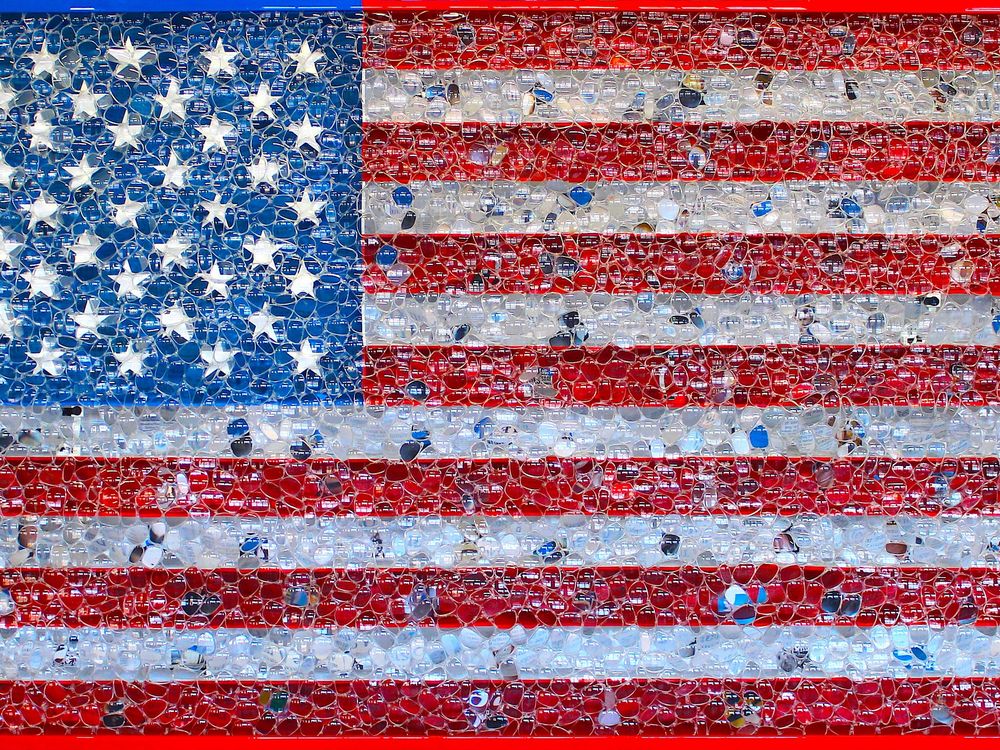 Before he became an artist, David Datuna made his living working in an eyeglass store.
Learning to fit people with glasses, in many ways, was a lot like making art, he says. Every day, he saw how people viewed the same object through different lenses, colors, shapes and frames. In some sense, he could alter the way people saw the world.
One of Datuna's signatures became making artwork from eyeglass lenses, culled from optical stores and factories. The subjects of his mixed-media pieces are often flags—storied symbols of patriotism—that intend to challenge viewers about their past, present and future. Ahead of the 2008 presidential election, he built a "pregnant flag," bulging to represent the anticipation around the birth of a new leader.
But, as his work progressed, he craved a way to better connect his art with its viewers, particularly young ones, and his viewers with each other—to play at the intersection where technology meets art.
The artist realized maybe his medium—lenses—needed a "high-tech brush."
Working with a developer called BrickSimple, Datuna became the first artist in the world to integrate a public artwork with Google Glass. In his work "Portrait of America," which debuted in late 2013 in Miami, he laid some 2,000 lenses across a 12-foot American flag. Beneath the layer of lenses, he placed portraits of the country's greatest innovators, movers and shakers. The work, viewed on its own, is a provocative dive into America's identity and culture. But, it also usees GPS locators, so that when a viewer slips on Google Glass, and directs his gaze at a particular part of the flag, the device begins to play one of more than 50 video or audio clips—Barack Obama's famous speech commemorating the 50th anniversary of the March on Washington on the steps of the Lincoln Memorial, a clip of an early Tom and Jerry cartoon. Saying something relevant to the art, such as "JFK," whose face sits inside one of the stripes, activates his speech on truth and honesty. These multimedia features are meant to provoke a reaction from the audience—one that is then recorded and shared in a live stream on the artist's personal website.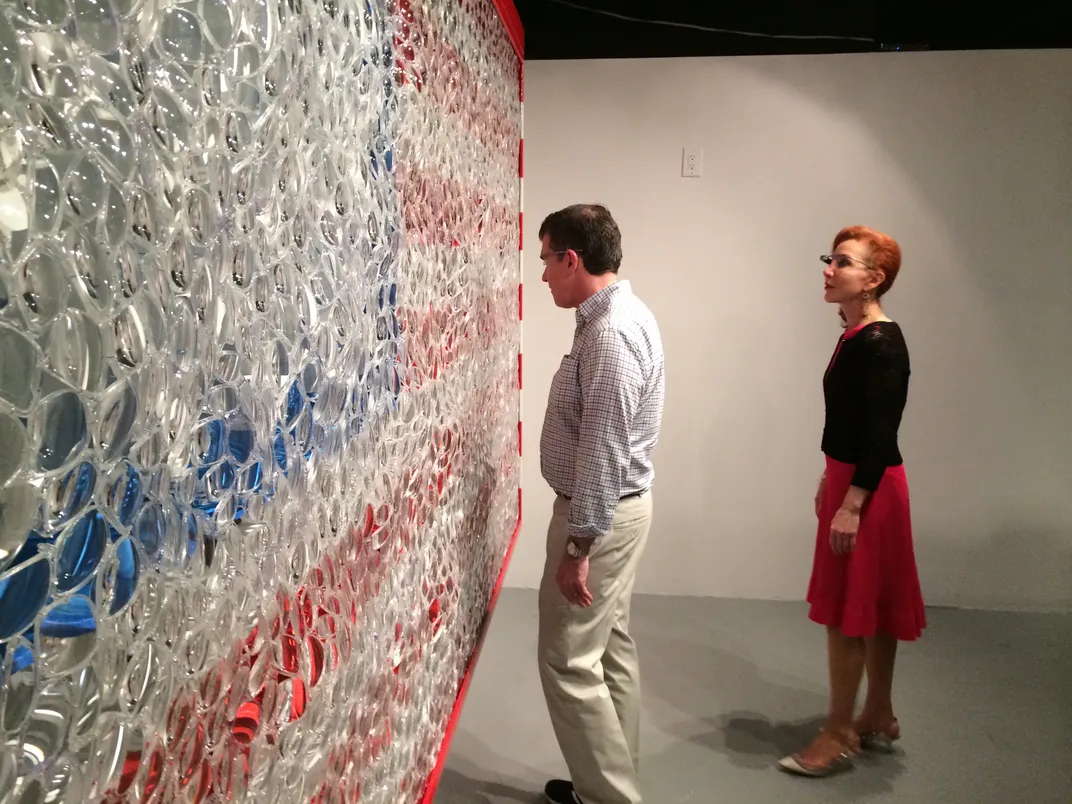 In the Miami debut, some 2,000 people over the course of five days waited in line to experience the artwork. Organizers expect an even greater turnout as the work debuts Saturday at the National Portrait Gallery as part of its President's Day programming. The piece will be on display through Monday.
"For the new generation, this is the language," Datuna says. "[Using Google Glass] is a chance to communicate, to bridge a gap." With Google Glass, "Portrait of America" raises questions, and "the more questions we have, the more answers we get…about who we are and why, and what's next," he adds.
Visitors don't have to own the trendy technology to experience the art. The museum will have about a dozen pairs of Google Glass on hand, which viewers can borrow to see the exhibit, though they might run into a bit of a wait. 
From afar, the work appears as a sparkling red, white and blue replica of the flag, some lenses catching and reflecting the light streaming through the museum's third-story windows. But a closer look reveals the 400 or so images, logos and newspaper clips beneath, magnified or blurred by the mosaic of concave and convex lenses. Datuna features innovators and inventions young and old, across politics and science and also art, technology and music.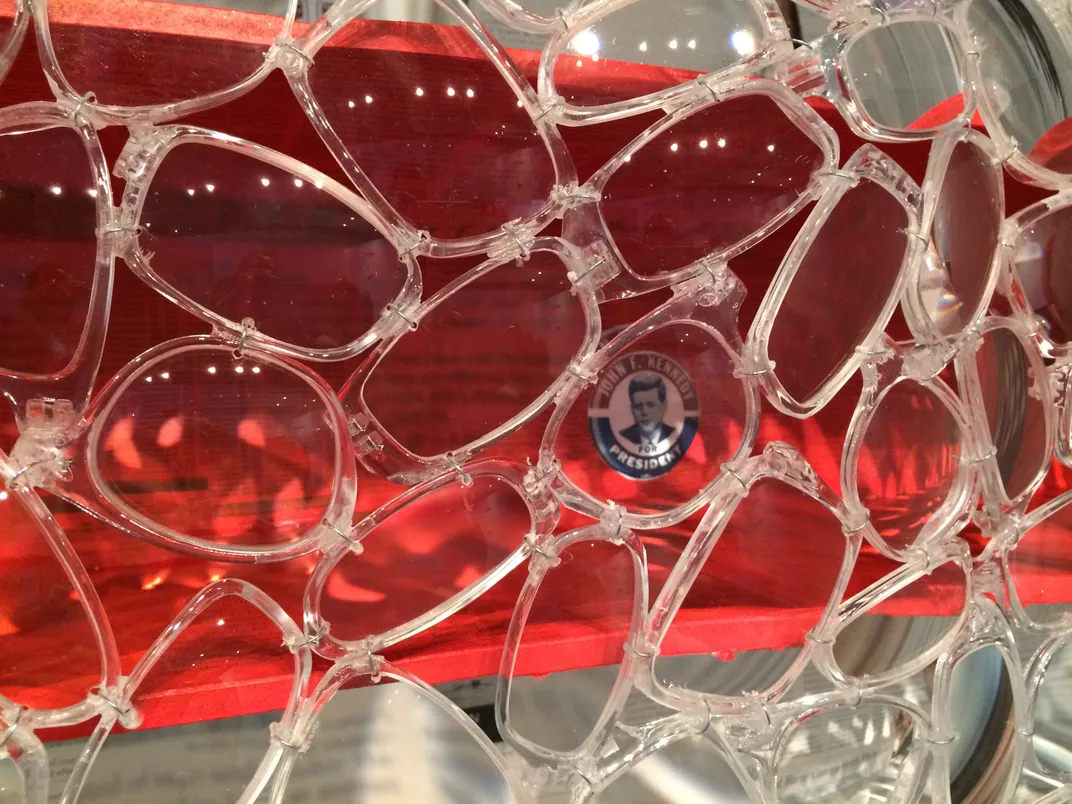 Abraham Lincoln can be found a ways down from a Twitter Logo; an early television sits near a reproduction of Shepard Fairey's portrait of Barack Obama. (Others run the gamut of our culture, from Steve Jobs and American Indian chiefs to Lady Gaga, Michael Jackson and Justin Timberlake, smiling coyly in a black tuxedo). 
"It's not about famous people, or people who were rich, it's about what they did to build this country," says Datuna.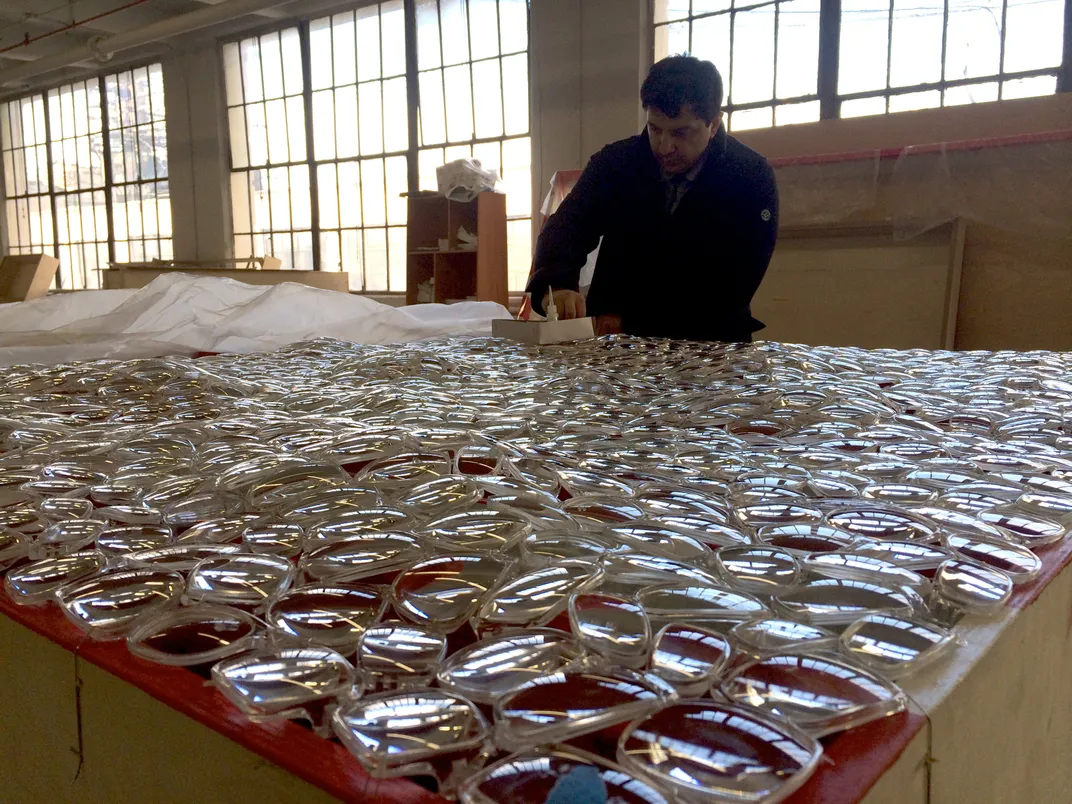 Google Glass is probably what draws most people to the work, and for good reason, Datuna says: "It brings people inside the art more quickly and makes it more understandable." Because it also helps him capture and share reactions, Google Glass lets him "reach a much bigger audience."
"With new technology, people often wonder, what is this good for?" BrickSimple's Det Ansinn said Friday, as he helped set up the installation at the museum. "It's about creating new kinds of experiences."
But while he's excited about Google Glass, Datuna says his piece "is not about the technology; you can't make it about the technology. The technology is not the art; it embraces it."
He says viewers often confront the work even without the glasses; some have spent hours gazing at the glistening stars and stripes, with and without the Google Glass. It's the concept that draws them in.
For other viewers—like Datuna's own 8-year-old-son—the technology speaks to them in a way the static artwork cannot. While his son didn't have much to say about the installation at face value, he was bursting with questions once he examined it with the glasses, Datuna says.
The piece is only on view until Feb. 17, when it will continue its tour across the country. Datuna says he'll eventually donate the work to a museum (he's yet to decide which), but his journey with lenses, flags and Google Glass is just beginning. Over the next several years, he plans to create similar pieces of art for 10 countries around the world—China, France and Russia among them—as part of a series called "Viewpoint of Billions," eventually connecting all 10 flags into a single, shimmering portrait of the many people and objects that have shaped and will continue to shape the world.
"This is such a surprise for me," says Datuna. "When I built the flag it wasn't just about the journey of America, it was to build something innovative and put art on a different level. It was to mix, conceptually, innovators, technology and see what's going to come out."