Robots Get Some Curatorial Respect at the American History Museum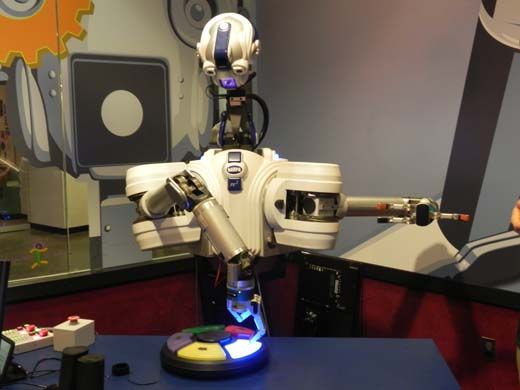 In celebration of National Robotics Week (April 9-16), a public education initiative of the Congressional Robotics Caucus, the National Museum of American History accepted donations today from Sandia National Laboratories in Albuquerque, New Mexico, and Velodyne, an innovative Silicon Valley company. From Sandia, the museum received the Miniature Autonomous Robotic Vehicle, nicknamed MARV—one of the first miniature robots (we're talking about one cubic inch in size) developed in the United States—as well as hopping robots and "Dixie," a battlefield scout robot. Velodyne donated an improved laser vision system that several vehicles participating in races hosted by the Defence Advanced Research Projects Agency (DARPA) have been outfitted with. The system creates a three-dimensional map to help the driverless vehicles navigate the course's terrain.
Brent Glass, the museum's director, reminded those attending the donation ceremony of how technology has always been a focus of the museum, which opened in 1964 as the Museum of History and Technology. Curator Carlene Stephens added that the field of robotics, like the course of American history in general, is so much about invention, innovation and enterprise. The youngest of the donated robots is about four years old, admittedly not that old for a history museum acquisition. But in a fast moving field, the museum has chosen to collect experimental prototypes that hold great promise for the future. The acquisitions join nearly 100 objects, what Stephens calls "key strands in the web of robot history," in the museum's robot collection.
The ceremony took place in the Lemelson Center for the Study of Invention and Innovation's Spark!Lab, a hands-on workshop geared towards children and families. One of the most dynamic spaces in the museum, says the center's director Arthur Molella, the Spark!Lab hopes that the new robots will thrill kids and inspire future inventors. "Inventors are playful people," says Molella. "Who wouldn't feel the sense of play in jumping robots?" The springy robots have reached Guinness world record heights of some 50 feet!
During National Robotics Week, visitors to the Spark!Lab can invent a robot arm and take mini classes on the the basics of robotics. Survivor Buddy, a search-and-rescue robot designed to provide a means of communication between trapped disaster victims and the outside world, will be on display. Through May, Robbie, an Autonomous Robotic Manipulator (ARM) from DARPA, will also be playing memory games like Simon with visitors. In all, the newly donated artifacts and activities promise to educate the public about the state of robotics and how, in partnership with humans, they may solve future problems or, as Gill Pratt, program manager at DARPA puts it, "offload some of the dull, dangerous and dirty tasks we don't want to do ourselves."