Roar! A New Tiger Named Damai is Greeting Visitors at the Zoo
An animal keeper of cats and bears discusses the Zoo's latest addition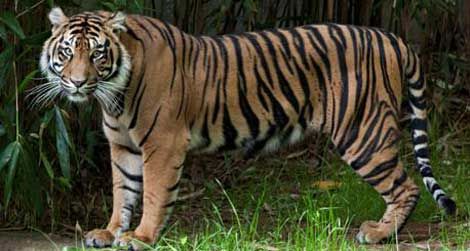 There's a new tiger over at the Zoo. She is Damai, a 2 and 1/2 year old Sumatran tiger and yesterday, she came out of her month-long quarantine after arriving from the San Diego Safari Park on April 12.
Later this year, the Zoo is hoping to welcome a new male tiger. And Damai and her new mate will be encouraged to start a family. The Zoo has a special knack for getting Sumatran tigers to breed. In 2006, the 17-year-old Soyono had 3 cubs. (Her male cub, Guntur, celebrated his 5th birthday this week). Before that she delivered three cubs in 2004 and one in 2001. Breeding the highly endangered species is critical to the animals' conservation in the wild. Fewer than 3,500 tigers remain now with poaching and habitat loss being the main culprits. And making sure that the limited number of animals held in captivity remain genetically diverse is a critical issue in animal husbandry.
Damai has a highly valuable genetic lineage, according to the Association of Zoos and Aquariums' Species Survival Plan (SSP), which acts as a matchmaking service, setting up breeding couples from a pool of animals across the country. The purpose of the SSP is to ensure genetic diversity among the population of captive animals.
The Zoo's Smithsonian Conservation Biology Institute is working in partnership with the World Bank and 13 countries in Asia where tigers live to double the number of tigers in the wild by the year 2022. We spoke with Leigh Pitsko, animal keeper of great cats and bears, about the zoo's latest addition.
How is Damai taking to this week's oppresive heat, the first of the summer season?
Damai spent the hot day yesterday in the AC! She was allowed access to the outdoor yard all morning, but everything is so new to her that she decided to observe all the sights and sounds of the tiger exhibit from the doorway. On Wednesday, she was out in the yard for a bit, and even took a swim in the moat! Every cat is different, so we're allowing her to explore at her own pace and choose whether she wants to be inside or out until she's completely comfortable with her new surroundings
I hear that Damai's a sweet tiger and that she's very calm and curious. How is she curious? What has she been doing to demonstrate that?
Damai is a very sweet and curious tiger. She has traveled here all the way from San Diego without a hitch and is settling into her new home nicely. Although Damai is not yet quite as confident as our resident tigers Soyono and Guntur, she is very observant of her surroundings and has been a pleasure to work with.
I understand you are training her so that she can undergo medical exams without any need for anesthesia. How do you go about training a tiger?
We do hope to train Damai to allow voluntary vaccine injections on her hip and blood-draws from a vein on her tail. We start by building a good relationship with her, then slowly beginning specific training steps to achieve these behaviors. She has a great training history from her previous home and is food motivated, so we are anticipating that she will be cooperative and interested in learning new behaviors here.
Damai is on view in her exhibit at the Zoo. Today, the Zoo reports she didn't want to come outside, but who could blame her, given that Washington, D.C. temperatures soared into the 90s yesterday. You might catch glimpses of her roaming her compound on the Zoo's tiger cam.