Revisiting Asia After Dark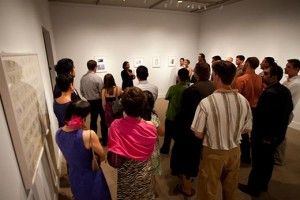 Curator Carol Huh talks with the Asia After Dark crowd Photo by Christopher Poole
From just outside the entrance of the Arthur M. Sackler Gallery, the rhythmic Asian-inspired house music pours out into the night welcoming art-lovers to "Asia After Dark."
Once inside, a video display shown on wall slowly updates with tweets using the hashtag #asiaafterdark. I made a quick stop at the bar for an Asian-infused cocktail—I opted for the "rise and fall melon ball"— and then it was on my way to see Fiona Tan: Rise and Fall.
Once downstairs and into the gallery, I joined a group being led by curator Carol Huh. As I listened to Huh describe the artist Fiona Tan's work on the wall, I was looking at a bunch of  black and white photographs hanging on the wall of the gallery, but then I realized the people in them were moving, the scenery was slowly changing. The best way to describe it would be it's similar to the paintings in Harry Potter.
The 22-minute, two-channel video installation Rise and Fall, got me thinking. When you walk into the room there are two vertically hanging screens, as Huh said, it's as if the video screens are the last barriers for Tan to break through. I'm not really sure what that means, but the film focuses on a young and elderly woman with shots of water spliced in throughout, gorgeous shots of Niagra Falls were so real, so aloud I almost felt like I was getting doused with spray. It is a thought-provoking film with intriguing angles and the old woman and the young girl on the two screens seemed to play off of one another at times, doing the same thing, applying make-up, walking in the park. Like I said, it made me think, who are those women? Are they the same person? What does the water signify?
I moved on. Near the Tan exhibit was Gods of Angkor: Bronzes from the National Museum of Cambodia. The works of art, dating from the prehistoric period to the post-Angkorian period, are in amazing condition and the level of detail is truly something to behold. But the night was slowly came to an end with dancing and cupcakes (Curbside Cupcakes stopped by on Independence Avenue later in the night). Talk of meeting and talking with Zac Holtzman and Senon Williams of Dengue Fever, who were hanging out in crowd, could be heard as the well-dressed assemblage slowly started to disperse. Many were still thrilled with their performance in the Artful Avatars activity where participants could pose in a retro photo booth and create a self-portrait.
This is the fifth Asia After Dark event, the previous one featured DJ Rekha, and offers those 21 and older a chance to enjoy fine art in a way completely different from the usual museum experience. Keep an eye out for the next Asia After Dark sometime in the spring of 2011.