Remembering the Hindenburg 73 Years Later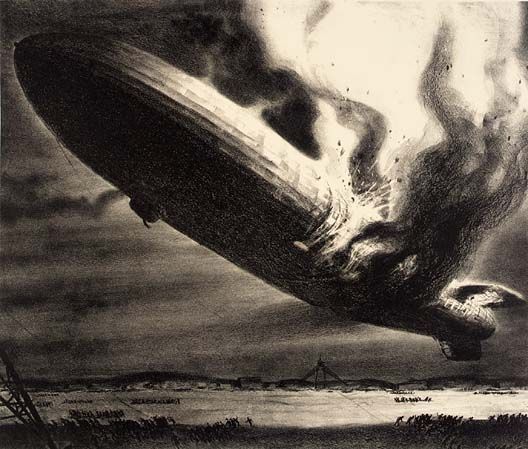 On the evening of May 6, 1937 the zeppelin Hindenburg hovered over Lakehurst, New Jersey, preparing to dock. It was standard procedure for the luxury passenger airship, but then something went horrendously awry when the craft suddenly burst into flames. "It's a terrific crash ladies and gentlemen," radio reporter Herb Morrison said as he bore witness to the disaster. "It's smoke, and it's flames now... and the frame is crashing to the ground, not quite to the mooring-mast. Oh, the humanity and all the passengers screaming around here." In 34 seconds, the 803-foot-long Hindenburg was reduced to rubble and ash, claiming the lives of 36 people.
Thankfully, there were survivors: 60 62 people and, miraculously, articles of mail. One somewhat charred piece of Hindenburg mail is in the collections of the National Postal Museum and can be seen in an online exhibit. "Over 17,000 pieces of mail were on board the Hindenburg," curator Cheryl Ganz says. "Yet, only a little over 150 pieces of burnt mail survived in the wreckage. About two thirds of the passengers and crew survived. Mail was not so fortunate. The post office delivered all mail that survived with a distinguishable address."
But considering how transportation disasters are much more commonplace nowadays, why is this particular tragedy still significant? "It was the first major air disaster caught on film—still and motion—and radio and immediately shown in theaters," says Ganz, who became fascinated with the Hindenburg as a teenager. "Also, the exact cause has never been determined although prevailing theories have not changed much, so there is a mystery involved."
And although the passage of time has allowed for casual use of Hindenburg imagery and parodic use of Herb Morrison's classic phrase, "Oh the humanity," the newsreel footage is still powerful stuff to watch 73 years later.