Remembering Jackie O's Birthday in Style
The American public has always had a certain awe and respect for the life of the first lady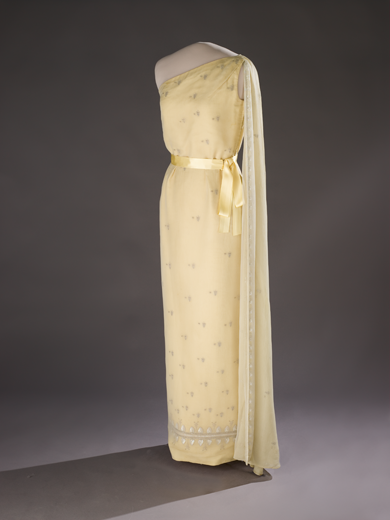 "Every now and again there is a first lady that just captures the public's imagination," says Lisa Kathleen Graddy, curator of the first ladies exhibition at the National Museum of American History.
"Jackie Kennedy was one of them." Today marks what would have been Jacqueline Kennedy Onassis' 80th birthday.
Stopping by the museum to see the first ladies' gowns and other artifacts has become a much-loved tradition among the museum's frequent visitors. The collection on view contains a handful of Jackie's belongings, including the classic one-shouldered, yellow gown that she wore to the administration's first state dinner in 1961. Also on display are her three-strand costume pearls, acquired by the museum in 2005.
For many who venture to the exhibit, the visit is less about the items behind the glass and more about the women who once wore them, Graddy said. The American public has always had a certain awe and respect for the life of the first lady.
Not on view, but in the museum's collection are two other Kennedy gowns, designed by OIeg Cassini, Kennedy's in-house designer, as well as the Bergdorf Goodman gown she wore to the 1961 inaugural ball. The delicate nature of the materials in the first ladies' dresses requires that the museum rotate its collections to  assure their preservation for future generations.
Also a crowd pleaser: an interesting collection of Christmas cards that Jackie Kennedy designed to help raise funds for the construction of Washington, D.C.'s  John F. Kennedy Center for the Performing Arts.
"The amazing fortitude, grace and dignity that Jackie showed during those times when she led the country in mourning for the President—people have very strong memories of that. I think seeing material that was Mrs. Kennedy's in some way, makes them connect to that," Graddy said.