Remembering Doc Watson, Folk Guitar Hero (1923-2012)
Smithsonian Folkways honors the blind folk musician who died yesterday at the age of 89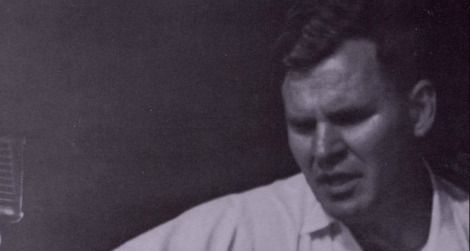 Folk legend Arthel "Doc" Watson died last night in Winston-Salem, North Carolina. He was 89 and had been ill since undergoing abdominal surgery last week. Though Watson referred to his own music as simple "country pickin'," his transformative influence is sure to continue shaping folk music as we know it.
Watson infused the folk music revival of the 1960s with his own distinctive take on the country ballads of his native North Carolina. Blind since infancy, he started his musical training as a young child in the northwestern region of the state. According to his New York Times obituary, Watson's father made him a banjo and promised to buy him his own guitar if the boy could teach himself a song on the banjo by the end of the day. After learning the Carter Family's "When the Roses Bloom in Dixieland," he received his first guitar, a $12 Stella. He had dropped out of the Raleigh School for the Blind to work for his father, but soon became a local sensation at various amateur contests.
Watson's signature was his deft, rapid-fire guitar-picking, a style that soon spread across a new generation of folk musicians. Before Watson's influence, the guitar was mostly a back-up instrument in folk music. His virtuosity and speed on the guitar showcased the instrument's potential and triggered a wave of guitarists attempting to match him.
"He is single-handedly responsible for the extraordinary increase in acoustic flat-picking and finger-picking guitar performance," said the late Smithsonian Folklife director Ralph Rinzler in the liner notes of Watson's 1993 Smithsonian Folkways album Live Recordings 1963-1980: Off the Record Volume 2. Rinzler was the first to record Watson in the 1960s and struck up a friendship with the musician as he began to make a name for himself.
"On the road to Los Angeles, Doc made a significant commitment to share the automobile driver's responsibility," Rinzler recalled in the Folkways album Original Folkways Recordings of Doc Watson and Clarence Ashley, 1960-1962. "He kept me awake and attentive for 48 hours at the wheel by singing unaccompanied songs and regaling me with stories of his family and music…After that, I felt as though Doc and I had grown up together from early childhood, and the group's repertoire substantially benefited from Doc's remarkable memory."
Above all, Watson is remembered for his no-frills, straightforward style that allowed the music to speak for itself. "In addition to being a warm and highly skilled stage performer, Doc Watson off-stage is truly Doc Watson on-stage," Rinzler said in Live Recordings 1963-1980. There is no entertainment industry gloss added for the benefit of the audience. He's simply the great human being and musician that we have all come to respect."
Listen to the Smithsonian Folkways "Sound Sessions" podcast on Doc Watson and check out his full Folkways discography here.