Red Panda Cub Dies at the National Zoo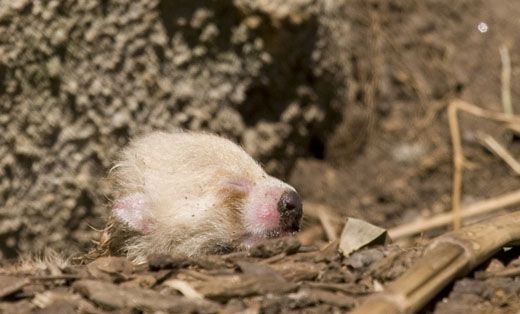 The National Zoo's tiny, black-nosed red panda cub died late last night, just 21 days after it was born. It was the first red panda cub at the zoo in 15 years.
The cub was found "lifeless" by a Zoo keeper late last night, Zoo officials said, and was rushed to a veterinary hospital, where he was confirmed dead. The cub, born June 16, was also the first cub for adult red pandas Shama and Tate.
Since his birth, the cub and it's mother were monitored at least twice daily by Zoo officials, and for several hours beyond that by volunteers, who watched the pair interact in person and also via camera.  Instead of keeping her cub in a nest box, as Zoo officials said they expected, Shama moved him around her outdoor exhibit, so the zoo closed the area off to the public to allow the pair some privacy.
There is no official cause of death, though the Zoo says it hopes that ongoing testing will provide more answers. The mortality rate for cubs in captivity is 50 percent, the Zoo said in a report.
The Zoo has been breeding red pandas since 1962, a program that has produced 184 successful births at both the zoo and the Smithsonian Conservation Biology Institute. These cubs have a mortality rate of about 40 percent, below the national rate of 50.  One red panda cub currently lives at the SCBI in Fort Royal, Virginia.
The Zoo says it expects the red pandas to breed again next year.