Stepping into the batter's box in her Kenosha Comets uniform, rookie ballplayer Marge Villa could not have imagined this would be the game of a lifetime. It was warm that Wisconsin evening on June 9, 1946, but enthusiastic spectators had arrived in droves. Attendance at baseball games of the All-American Girls Professional Baseball League (AAGPBL) had tripled in the three years since the league's first game.
The California-born Latina utility player was about to make history. That night the five-foot-two, 115-pound right-hander drove in nine runs and recorded 11 total bases, surpassing the performance of any other player in the AAGPBL. The stats may have put her in the league record books, but her charisma and charm had already made her a star in her community. Now her life's story is included in a new exhibition, "¡Pleibol! In the Barrios and the Big Leagues/En los barrios y las grandes ligas," on view at the Smithsonian's National Museum of American History. Villa's bright red player's uniform she wore as a girl coming up in the sport was recently acquisitioned into the collections and takes center stage in an exhibition that seeks to include Latino and Latina stories in the narrative of America's greatest pastime.
"Marge is an absolute character, in the best way possible," says Margaret Salazar-Porzio, the museum's curator of Latinx history. Villa's enduring legacy, embodied in her community work as well as her gameplay, is her lifelong commitment to leveling the playing field for all who wished to play baseball—and having fun doing it.
"She had no fear of anything," Renée Soderquist, the daughter of the record-setting player, says, recalling the stories her mother would tell her about learning to fly an airplane.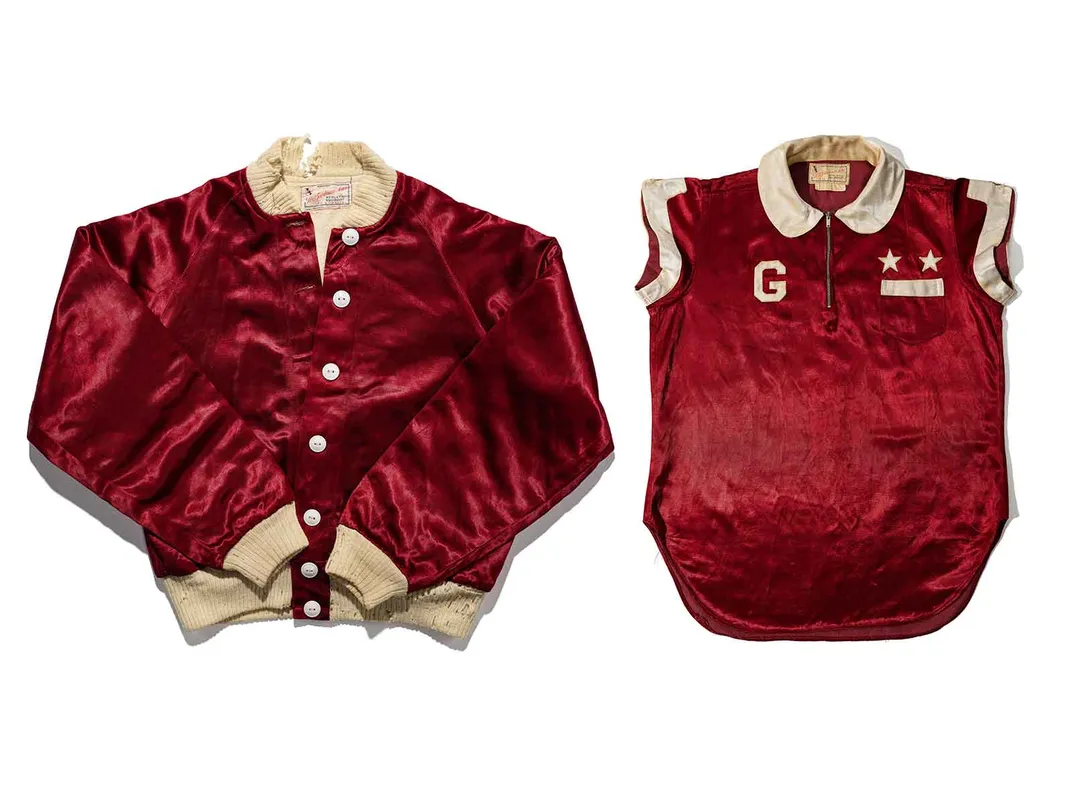 Born Margaret Villa in 1925 in Montebello, California, young "Marge" Villa's impressive baseball career began when she was just 13 years old. She started in 1946 playing catcher for the AAGPBL's Kenosha Comets, batting in three homers, 70 hits and 33 RBIs. She could handle most positions in the field from third and second base, shortstop and outfield, but by the height of her powers in 1950—her final year—her batting average was .256 and she had also set records for the most RBI in a single game.
Villa could always be found helping someone improve their skills, especially after the end of her own ball career, when she pivoted to golf and coaching her children's and grandchildren's teams. Soderquist recalls her mother spending extra time with young players who were struggling, deeply committed to ensuring everyone could play at their best. Today, at 95 years old, she is no longer doing press interviews, but in a 2011 interview, she described the grueling hours on the road traveling the country.
"It was pretty hard to put in the bus rides and the daily practices and stuff like that," Villa said. "It was almost a 16-hour job for us by the time we went to practice, and then we went home and kind of rested a while, and then we'd come back and sometimes played a doubleheader."
With more than 500 games under her belt, the former AAGPBL player carries memories of traveling from spring training in Cuba to post-season tours across the Caribbean and Latin America. On these trips, her Spanish language skills elevated her to a diplomatic role within the league. Villa had the memorable opportunity to showcase her heritage as a Mexican American meeting with local dignitaries and conducting high-profile meetings. Villa's "identity and her heritage were able to shine and to be an asset in a way that she had not experienced before," says Salazar-Porzio.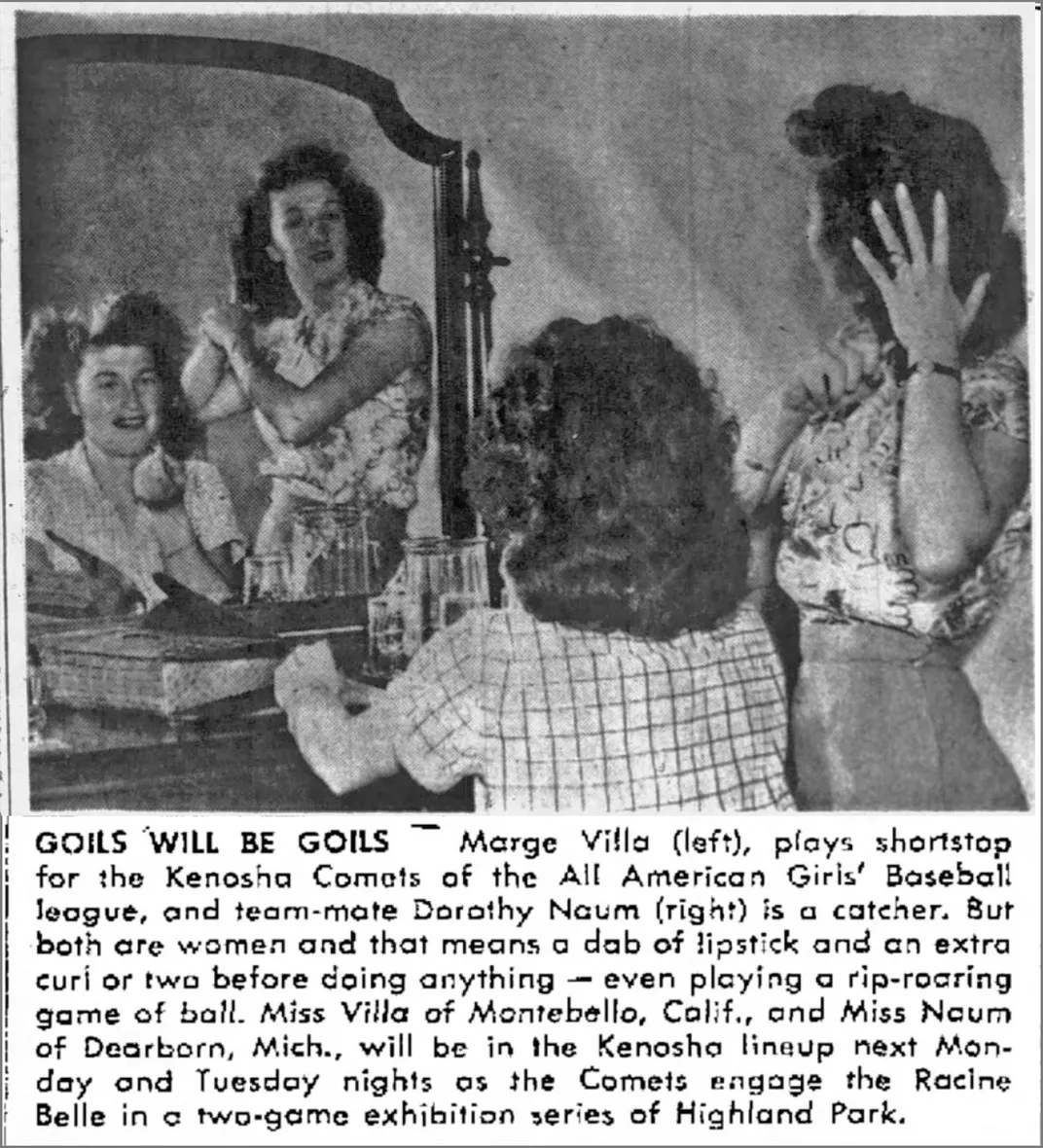 Around 600 women played in the AAGPBL within its 15 teams during its existence from 1943 to 1954. The league was initially founded to entertain crowds as male players in the major leagues were drafted into the military during World War II. Philip K. Wrigley, the owner of the Chicago Cubs and namesake of their ballpark, launched the league and was responsible for many of its appearance-focused regulations for the athletes. Players were carefully recruited as much for their ability as for their appearance and manners. Lipstick was a requirement, and public smoking and drinking were strictly prohibited. The commercial success of the AAGPBL is sometimes credited to the delicate balance its players struck between the era's rigid standards of femininity and the game's rugged sportsmanship.
For curator Salazar-Porzio, Villa's story is personal. When the curator—who shares more than just a first name with Villa—began searching for a uniform for the museum collections which would represent how women players have historically combined their love for the game and dedication to leveling the playing field for all, she did not expect to find a hero so close to home. Having grown up only miles away from Villa's hometown of Montebello, Salazar-Porzio was drawn to her story.
Villa's uniform on display is one she wore playing for East L.A.'s Garvey Stars at age 13. The burgundy satin uniform, with a white Peter Pan collar and cap sleeves delivered the style and look that came standard to women's baseball of the era—though the ensemble did include a pair of pants, which were far easier to play in than the iconic short skirts of the AAGPBL player's uniforms. The Garvey Stars uniform has a large "G" alongside the front zipper, with the team's sponsor, "Bordier's Nursery," stitched on the back. When a local museum curator discovered the uniform in a box in Villa's garage, he knew he'd found a national treasure. (The show also includes photographs and an official AAGPBL baseball card detailing Villa's career in the league.)
Salazar-Porzio also prioritized women's stories to emphasize the often overlooked roles they had in the game, like the first Latina/o to own a major league team, Linda Alvarado, and sports broadcaster and Olympian Jessica Mendoza.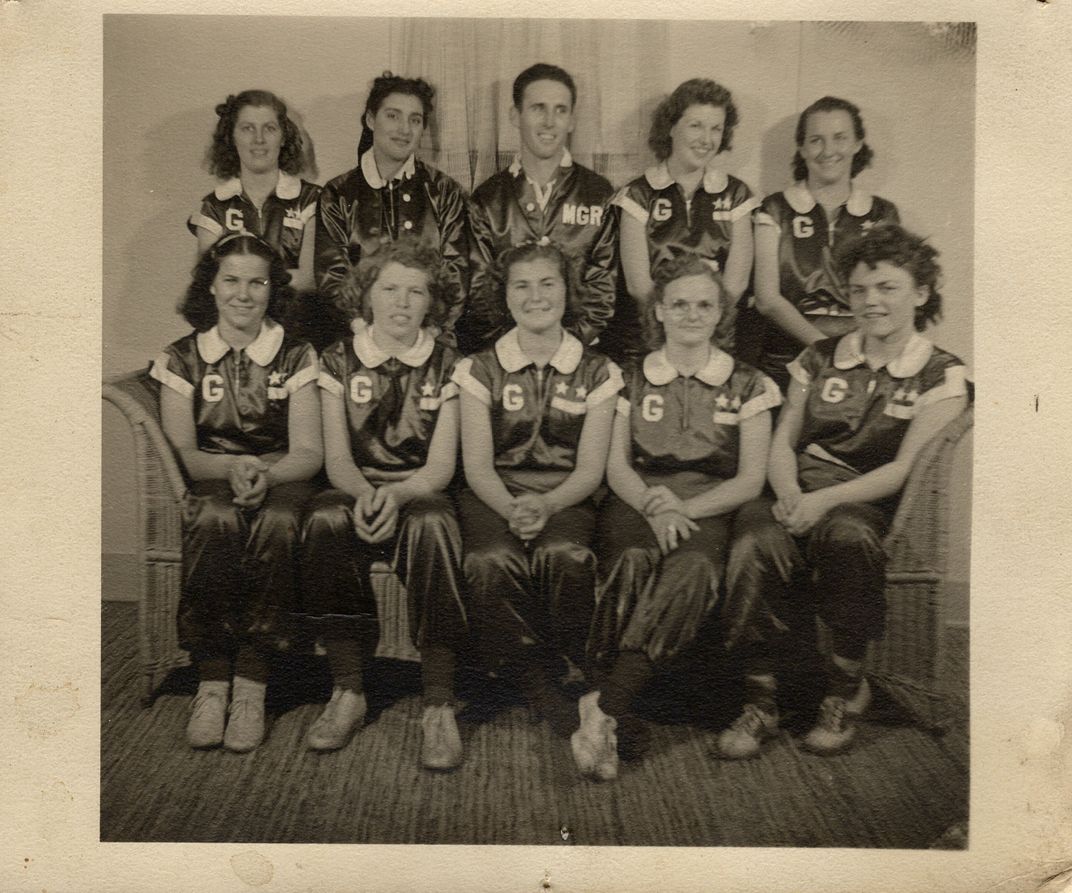 Of course, women like Villa played in the game, "but they've also been fans, mothers, daughters, and wives," Salazar-Porzio says. "They've cared for children while men played, they sewed patches onto uniforms." In ¡Pleibol!, the various ways that Latina women interacted with the game are essential to the story of American baseball.
After playing for the Garvey Stars, Villa would go on to be recruited at just 14 years old by the semiprofessional Orange Lionettes in Southern California, before she was signed to play in the AAGPBL. After her time in the AAGPBL, her father told her, "Well, you have to do something," so she took up golf. At the golf course, she was set up on a blind date with Daniel Cryan. The couple married in 1954.
The baseball star turned golf champion dominated her competition and won the annual tournament more than 25 times. "I don't know why those other ladies played this golf tournament, because my mom would win every year," quips Soderquist.
One of Villa's greatest joys was watching her grandchildren grow up, and attending every single one of their baseball games. She coached their teams, helped them with their swings, and yelled at the umpires from the sidelines. She sided with her kids and didn't shy away from letting the officials know if they didn't make the right call.
"If she didn't think that call was a very good one, they were going to hear about it," says Soderquist. "I thought she was going to get kicked out." Villa's husband, Daniel, would sometimes place their chairs off to the side of the bleachers, in order to keep Villa far enough away from the umpires so they couldn't hear her salty language calling them out—she never minced words when she witnessed an unfair call. Many of the parents, players, and umpires knew Villa from her career in the AAGPBL and "had to be on their best behavior and really watch what they were doing with her."
Villa enjoyed reconnecting with her former teammates for reunions and to relive her glory days on the field, which were famously memorialized in the 1992 film A League of Their Own, starring Madonna and Geena Davis. The movie tells the story of the relentless Rockford Peaches, another AAGPBL team, and introduced new generations to the story of the league. Villa served as a technical advisor on the film; though she didn't play for the Rockford Peaches, she did compete with them. On set, Villa remembers actor and director Penny Marshall demanding that she "get the [expletive deleted] over here, and show these actors how to throw and catch a baseball."
Though she was a talent out on the field, Villa's commitment to her community, her heritage and identity, and her love of the game created connection to others, whether they were on the opposing team, overseas, or up-and-coming young girls who saw their own futures reflected in a hero like Villa.
"I have felt like this is a tribute to her," says Salazar-Porzio, "and the way I like to highlight the work that she has done and her trailblazing is a tribute to what an amazing person she is."
Her legacy extends beyond her baseball career. In Soderquist's words, Villa's lasting impact is her fearlessness and her dedication to uplifting others in sport—whether that took the form of blazing a trail for future Latina athletes, mentoring young players, or calling out unfair umpires from the sidelines.
"Her whole philosophy is 'If there's anything you want to do, you can do it, and nothing should be in your way," Soderquist says.
"¡Pleibol! In the Barrios and the Big Leagues/En los barrios y las grandes ligas" is on view at the National Museum of American History through summer 2022. Visitors must acquire free timed-entry passes.
A Note to our Readers
Smithsonian magazine participates in affiliate link advertising programs. If you purchase an item through these links, we receive a commission.