Recent History: Michael Phelps at the Portrait Gallery
One of the heroes of the 2008 Olympic Games now hangs from the wall of the National Portrait Gallery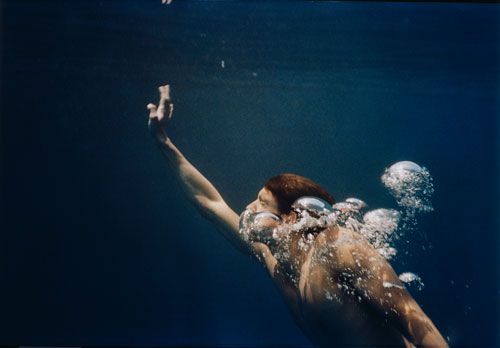 It's 11:18 on a damp Thursday morning. A few women with umbrellas sip cups of coffee outside the doors of the National Portrait Gallery. It won't open for another 12 minutes, but a crowd is gathering in the foyer.
They're gawking at a portrait of one of the heroes of the 2008 Olympic Games, the eight-time gold medalist Michael Phelps. The chromogenic print went on display today after a two-year stint in storage, returning to public view when Phelps-mania hit the country this year.
The portrait is by Ryan McGinley, who photographed the entire 2004 United States Olympic swim team for the New York Times Magazine (see the portfolio here, and outtakes here). This picture of Phelps took the cover, as pictures of Phelps tend to do.
A plaque at the gallery's entrance says that decisions about which portraits to include in the permanent collection depend on "the importance of the sitter's impact on American history." It takes a moment to get past the shock that Phelps—born in 1985—has already scored a spot. He seems so young and his accomplishments so recent for that kind of honor.
Phelps' portrait certainly has legendary company. Across the hall, a self-portrait of novelist Kurt Vonnegut eyes the audience darkly. To Phelps' immediate left, a picture of John Bradstreet, a major general in the 18th century British Army, blinks at the world. Far down the hall, portraits of Martin Luther King, Jr, Albert Einstein and Rachel Carson add to an atmosphere of grandeur.
Phelps undoubtedly belongs here; the moment when he accepted that historic eighth gold medal at the 2008 Olympic Games was the picture that launched a thousand news stories.
But McGinley's Phelps isn't the be-Speedoed streak in the water the whole world has gawked at on primetime TV. This Phelps reaches through grainy blue waters for the light of the sun. He could be a kid, surfacing after his first jump into his backyard pool. The audience knows that the guy in the picture is Michael Phelps–the athletic miracle, the physiological conundrum–but at the moment of this portrait, Phelps himself doesn't seem to know it. He's not chatting up Jay Leno or fending off paparazzi.
McGinley captures Phelps as he was, and (in his private moments, anyway) might still be: just a guy, in the water.
Image from the National Portrait Gallery, Smithsonian Institution. ©Ryan McGinley, courtesy of Team Gallery