Rarely Seen Video Clips From the Archives of American Art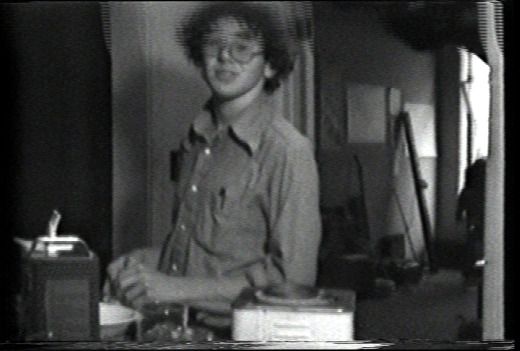 The Smithsonian's Archives of American Art is trying something new, with its exhibition "Of the Moment: A Video Sampler from the Archives of American Art" opening this Saturday at the Donald W. Reynolds Center for American Art and Portraiture. It's exhibiting rarely seen video, 16 minutes of it, showing artists being artists.
"I think the most striking thing is you really get a sense of their personalities, which are hard to convey in other media," says Megan McShea, an audiovisual archivist and the first Archives of American Art staff member hired to focus exclusively on sound and film in the collections. "It's fun to watch video of the artists you've heard and read so much about."
And the footage captures moments, quirky to sweet to explosive. Performance artist Chris Burden, while cooking Teppanyaki duck and being interviewed by painter David Salle, tells the story of an uncle who was gored by a bull on his honeymoon (somewhat ironic given the incredibly violent things he's done in his performances, like impale himself to a VW bus). Painter Louis Bunch, in a clip from Portland, Oregon public television, talks about improvisation while he paints to a live jazz band playing. And Richard Serra fights back at a hearing, in an unsuccessful effort to prevent the removal of his controversial "Tilted Arc" sculpture from the Federal Plaza in New York City, in a news segment from 1985.
A lot of the video in the archives is valued for its breadth, says McShea, who looked at about 60 to 70 hours of footage from the thousands of film items housed in the archives to find the 16 minutes that was pulled together for the exhibition. But who is going to sit in the gallery for two hours to watch it?
"We tried to find pieces that were strong enough in a short enough time to work in a gallery environment," says McShea. "The exhibition is an expression of new interest in promoting this aspect of our work here."
The exhibition will be on display through July 27.