Rare Micronesian Kingfishers Successfully Hatched
Caretakers at the Zoo are celebrating the birth of two extremely rare birds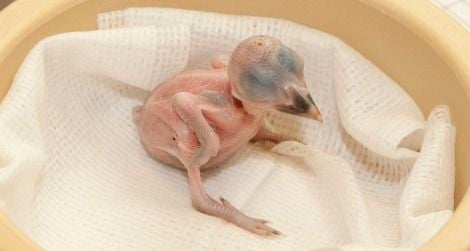 In 1984, scientists in Guam realized they had a problem. The Micronesian Kingfisher, a brightly colored bird that had once filled the island's forests, was nearly extinct. There were just 29 left. Within years, it seemed, the once-abundant species would be lost.
How did their numbers dwindle so low? Just after World War II, increased naval and air traffic brought them a new predator: the brown tree snake, native to Australia and Papua New Guinea, which quickly infested Guam. "These snakes have an affinity for getting into cargo holds," says Warren Lynch, the bird unit manager at the Smithsonian Conservation Biology Institute (SCBI) in Front Royal, Va. "The birds had evolved and adapted to an environment where you didn't have those predators." In a last-ditch effort, Guam's Department of Aquatic and Wildlife Resources sent the surviving birds to zoological institutions around the world, in hopes that a captive breeding program could regenerate a large enough population to someday sustain itself in the wild.
Decades later, caretakers at the SCBI this summer celebrated the birth of two new kingfishers, bringing the number living at the Zoo and its facilities up to ten. That makes the world kingfisher population 131. The birds—a female born on July 25, and a male born on August 20—are another positive step towards reestablishing the species in the wild, says Lynch.
The hatchling is so significant because breeding these extremely rare birds in captivity has proven a challenge. "Every step of the way has been difficult," Lynch says. First, caretakers have to find a compatible breeding pair that produces fertile eggs. "If you get through that, they need to hatch it, feed it and raise it," he says. "And there have been a lot of problems, after they hatch the thing, they actually kill it, they even eat it sometimes."
A third chick was born on Sept. 3, but died two days later of unknown causes after being reared by its parents. The two surviving chicks were hand-reared and fed by caretakers, who believe these parenting problems are an artifact of trying to breed the kingfishers in captivity.
Visitors to the National Zoo can see the pair of resident Micronesian Kingfishers at the Bird House. The male and female can both be identified by their blue-green wing feathers and brown heads. The population over at SCBI, which was launched in January 2010 as a hub for Smithsonian's species preservation efforts, is being studied by researchers to assist in future conservation projects.
As the world kingfisher population slowly edges back upward, scientists are developing plans to introduce the species back into the wild. "It will take a lot of birds," says Lynch. "That's just normal, with any animal that you reintroduce to the wild, you expect a really high loss." Despite intensive efforts, the brown tree snake still thrives on Guam, so the initial release may be on nearby islands. "They would be in their natural habitat, and these islands are snake-free," Lynch says.
Although progress is gradual, he is optimistic that the species can be saved, rather than suffer the fate of countless extinct bird species such as the passenger pigeon. "Right now, we're actually getting to the point where there's limited holding space," he says, so scientists will focus on maximizing genetic diversity within the population by selective breeding.
"If they can get these birds back into the wild," Lynch says, "some of these problems about maintaining them in captivity will take care of themselves." He and many others hope that these chicks and others will end up spending their lives back in the forests of the South Pacific, an ecological success story.