"Portraits Alive" Closes Today at the National Portrait Gallery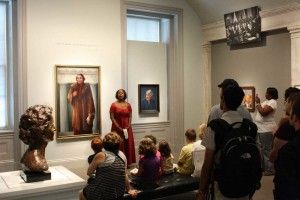 The final performance in a three-week run of "Portraits Alive"—a program at the National Portrait Gallery that employs a group of teenagers to perform monologues as historical figures represented in the museum—will take place this afternoon at 2:15pm, concluding the program's fourth consecutive year.
"Once people stop thinking about somebody, that person ceases to exist." A pensive, 16-year-old Christopher Schelb, aka beat poet Allen Ginsberg, sits cross-legged, one combat boot crossed over his knee. He and a small group of D.C. area teenagers are in their makeshift dressing room, having just finished Wednesday's performance.
"Ginsberg"—as Schelb's peers have begun to call him—is dressed entirely in black. Other group members have already shed their costumes in favor of their street clothes. For Schelb, there is no need. "This is pretty much my casual dress," he says. Throw on a large brown fake beard, and Schelb transforms into an entirely plausible Ginsberg.
After weeks of writing and research, other cast members have come to resemble their chosen historical figures as well. Though she denies it, the group insists that Aliyah Cabbagestalk has taken on some of Muhammad Ali's flinty, confident inflection in her speech. Tatiana Brown, who plays opera singer Denyce Graves, smiles and says she's "not as big of a diva" as Graves, which is met with joking smirks and eye rolls. James Tindle, who portrays Russian-American dancer and choreographer Mikhail Baryshnikov, had never danced before this summer but now has the graceful, self-aware walk one might expect from a ballet dancer.
The performance, a theatrical walking tour of the museum, involves visiting ten different portraits. At each stop, an actor delivers a monologue approximately five minutes long while standing in front of the portrait he or she is representing.
The actors are high school students employed through Washington, D.C. Mayor Adrian Fenty's Summer Youth Employment Program, and they are grateful for a chance to pursue the arts as their summer job. "I'm a huge fan of the arts. This is what I want to do with my life. . . This job is amazingly important to me," says Tindle. The actors, ages 16 to 18, have spent the past seven weeks of the summer researching, writing and finally performing their monologues.
"When you come here, it doesn't feel like a job," says Lauren Walker, who plays feminist writer and activist Kate Millett. "It's like coming to work everyday to do what I love to do."
While some are trained actors and others have little acting experience, all seem to have developed a personal connection to the portrait they have chosen to perform. "You walk past a portrait, and you take it for granted," says Walker. "But when you actually research the person, you think, this is why they're on the wall. This is the impact they have had on society."
The performance opens in the Robert and Arlene Kogod Courtyard of the museum, where the cast members stand in a semicircle before the audience. They pose a question that echoes in the cavernous space: How do ordinary people become American icons?
Hard work and perseverance are two answers the actors have found over the past several weeks. "These people on the walls are real human beings, and they overcame obstacles," says Brown. "If this test seems impossible, I know I can do it because this person did."
One thing, however, is certain; through their performances, these D.C. teenagers have brought important figures from the past to life, preserving them for us in the present. Says Tindle, "This program, this is exactly what a museum needs."