The Portrait That Captures the Defining Features of John McCain's Life and Career
A photograph of the straight-talking Arizona senator goes on view In Memoriam at the Portrait Gallery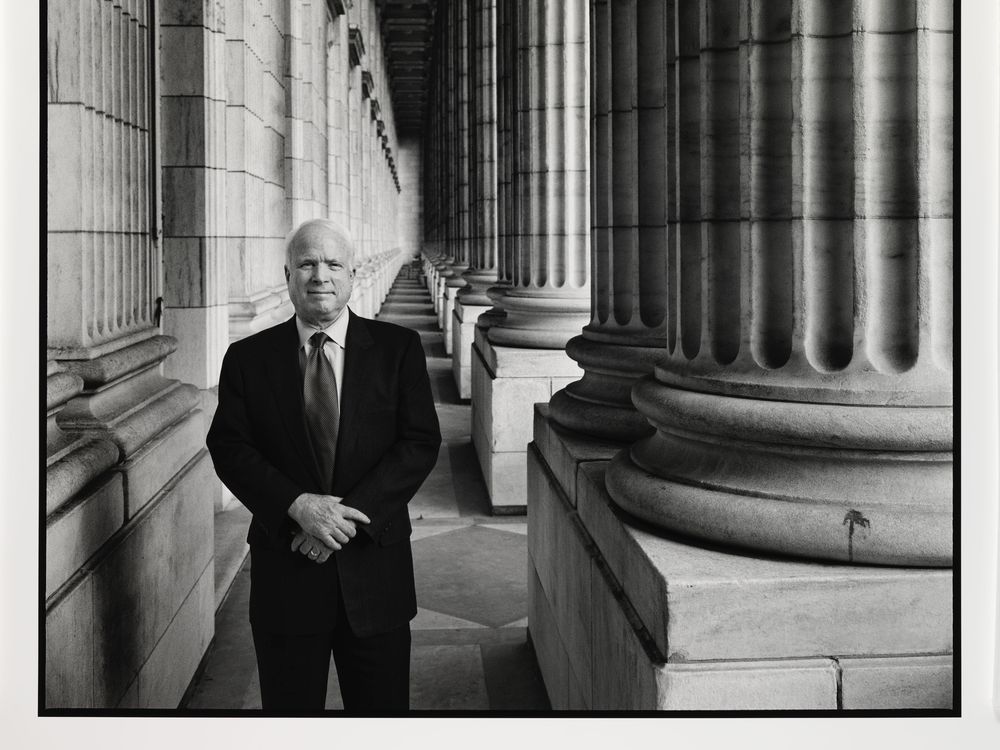 It's the face that draws the attention. The square jaw. The resolute brow. And the candid expression in the eyes. This is the straight-talking senator and former presidential nominee John S. McCain III, who died on Saturday August 25. The black and white portrait taken by the renowned photographer Steve Pyke, makes him look every bit the Washington D.C insider—though McCain always preferred the American heartland. He's dressed in a suit and tie and posed among the repeating columns along the exterior of the Russell Senate Office Building.
Pyke, who at the time was a staff photographer for the New Yorker, has long been interested in what the face in a portrait can tell us. (Pyke's work was recognized alongside that of Katy Grannan, Jocelyn Lee, Ryan McGinley, Alec Soth and Martin Schoeller in the Portrait Gallery's 2008 exhibition "Portraiture Now: Feature Photography.")
"The way we live our lives is etched into the landscape of our faces," Pyke once observed. "We create the face with which we live."
And etched in that face, one can see years of service and dedication. Born in 1936, McCain became a lieutenant commander in the U.S. Navy and during the Vietnam War, he spent five-and-a-half grueling years as a prisoner of war at the Hoa Lo prison, nicknamed the "Hanoi Hilton," after his plane was shot down. His long political career, two years as a congressional representative, followed by six terms in the U.S. Senate, continued until his death from brain cancer. The Portrait Gallery's photograph was taken in 2005 when McCain was beginning his campaign to become the 2008 Republican presidential nominee and appeared in Connie Bruck's New Yorker profile "McCain's Party."
"In my view, the strength and classicism of the columns echo Senator McCain's commitment to the timeless values—service to country, personal integrity—that were the defining features of his life and career," says Ann Shumard, the museum's curator of photographs.
The relationship between the photographer and his subject, Pyke has said, "is often brief, but the image which we make of those moments can be the way a person is remembered beyond their own lifetime, remaining long after the voice has been forgotten."
Senator McCain's voice will be one that likely will not be forgotten.
The photograph, now among the 23,000 portraits at the Smithsonian's National Portrait Gallery is on view through September 9 in recognition of McCain's historic career. Visitors can find the portrait near the museum's entryway hung on the Gallery's "In Memoriam Wall."
The portrait of Senator John McCain by Steve Pyke will remain on view at the National Portrait Gallery through September 9, 2018.