Peace Corps Donates Treasure Trove to American History Museum
The landmark collection of Peace Corps artifacts donated at a ceremony this morning is more than a memento of the program's 50 years of existence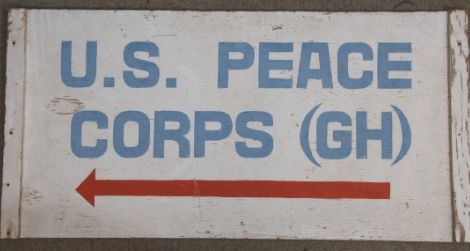 For Harry Rubenstein, chair of the Division of Political History at the American History Museum, the landmark collection of Peace Corps artifacts donated at a ceremony this morning is more than a memento of the program's 50 years of existence. To him, the 43 objects collected—recruitment posters, training manuals and other artifacts—are a confirmation of American ideals, just as much as the relics from our country's founding.
"I look at these objects and think about one of our most treasured objects that's on display, on the third floor, the desk that Thomas Jefferson drafted the Declaration of Independence on, and I see a direct connection between the two," Rubenstein said at the press conference held to celebrate the donation. "It's a belief in this American spirit, and what it means not only for the American people, but for the people of the world."
Aaron Williams, the current director of the Peace Corps who served in the Dominican Republic in the late sixties, presided over the donation and reflected on the scope of impact Corps members have had, as well as their projects around the world today. "Their engagement efforts range from teaching science in rural high schools in Tanzania, to youth development in Jordan, to promoting computer literacy in the Ukraine," he said. "They're distributing bed nets to stem the spread of malaria in Senegal and teaching health and hygiene to school children in Peru."
Williams stressed the transformative nature of the program, not only for the populations served in foreign countries but for the Corps members themselves. "It transformed me from a young man on the South Side of Chicago, where I was the first one in my family to go to college, and gave me a chance to see the world," he said.
As part of the Peace Corps' 50th anniversary, the organization reached out to its alumni base for donations of significant artifacts. Members responded by contributing their graduation certificates, international ID cards, and even telegrams sent to their parents upon their arrival in foreign countries. The Peace Corps itself also donated many artifacts, such as the sign from the organization's first office in Ghana and an early medical kit used in the field.
The wide variety of artifacts will become part of a new collection specific to the organization. "This collection will house a treasure trove of Peace Corps artifacts," Williams said. "It tells a story of the brave pioneers who first brought the Peace Corps to life, and thousands upon thousands of Americans who have since answered the call."
Stacy Rhodes, the current chief of staff of the Peace Corps who served in Bolivia from 1968 to 1970, was one of the alumni who dug through their things to find a donation. He contributed a small pamphlet, called the Peace Corps Reader, which he originally received during training at Utah State University just before heading to Bolivia. "I just found it when I went back through my old Peace Corps trunk, where I was keeping a variety of things," he said. "I thought, well, maybe they'll be interested in this. I had no idea, but I'm so thrilled and honored that the Smithsonian thought it was worth keeping."
Williams hopes that the collection will have an enduring impact in motivating future Americans to serve. "While times have changed, the needs persist. The inequities that existed half a century ago still loom large in our world," he said. "In honoring those who have served, this will serve as an inspiration, I am certain, to those who believe they have something to give, to those who want to be part of something bigger than themselves."