One Year Later: Deepwater Horizon
Tomorrow, April 20, marks the one-year anniversary of the explosion of the Deepwater Horizon drilling rig off the coast of Louisiana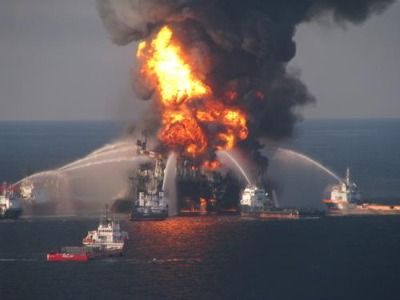 Tomorrow, April 20, marks the one-year anniversary of the explosion of the Deepwater Horizon drilling rig off the coast of Louisiana. The blast resulted in the release of more than 200 million gallons of crude oil into the Gulf of Mexico over the course of the next three months. To revisit what happened and discuss the current state of the Gulf and what scientists have learned from the disaster, tonight the National Museum of Natural History hosts a panel discussion from 6:30 to 8:30 PM in the museum's Baird Auditorium. Participating experts include David Hollander, a chemical oceanographer from the University of South Florida; John Stein, acting director of the Northwest Fisheries Science Center and manager of NOAA's Seafood Safety Program; James Bonner, a professor of civil and environmental engineering at Clarkson University; and Judilee Marrow, a veterinarian from the Smithsonian's National Zoo. The Smithsonian's Sant Chair for Marine Science Nancy Knowlton will moderate the discussion. I emailed with the Zoo's Judilee Marrow in advance of the event.
Can you tell us how you were involved in relief efforts after the spill?
The Smithsonian's National Zoo is one of a few federal institutions that employs veterinarians specializing in wildlife medicine. The Zoo's department of animal health staff were called in to assist with logistical arrangements and permits to relocate rehabilitated wildlife to oil free environments along with colleges from U.S. Fish and Wildlife and U.S. Geological Service.
How did your experience as a veterinarian at the zoo prepare you for the work?
Our veterinary staff at the National Zoo works with a diverse collection of species in a variety of settings including the Zoo, Smithsonian Conservation Biology Institute, as well as international field projects. Our veterinary team includes leaders in the field of wildlife medicine.
What has been the biggest surprise to you in respect to the Gulf's recovery so far?
​I am continually surprised by the seeming resiliency of the rehabilitated wildlife that have been released after the spill. All brown pelicans were fitted with special identification bands on their legs. Our hope is that the data collected in the coming years will provide the scientific community with a better understanding of the impact of the oil spill on these animals.