"One Life: Ronald Reagan" Opens at National Portrait Gallery
The National Portrait Gallery tells the story, through portraits, of Reagan's ascension from radio announcer to president of the United States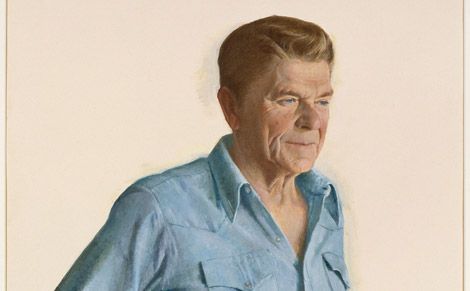 A senior historian at the National Portrait Gallery, Sidney Hart is interested in "consequential" people and in better understanding who they are and where they come from. Since the gallery reopened in the summer of 2006 after a six-year long renovation, it has been hosting a "One Life" series, each exhibition focused around an American personality. Today, One Life: Ronald Reagan opens to the public. (Newspaper publisher Katherine Graham was the last to be featured.)
The gallery has over 70 portraits of Reagan in its collections, and at the centennial of his birth, says the National Portrait Gallery's director, Martin Sullivan, Reagan seemed a natural subject. One Life: Ronald Reagan chronicles the Gipper's path through, essentially, six careers—as sports announcer, actor, union leader, corporate spokesman, governor of California and 40th president of the United States. Sullivan hopes that the exhibition gives visitors some insight into the personality traits that brought him success and made him such a "mesmerizing and sometimes polarizing figure."
Among the pieces included in the exhibition are a photograph of Reagan as a WHO radio announcer in Des Moines, Iowa, in the mid-1930s and some movie memorabilia from Knute Rockne, All American (1940) and Kings Row (1942), which Reagan considered his best film. There is a photograph of a grinning Reagan visiting a General Electric plant in Danville, Illinois, in 1955, during his stint as a corporate ambassador for the General Electric Co., and another of his victory celebration when he won the bid for California governor in 1966. The majority of the small gallery space is devoted to Reagan's political career. One photograph illustrates the chaos outside the Washington Hilton Hotel just after the assassination attempt there in 1981, and two others were taken during meetings with Mikhail Gorbachev in 1986 and 1987. In addition to portraits, a piece of the Berlin wall and the border fence, or "Iron Curtain," and a handwritten page of the speech Reagan delivered to the nation after meeting with Gorbachev in Reykjavik, Iceland, in 1986, are on display.
An attention-grabbing 1985 work by Andy Warhol plays off of Reagan's nickname, the "Teflon president," which Democratic congresswoman Patricia Schroeder had given him because no negative criticism seemed to stick to him. In the screen print, the pop artist casts Reagan in a circa-1953 advertisement for wrinkle-free Van Heusen Century shirts.
At the entrance to the exhibition is a curator's statement, written by Hart. In it, he explains how when he gives tours of the National Portrait Gallery's hall of American Presidents (and he gave us one on election day 2008), he is often asked to rate the presidents. He prefers to instead discuss their significance. The difficulty in doing so, though, is that usually a president's significance isn't known until about 50 years after his terms. "However, with some presidents—Washington, Jackson, Lincoln, the two Roosevelts and Ronald Reagan—I think we know immediately," he writes. "Their tenure was consequential and transformational. When Reagan was elected president, pundits worried that the office had become too overwhelming for one person to handle. When he left office, I believe that view was refuted."
One Life: Ronald Reagan opens today and will continue through May 28, 2012.