This One-of-a-Kind Biplane Embodies the Thrill of Airshow Flight
The Air and Space Museum's new "We All Fly" gallery will encourage imaginations to soar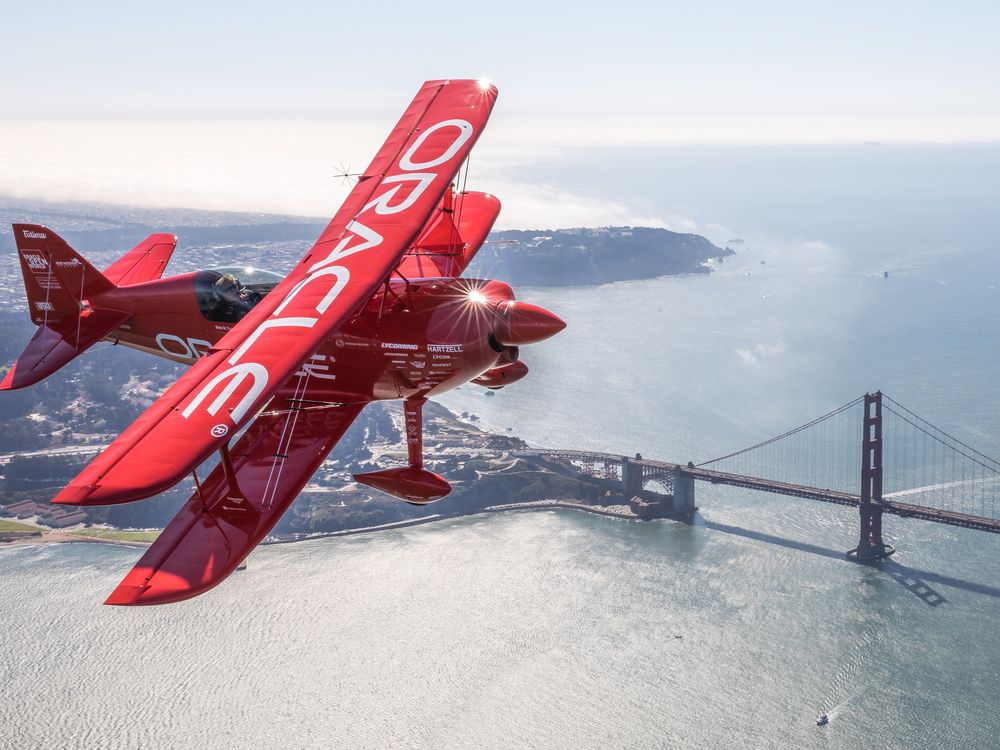 Picture the scene: a beautiful day, a gentle breeze, green grass underfoot and concessions tents all around. As showtime draws near, families lay out blankets and umbrellas, unfold beach chairs, grab popcorn to snack on and ready their binoculars. In a flash, a small biplane roars to life and takes to the sky, its propeller mincing the air as a stylish white vapor trail issues from its tail. Moving at hundreds of miles per hour, the plane launches into a 20-minute showcase of sheer daredevilry, the sun glinting off its bright red wings and fuselage as it arcs through unforgiving ten-G climbs, flies upside-down, and corkscrews in dizzying chains of barrel rolls. The plane is the one and only Oracle Challenger III, and in its cockpit sits world-renowned American stunt pilot Sean D. Tucker.
"When the wings become your arms and you enter the arena," Tucker says of his demanding day job, "that's the closest you are to being perfect in the sky." The Southern California native, who earned his pilot's certificate as a teen, has honed his aerobatic skill for decades on end. Biplane flight has always been Tucker's bread and butter, and the biplane he flies now, the tricked-out Oracle Challenger III, will forever be his favorite aircraft. "I have a love affair with the airplane," he says. "When you've shared some of your most precious moments, and the airplane has allowed you to stretch yourself and push your boundaries, and it takes you back safely. . . . It becomes a part of you."
Understandably, Tucker says it will be difficult for him to part with the plane come the end of the 2018 airshow season, when he's planning on transitioning to a new phase in his career centered on formation aerobatics instead of solo work. But part with it he will: Tucker is donating his cherished Oracle Challenger III to the Smithsonian's National Air and Space Museum, where it will debut in the brand-new "We All Fly" general aviation gallery—whose construction has been made possible by a $10 million donation from the Thomas W. Haas Foundation—in the summer of 2021.
General aviation encompasses all flying of a nonmilitary and noncommercial nature, running the gamut from business aviation to aerial firefighting to stunt piloting of the sort for which Sean D. Tucker is famous. "We haven't had an exhibition on general aviation since the building opened," says curator Dorothy Cochrane, who has spearheaded the design of the new gallery. "It's such a huge part of aviation, and yet there's nothing in the building about it" save for isolated artifacts strewn across the various existing galleries."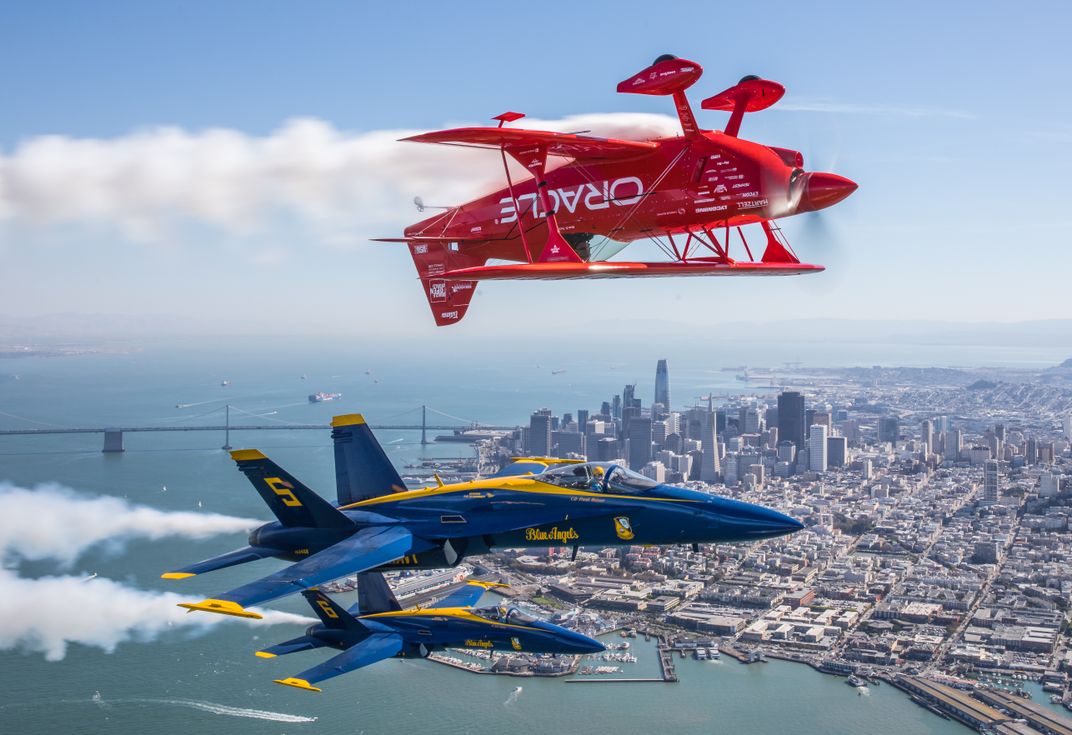 Cochrane's hope is that the new "We All Fly" gallery will illustrate for museumgoers the outsize yet often overlooked impact general aviation has on America's economy as well as its culture. "I want them to understand that it has a practical purpose, that it affects their life every day and they don't even realize it," she says. "It's not just a bunch of rich pilots going out on Sunday flights." She also wants "We All Fly" to help young visitors eliminate their fear of flying, and to show them that aviation can offer viable and rewarding careers—in piloting, yes, but also in mechanics, engineering, specialist journalism and photography. "There's this huge breadth of opportunities that one way or another involve aviation," she says. "I want people to see what's out there and appreciate what it really is."
For a gallery looking to inspire, Sean D. Tucker's sleek Oracle Challenger III will be a standout inclusion. "Sean Tucker has been at the top of the airshow world as a performer for 30 years or so," Cochrane says. "And in addition, he's become a great ambassador for aviation." Tucker currently chairs the Young Eagles program, dedicated to introducing kids aged 8 to 17 to general aviation through flights with volunteer pilots. He also founded the Bob Hoover Academy, which uses aviation as a way to give at-risk and underserved youth a sense of hope and control over their lives, and a renewed feeling of self-worth. "He is very deeply committed to encouraging other people to become involved," Cochrane says.
Tucker's Oracle Challenger III is impressive in its own right as well. The end result of years upon years of incremental design upgrades, the custom biplane showcases some truly top-flight technology. One of its most striking characteristics, the brainchild of Tucker's longtime design collaborator Steve Wolf, is its complement of eight ailerons (airfoils raised and lowered to adjust a plane's attitude) instead of a biplane's usual four. The inboard ailerons near to the fuselage allow Tucker to fine-tune his maneuvers with ease—and to bail on dangerous situations in a hurry.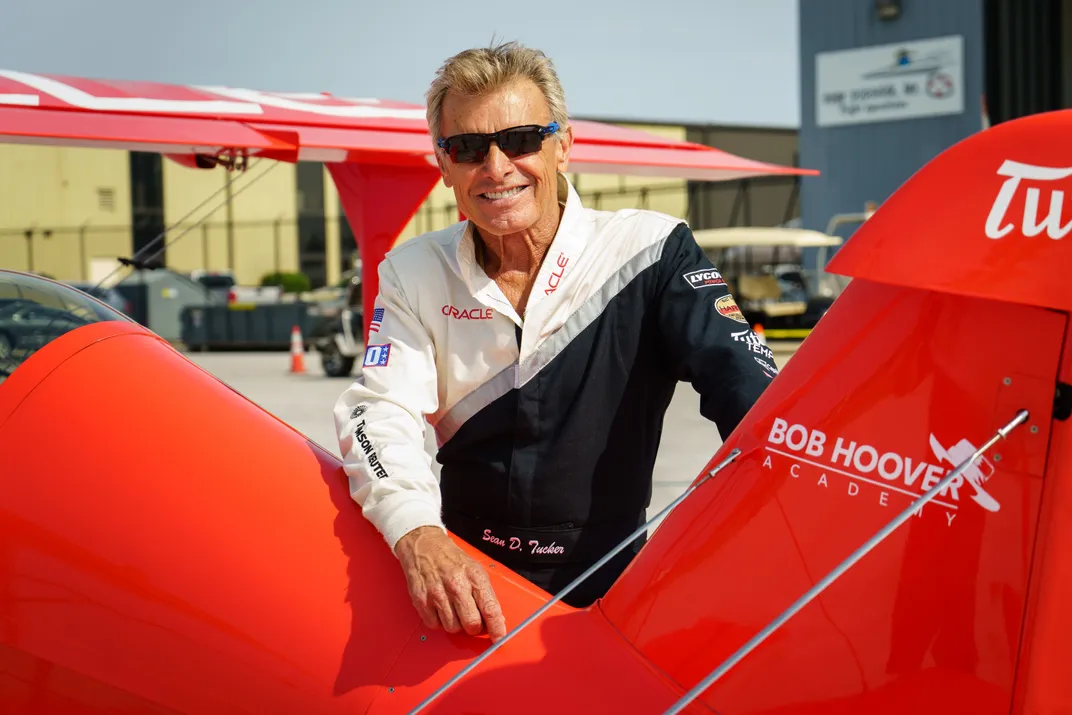 "Many of Tucker's most exciting tricks subject him to "negative G's," sending blood rushing painfully to his head. During such maneuvers, which are physically trying for aircraft as well as humans, a slight thrust error can send a plane into freefall and leave its pilot helpless. The Challenger's inboard ailerons, however, allow Tucker to torque the plane back to a safe orientation in a heartbeat should the need arise. "Because I have inboard ailerons," he says, "I have longitudinal control that gets me out of trouble a nanosecond quicker. And a nanosecond quicker is a lifetime in the low-level airshow environment."
Donating the cutting-edge vehicle to the Smithsonian is a no-brainer, Tucker says. The Oracle Challenger III is a highly hands-on plane designed explicitly for airshow performance—its abnormal center of gravity and hypersensitive controls make it extremely challenging to fly, even for veteran pilots. If Tucker sold it to an unknown private buyer, they'd be liable to wreck it within months, a possibility Tucker's heart could not abide. "It would be horrible if I sold it to somebody and I worried about it all the time," he says. "I love that girl, and I want her to go to a good home." He knows the Challenger will be safe at the Air and Space Museum, and is elated to be able to share it with the American public.
"No amount of money would ever be as big a reward as having a machine you love in a place that's going to continue to inspire millions of people every single year," he says. "The Smithsonian wants to make the 'We All Fly' exhibit something that inspires many generations to come. And to be a part of that? It's like a cherry on top of an ice cream cake. It's really fun."