On Climate Change: American Indian Museum's Call to Consciousness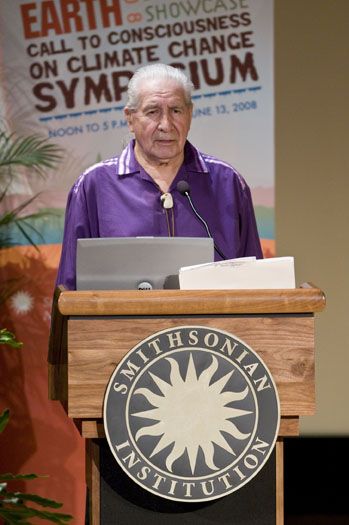 Hundreds of years ago Native Americans gathered on the shores of Onondaga Lake in Syracuse, New York, and made a commitment to the environment. "In every deliberation we must consider the impact on the seventh generation," stated the Great Law of Peace, a constitution that created the Iroquois Confederacy.
However, having grown up not far from the lake on the outskirts of the Onondaga Nation reservation, I'm familiar with the sad irony of its current state. Today, as a result of nearby factories dumping industrial waste in its waters, Onondaga Lake is one of the most polluted lakes in the world.
Naturally, when I heard that Oren Lyons, faithkeeper of the Turtle Clan of the Onondaga Nation, was going to speak at the National Museum of the American Indian's recent "Call to Consciousness on Climate Change" symposium, I wanted to hear his plea.
Chief Lyons didn't claim to know how to solve climate change, but his sage warning, delivered with a quiet confidence, was more motivational than any in-your-face rally for change. And, weeks later, I'm still chewing on some of his words.
Quoting a friend, he said, "People are still a biological experiment." He noted that it took over 400 million years for humans to reach a population of 2.5 billion and then only the past 58 years for that population to nearly triple. "That's not sustainable. The earth will balance," he says. "That's what it does – through crises, disease and shortages."
His connection to the earth – and I listened to him talk about his elder brother the sun and his grandfathers the four winds – was inspiring. And he attributes today's environmental degradation to the absence of this affinity in most of the human race. "You may intellectually understand it, but you don't feel it," he told his audience. "Try hard."
Rico Newman, of the Piscataway-Conoy Indians of southern Maryland, who opened the ceremony with a prayer, broke down the word "Piscataway," defining it as where salt and fresh waters come together. He was speaking of the Atlantic Ocean and the Potomac River, and I felt a bit shamed. I have never been so in tune with a place. And I thought, the Native American voice is a voice to be heard.
In conjunction with the symposium, the Museum of the American Indian is hosting a summer concert series on the second and fourth Fridays in July and August to showcase native talent. Listen to some of the upcoming performers. (Photograph courtesy of NMAI photographer, Katherine Fogden)