The Not-So-Simple Simon Proved the Young Were Swifter Than the Old
In 1978, the new blinking, bleeping toy ushered in the era of computer games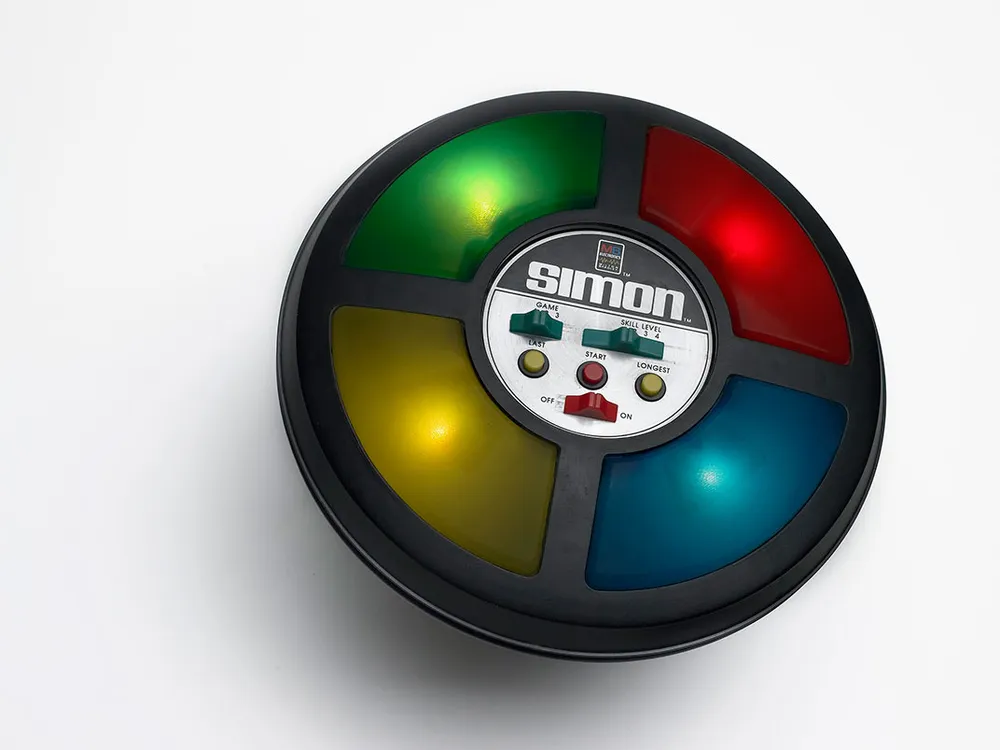 Many who study tipping points in social history contend that the oft-noted generation gap spontaneously erupted in the mid-1960s, when Jack Weinberg, a 24-year-old leader of the Free Speech Movement in Berkeley, California, told followers not to trust anybody over 30. Others consider it a byproduct of the Beatles song "When I'm Sixty-Four"—the milestone Sir Paul himself reached this past June.
Some of us, however, believe that the great divide can be traced to May 15, 1978, and Studio 54, a once notable New York City nightclub. There, just after midnight, the Milton Bradley Company, in a quirky promotional stunt, introduced an electronic game called Simon. How could a saucer-shaped plastic toy with four colored buttons and four musical notes drive a wedge between the generations? Simon, along with all the successive computer games it ushered in—Pac Mans, Dooms and Quakes—provided irrefutable proof that the young could do certain things far better than their elders. I remember, with a twinge, sitting with my young son, on opposite sides of a blinking, beeping Simon, a chip-driven version of the old kindergarten favorite, Simon Says. On it, a player presses buttons to repeat a sequence of colored lights and tones. As the sequences increase in length, one's memory is pushed harder. Not far into that first game, I realized that my son—his mind unclouded by worries about mortgages or marital missteps—could easily outplay his desperately competitive dad. This revelation was not lost on the boy. By the time I fell back, vanquished, shellacked, Simonized, there yawned between us a generation gap through which you could drive a Tonka truck.
The mind behind this not-so-simple Simon belongs to Ralph H. Baer, a huge figure in the world of computer games, who came to America from Germany in 1938 at the age of 16, after he was forced to leave school by Nazi anti-Semitism. During World War II, he joined the Army and served in England and Europe. Upon returning home, he got a degree in engineering. Baer is one of those protean inventors who seem to be powerfully inspired by America's competitive commercialism: if you make it—and it works—they will buy.
The Smithsonian's National Museum of American History collected an early version of Simon, as well as other examples of Baer's work. According to David K. Allison, chair of the Division of Information Technology at NMAH, Baer's career is remarkable for its duality. "What's intriguing about Ralph," he says, "is that he produced such imaginative things while also working full time for a defense contractor." The success of the contracting firm Sanders Associates, Inc., and Baer's contributions to that success, turn out to be key to his inventiveness. "With all that money coming in," Baer says, "nobody cared what you did."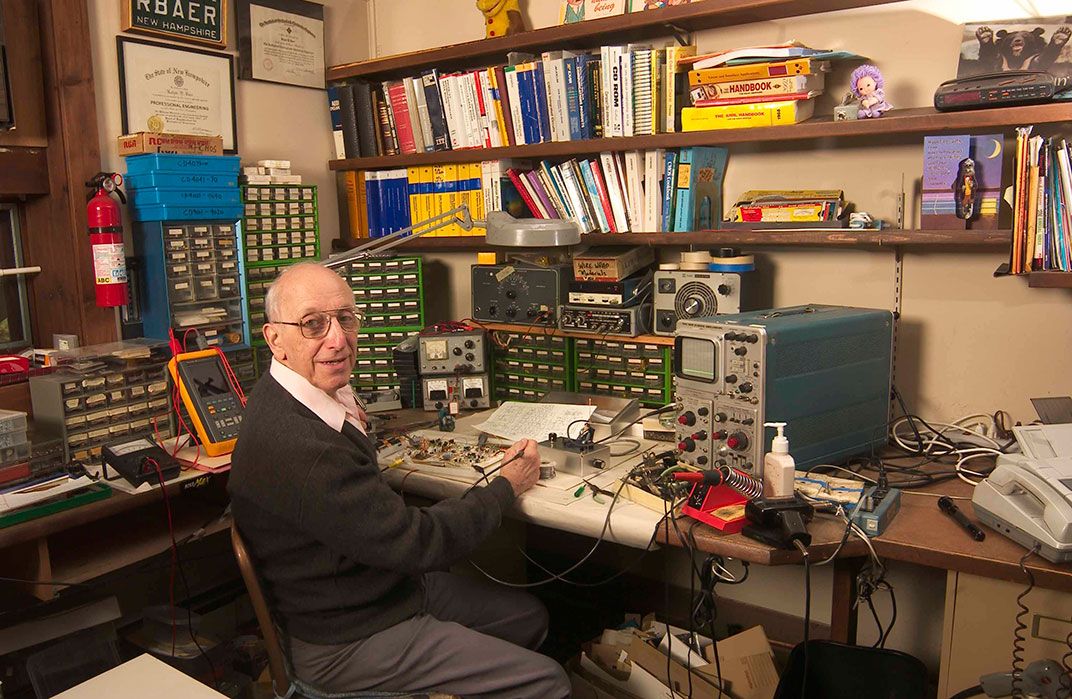 Baer's astounding output includes a voice-activated intercom (1949); the first lightgun video game (1967); an interactive video quiz game (1968); a talking aircraft altimeter (1969); a programmable remote record changer (1975); a hand-held gaming machine (1980); a talking bicycle speedometer and odometer (1996); and even a recordable talking doormat, the Chat Mat.
But Simon remains Baer's iconic creation; its story illustrates gamesmanship at the dawn of the electronic age. After creating a series of computer games—including electronic ping-pong—that grew into the pioneering Magnavox Odyssey video system in the early '70s, Baer turned his attention to an Atari arcade game, Touch Me, based on Simon Says, which featured four flashing knobs in a line and what he describes as "raucous accompanying sounds." With the help of Sanders programmer Lenny Cope, Baer re-engineered it as a portable game and substituted four bugle notes, which sounded, he says, pleasing in any sequence.
The prototype, a rectangular box, was licensed to Milton Bradley, eventually evolving into the saucer shape still sold today. A four-foot model of the game hung suspended over the dance floor at Studio 54 on the night it was introduced. Sheer marketing serendipity propelled its popularity, when director Steven Spielberg's film Close Encounters of the Third Kind transported extraterrestrials to earth in a spaceship very like a gigantic Simon, complete with communication through repeated musical tones. The toy was an instant hit and remains in production today.
In February 2006, Baer traveled to the White House, where, along with filmmaker George Lucas, he accepted the National Medal of Technology. Ultimately, Baer says, "Coming up with ideas isn't hard. The real challenge is finding the time to actually build something, and then finding a home for it."
UPDATE 6/30/2015: The National Museum of American History collected the original objects and furniture from Ralph Baer's basement workshop shortly before his death December 7, 2014. The new display, including both the inside of the workshop and the entrance to Baer's office, has been designated by the museum as a landmark object and goes on permanent view July 1, 2015 in the museum's new Innovation Wing. On the shelf in Baer's workshop, visitors will likely spot the Simon game.