New Sackler Buddhist Exhibition Doubles the Immersive Experiences
Film of Sri Lankan site joins popular shrine room as part of three-year exhibition and we finally learn why one Buddha's hair is blue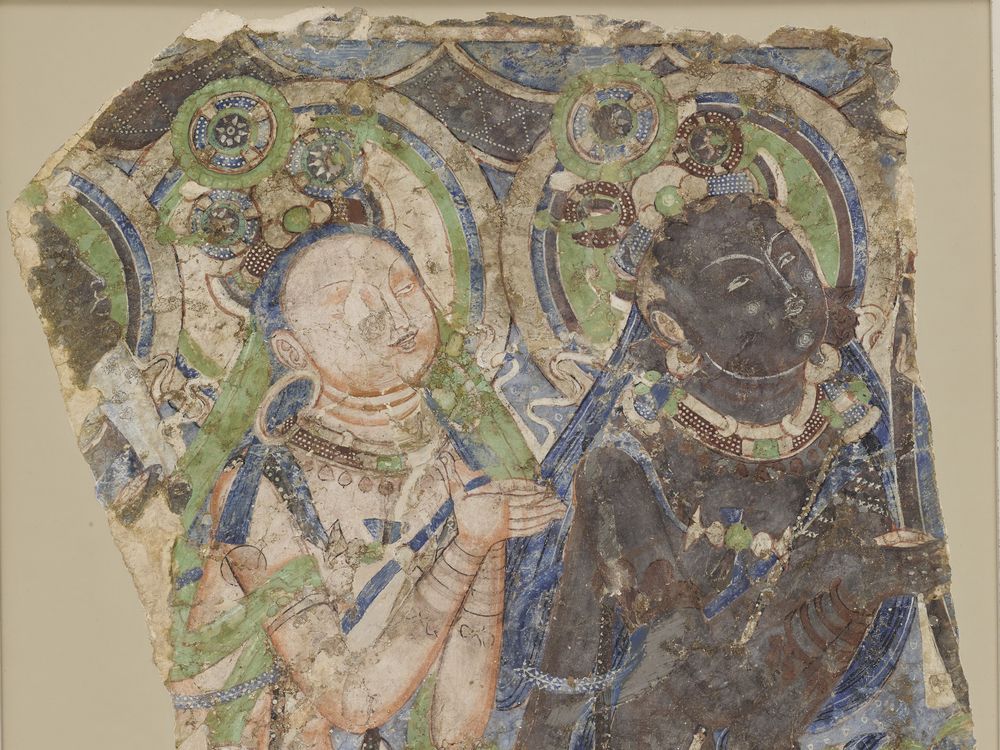 When the Arthur M. Sackler Gallery first created an immersive Tibetan Buddhist Shrine Room, with flickering candle-like lights and scores of golden Buddha statues and artifacts seven years ago, it became quite popular.
"People came," says Debra Diamond, curator of South and Southeast Asian Art at the Freer|Sackler. "Some people came once a week for three months. One staff member came every day, meditating. 
"People wrote a lot of comments that said, 'this helped me slow down,'" Diamond says. "The whole museum helps people slow down but this was a very special space."
So when the museum was planning its Encountering the Buddha: Art and Practice Across Asia—one of five major exhibits that mark the reopening of the Freer and Sackler after the Freer has been closed for nearly two years of renovation—it was sure to include the Buddhist Shrine Room.
But it is one of two immersive spaces in the Buddha exhibition, drawn from the vast collections of the museum.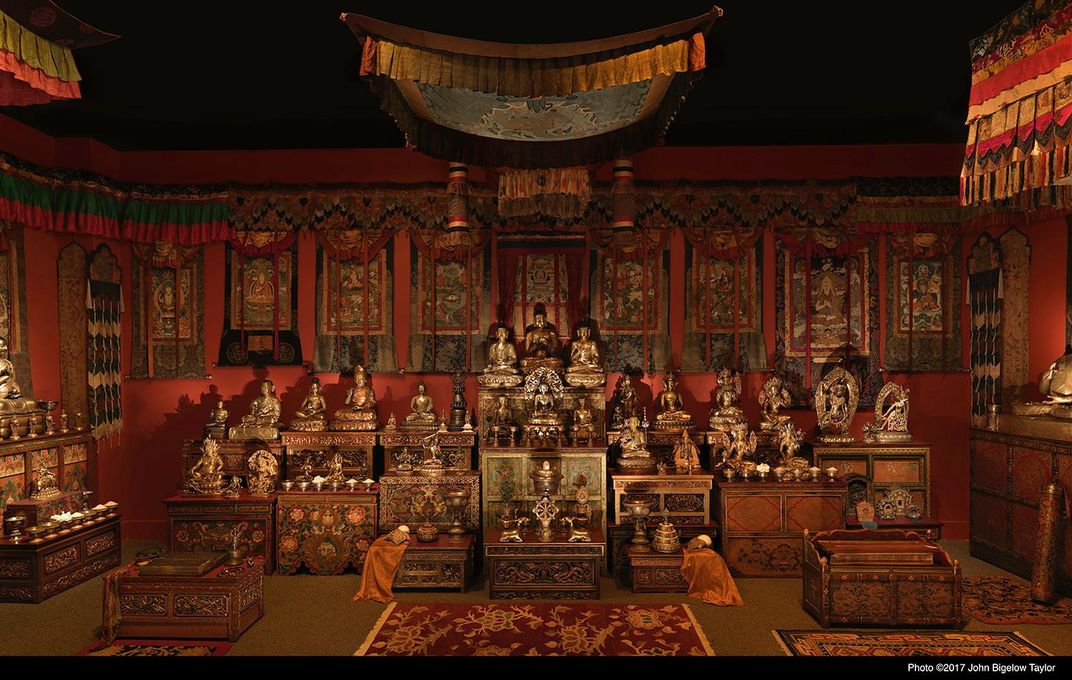 The other is a three-channel digital film, The Texture of Practice: Sri Lanka's Great Stupa, that will allow visitors to experience a Buddhist site in Sri Lanka, where relics of the Historical Buddha are said to be held.
"It's stunningly beautiful and meditative. It's not like a typical documentary," Diamond says. "It's almost like an art film." Visitors can circumnavigate around the three screens or plop down on couches to take it all in. "We made it 'A Day in the Life of the Stupa." Diamond says.
Monks, nuns and laypeople go through their daily practices on a day during the December full moon festival at the Ruwanwelisaya stupa in the town of Anuradhapura. Though the film runs just over 10 minutes, she says, "it goes from the dawn to moonrise at this one stupa site in Sri Lanka."
Since it's on a loop, the meditative film with ambient sound and no narration, can invite longer stays, with electronic pads available for those who want more information about what they are seeing.
Diamond tells of when Freer|Sackler director Julian Raby came by to check on a test run of the film. "I thought he'd stick his head in, but he pulled a pillow out and watched with everyone else."
It provides the same kind of meditative experience that comes through the remade Shrine Room.
With its objects originally on loan from the Alice S. Kandell Collection when it first went on display in 2010 (Kandell gifted the collection to the museum the following year), the Shrine Room is bigger than ever, with 243 objects, including 20 that had not been publicly exhibited before, representing Tibetan, Chinese, Nepalese and Mongolian artists from the 13th to 19th century. 
Placed on polychrome Tibetan furniture in front of brocaded scroll paintings, or thangkas, it becomes a hushed spiritual and artistic environment.
"Outside, you can appreciate an object that came out of a shrine, as a museum art work," Diamond says. "Here, it's totally different. You can see how they would have looked like in a shrine of an aristocrat on the Tibetan plateau. And they're put up in a way that is liturgically correct."
It's uninterrupted by the kind of labels and cases that represent the rest of the museum, but information about the objects are available at digital kiosks.
Twenty-first century electronics also play a role in another aspect of the exhibition that illustrates a continent-wide pilgrimage of a young Korean monk from the 8th century, who embarks on a journey to India at the age of 16, and travels to Persia and China's Silk Road. 
Working with students at the University of Michigan, the pilgrimage comes with its own app on which there are games based on ancient works, like the Freer's frieze from Gandhara, Pakistan that shows the Buddha bedeviled by demons. Visitors can try their own hand in the game version. "If you win, you're enlightened," Diamond says. If not? "Try again?"
It was in part the major funder of the exhibition, the Robert H. N. Ho Family Foundation, that encouraged the innovative approaches, Diamond said. But there are also new angles to the ancient holdings from a wide variety of cultures. Some may have never been seen in the museum since they were bequeathed by Charles Freer in 1909; others may have just been overlooked in a hallway, and given a brightly-lit 360 degree view in the exhibit. And there are new additions to the collection on view for the first time such as a bell from Indonesia in the shape of a stupa.
Visitors will be polled on their reaction to the exhibition's innovations; based on their reactions, the show may be altered halfway into its planned three-year run, Diamond says. 
And digital pads will be available to answer some of the most common questions the objects bring, such as how the objects got to the museum, or in the case of the striking Gautama Buddha that beckons visitors in one of the two exhibition entrances, why its hair is blue.
"It's not a question that would ever personally occur to me," Diamond says. "But since we've all been asked that so many times, we decided to put that in."
Yes, a yellow figure with blue hair may make some think at first of Marge Simpson, but the reason it's that color is that they were using lapis lazuli, a precious blue rock that Diamond says was considered very beautiful.
Though the Buddha from 14th-century Central Tibet, purchased 20 years ago in honor of the 10th anniversary of the Sackler, is seen wearing a patchwork robe, Diamond says, "Buddhists over the ages are showing their devotion by remaking him in the most precious substances that they have, which is gilded bronze and lapis lazuli."
Encountering the Buddha: Art and Practice Across Asia runs through November 29, 2020 at the Smithsonian's Arthur M. Sackler Gallery in Washington, D.C.