New Lion Cubs at the Smithsonian Zoo
Mother Nababiep and two cubs are doing well, keep watch on the lion cam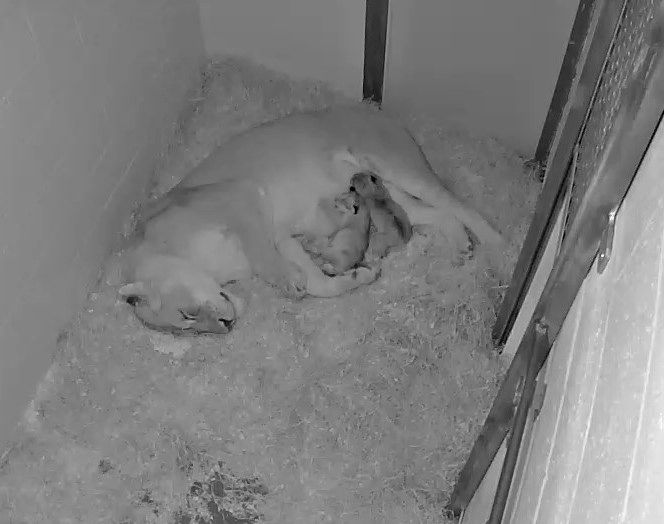 The Smithsonian National Zoo announced this morning the birth of its first African lion cubs in four years. The lion cam is expected to be up and running at 4 p.m. today to give viewers a front-row seat into the mother's den. 
On Friday, Nababiep, the Zoo's 10-year-old lion, gave birth to her first healthy cub at 3:58 a.m., but sadly she delivered a stillborn cub five hours later. Her second healthy cub arrived at 11:24 a.m. The father is the 8-year-old male, Luke. These are Nababiep's third litter and Luke's fourth litter. 
The Zoo reports that it is not uncommon for a lion to have both healthy and stillborn cubs in the same litter. The mortality rate for cubs in 2009 was around 30 percent for those in captivity and 67 percent for those in the wild. In May 2010, Nababiep gave birth to a cub that lived for 48 hours. 
"The first few days of a lion cub's life are very fragile," said animal keeper Rebecca Stites, in a report. "Naba continues to prove that she has great maternal instincts, so the best course of action is for us to allow her to care for and bond with her cubs."
Nababiep was separated from Luke and Shera, her sister, to make the process of giving birth more natural. Female lions in the wild will usually give birth to their cubs away from the rest of the pride and wait for up to six weeks before returning to the group with their cubs. 
"One of the best parts of this job is seeing all of our planning and preparation come to fruition. In 2010, we had a remarkable opportunity to watch seven cubs grow, master husbandry training and go on to other zoos to contribute to their breeding programs. To watch this litter follow in their siblings' footsteps will be incredibly exciting and rewarding," said Kristen Clark, an animal keeper at the Great Cats exhibit.
To give the Zoo's animal keepers and veterinary team time to monitor the cubs, Zoo officials say that the new cubs will not be on exhibit until late spring. 
In other news at the Zoo, a Micronesian kingfisher chick, the most endangered species in the Zoo's collection, hatched on Jan. 1, bringing the bird's population to 129 birds. The birds are extinct in the wild.