Need a Dose of Common Sense? Go See Thomas Paine
You'd never know by looking at Thomas Paine's portrait with his fine clothes and his perfectly coiffed hair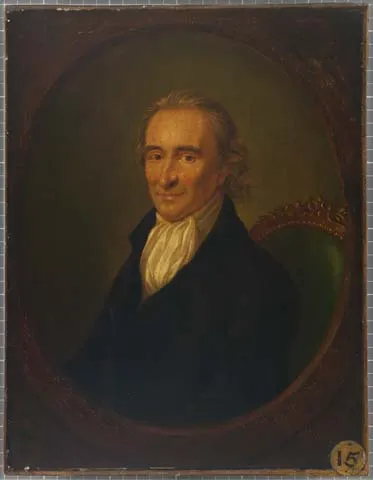 You'd never know by looking at Thomas Paine's portrait with his fine clothes and his perfectly coiffed hair, but the National Portrait Gallery's Margaret Christman says Paine's contemporaries described him as "dirty, smelly and slovenly." He was a "pretty obnoxious character," she concedes. But that makes him all the more fascinating.
The Portrait Gallery's "One Life: Thomas Paine, The Radical Founding Father" opened Friday. Most famous for his publications, Common Sense, The Rights of Man and The Age of Reason, Paine fell from grace after being jailed in France and died essentially friendless in 1809 in Greenwich Village. Christman describes him as the founding father with a cult following. But she adds, there were those that loved him and those that absolutely hated him. He rarely inspired tepid reactions.
A recently acquired portrait of Paine by French artist Laurent Dabos (1792) was the impetus for the whole exhibit. Other objects in the show include pamphlets, books, portraits, engravings and a number of English political cartoons ridiculing him. In addition to items in the museum collection, objects are on loan from the American Antiquarian Society, the American Philosophical Society and the Library of Congress.
While the pamphlets are thrilling for their historical significance, the cartoons drip with the contempt that Paine's contemporaries had for him. One cartoon depicts him in partnership with the devil attempting to bring down the government. Another English cartoon, entitled "The End of Pain," puns on his name and depicts Paine being hanged after he was charged with seditious libel. One of the most interesting objects in the exhibit is a 1796 letter that Paine wrote to George Washington chastising the American president as a hypocrite and claiming that he had done little to win the war.
Another work in the exhibit depicts William Cobbett, a critic-turned-admirer of Paine's, who decided to dig up Paine's body to bring it back to England and erect a monument. Unfortunately, there was little interest and the task was never completed. When Cobbett died years later, the bones were found in a trunk in his attic. After that, Christman says, Paine's remains disappeared. Likewise, artifacts once belonging to Paine have a history of doing that, she says. Several prints in the exhibit are based off of Paine portraits that have been lost.
The artifacts chosen for this exhibit create a personal look at one of history's most controversial figures. "In no sense is this the definitive Paine. It's a taste of Paine," Christman says and laughs at her own artful pun. The exhibit runs through Nov. 29.