The National Zoo May Be In For An Elephant Reunion
These three females will help the zoo develop a diverse elephant herd like those found in the wild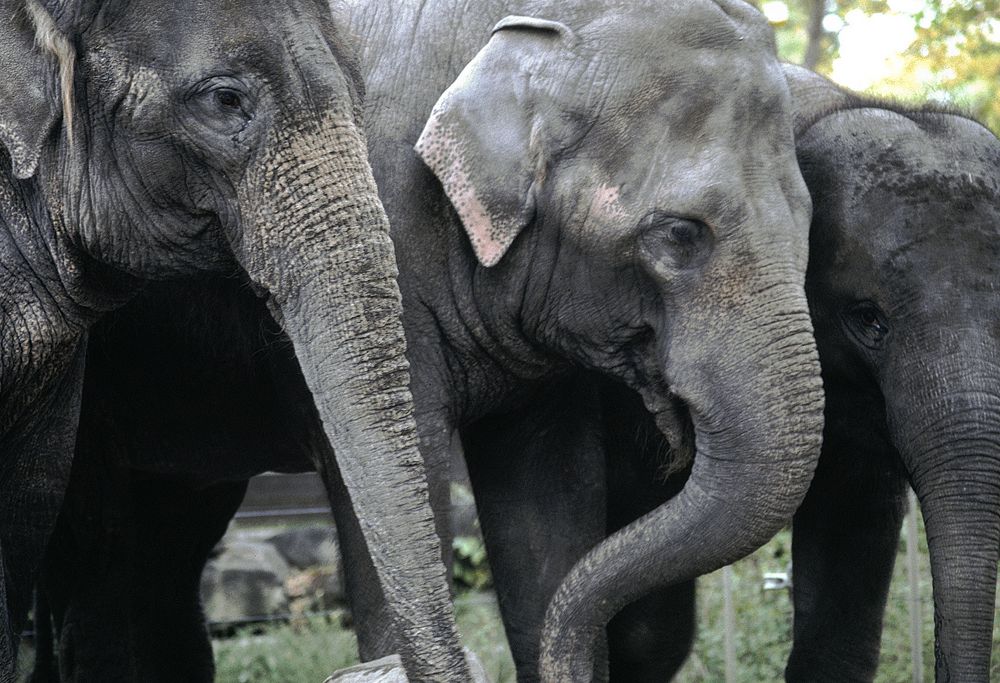 The National Zoo is getting the girls back together—Asian elephant (Elephas maximus) girls, that is. One of the three female elephants that arrived today on a long-term loan from the Calgary Zoo actually has a past connection with two resident middle-aged females. According to records, Kamala overlapped with the Zoo's Shanthi and Bozie in her time at an elephant orphanage in Sri Lanka before making the journey to different zoos across North America. Whether the elephants knew each other or hung out is anyone's guess, but there's a chance they could recognize each other. It's unclear what recognition would look like, though. "We do suspect, given how intelligent elephants are, that it's possible, but we just don't know," says the Zoo's curator Brandie Smith.
After a 2,360-mile road trip, 39-year-old Kamala, her 23-year-old daughter Maharani or "Rani" and 39-year-old Swarna stepped into their new home at the National Zoo's elephant barn. The move has been in the works for a while. The Calgary Zoo decided to relocate the lady pachyderms in 2012 and selected the National Zoo as their new home the following summer.
"These elephants are . . . going to help us grow our herd and create a very natural multi-generational, matriarchal social structure," says Smith. "They'll also help support our conservation programs in Asia and our education programs here," she adds.
The girls will be gradually integrated with the Zoo's three females—66-year-old Ambika, 38-year-old Bozie, and 39-year-old Shanthi—and one male, Shanthi's 12-year-old son Kandula. Combining the two groups is more representative of life in the wild, where elephants live in familial herds lead by the biggest and oldest female.
Over the last year, elephant keepers have been trekking up to Calgary to work with the elephants and their Canadian keepers—in part to learn about each of the elephant's personalities and in part to make sure the animals feel comfortable with their new caretakers. With intelligent and social animals like elephants this is extremely important. "Keepers and elephants work very closely together," says Smith. "Elephants have relationships with the other animals in their herd, but they also have relationships with their keepers." Over the next year, the Calgary keepers will come to Washington, D.C. to work with the elephants to ensure a smooth transition.
Keepers from both zoos planned the relocation down to the smallest of details, like which way the elephants should face on their truck ride. For the past few months, the animals have familiarized themselves with their elephant-sized travelling crates in the safety of the Calgary Zoo elephant enclosure. Keepers at the Zoo also modified the elephant barn, decorating it with hanging food baskets and added mesh to make sure that the elephants would feel comfortable and safe. After weather delays in Canada, on Tuesday it was go time.
After three days of the sounds and smells of the road, Rani, Kamala and Swarna arrived under police escort this morning. The three females will spend at least 30 days in quarantine. "The first thing we expect them to do is just to get to know their surroundings," says Smith. Then, they'll expose the current elephants to these new females through a mesh, elephant-proof fence. They'll be able to see each other and interact with their trunks. How those introductions go will determine how the team merges the two social groups into a single herd. "We expect to see them kind of evolve with this new social group," Smith adds.
Zookeepers do hope that Elephant Trails may soon see some mating behavior, though. The staff hopes to breed the youngest transplant, Rani, with the lone male Kandula in order to further expand the herd. Asian elephants are classified as endangered by the International Union of Concerned Scientists, so breeding in captivity is critical. Fortunately, elephant breeding is pretty simple: "You take a boy elephant and a girl elephant and you put them together," Smith explains. But before they get down to business, Rani and her fellow travelers will settle into their new home.
Depending on how long the quarantine lasts, the girls could make their public debut as early as late June. 
UPDATE: The National Zoo's three new female Asian elephants are set to make their public debut on Monday, June 23, 2014.