Musician Esperanza Spalding Donates Nobel Dress to the American History Museum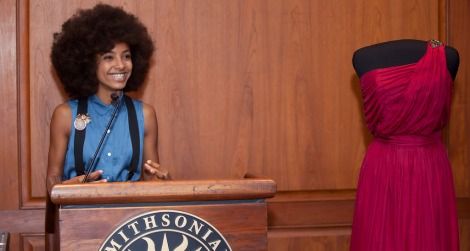 On October 9, 2009, it was announced that President Obama was the winner of the Nobel Peace Prize. Custom holds that each recipient selects a musician to deliver a performance as part of the ceremony. Obama chose one of his favorites, up-and-coming jazz vocalist and musician Esperanza Spalding, who'd recently released her 2008 debut album, Esperanza, and had quickly become a revelation in the international music world.
Just over two years later, after another hit album and widespread critical success, Spalding donated the dress she wore for the historic Nobel performance to the American History Museum, adding another piece to the world's foremost collection of jazz history.
At this morning's donation ceremony, museum curator and jazz expert John Edward Hasse put Spalding's budding career into the context of the other jazz greats featured in the museum's collections. "Usually, the people who we welcome at this podium are much older, they're at the end of their careers," Hasse said. "I'm guessing President Obama could have gotten just about any performer in the world to come and play for him. He chose Esperanza Spalding as a tremendous vote of confidence in the next generation."
Hasse sees a thread connecting Spalding with many of the other jazz greats featured in the museum, including composer Duke Ellington. "If anything, Ellington stood for getting outside of categories and boundaries. He was very much of the jazz tradition, but he wasn't limited by it. He didn't want to be considered just a great jazz composer, but a great musician," he said. "I sense the same straining of boundaries in Esperanza Spalding, in her brilliance as a singer and a bassist, as someone who does both simultaneously in a virtually unprecedented way, and as a composer and a thinker."
The donation continues the museum's women in jazz initiative, which was launched in April as part of Jazz Appreciation Month. Spalding is widely acclaimed for her innovative blend of of jazz, folk and world music with classical chamber music traditions, and was awarded the Grammy for Best New Artist in 2010 2011 for her second album, Chamber Music Society.
Spalding told the audience about the bit of family history contained within the folds of the floor-length red dress. After buying it as a last-minute purchase before leaving for the ceremony in Oslo, she discovered it needed to be taken in. "I called my mom and said, 'I leave tomorrow morning at 7:30 am, would you be able to do some alterations tonight?' Then, the night of the performance, when I take the dress out and put it on, all of a sudden I notice these oily fingerprints all over the dress," she said.
She did her best to remove the fingerprints, caused by the moisturizer her mother wears, but some remained. Still, she said, "I'm glad that, in some small way, the person who's been so critical in my development as an artist is, in her own way, going to be part of this dress going in the Smithsonian."
After signing the official deed that transferred ownership of the dress to the museum—along with a framed certificate of appreciation from the Nobel Peace Prize Committee, an invitation to the prize ceremony and a program guide—Spalding expressed her gratitude to be honored by the Smithsonian by citing her own favorite quote of Ellington.
"He said, 'Tomorrow is waiting in the wings for you to sound her entrance fanfare.' And when I hear you speak of all these individuals who were beyond category, I think of the people who were in touch with that reality, that the world is of their making," Spalding said.
"When I think of making the future, I think of the value of understanding the past," she said. "I'm just so grateful and honored to be a part now of the history that generations can continue to look to for inspiration."