Muralist Uses the Sidewalk Outside the Sackler Gallery as Canvas
Why Michael Kirby's pavement mural won't last forever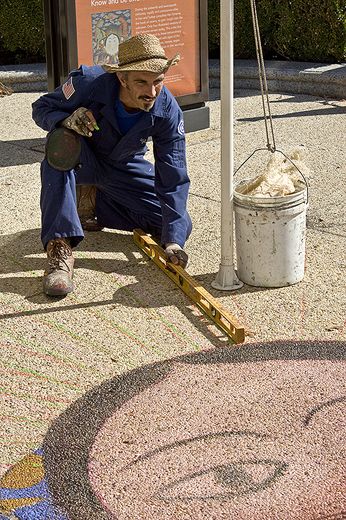 Michael Kirby's stained fingers pull out pastel chalk from a multicolor box. He crawls along the sidewalk, measuring and drawing lines in bright colors. He wears his father's old mechanic jumpsuit that is splotched with paint from previous projects. His tattered gloves are missing fingers, and the pastel chalk leaves them stained. But his focus is unbreakable. He isn't distracted by the live feed that streams his every move onto the internet or the passersby that take interest.
Kirby, a 34-year-old muralist from Baltimore, spent last week painstakingly recreating a 3-D image from a work of art that is on view in the exhibition, "Falnama: The Book of Omens," at the Arthur M. Sackler Gallery. The process of drawing the lines is the hardest, he says. "I'm kind of the only person right now that knows what this is," he jokes and he looks at the maze of lines and shapes in front of him. The lines are to establish a viewpoint, so that the final image, once the paint and details are applied, will appear in 3-D if the viewer is standing in the right spot.
Kirby, one of the first street muralists to work in 3-D, started as a teenager in Italy. He needed a job, and saw others painting on the street. He gave it a try and hasn't looked back since. Originally from Baltimore, he has painted sidewalk murals in London, Berlin, New York, Mexico City, San Francisco and Caracas among others. Kirby founded the Murals of Baltimore studio in Baltimore, Maryland.
When he finished the painting on Friday, Kirby stood on a ladder to fully capture the 3-D effect. The sun image seemed to jump from the pavement, and the careful lettering rose above the book's pages. The mural won't last forever, and that is the point of street murals, also known as "ephemeral murals". "Eventually, the rain, weather and foot traffic will wear it away." When asked if he actually expects people to walk over it, he says "Yeah, they'll walk on it. It's pavement."